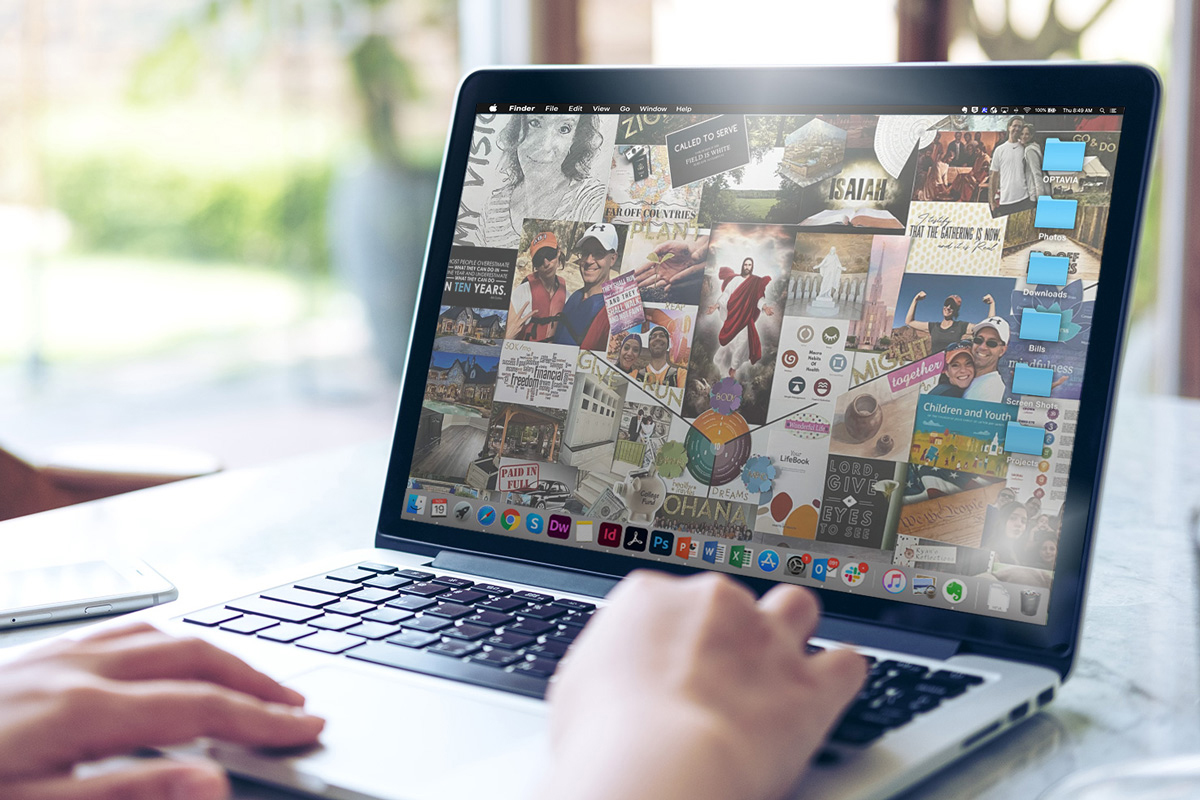 When it comes to transforming your life and building a life filled with big dreams, create a dream board or visual outline of your overall goals for 2021! A board or visual outline can help you achieve those dreams and conquer your health and wellbeing.
Make a unique dream board by cutting out images, quotes, and specific goals to clearly define your vision for 2021 and the future.
Follow these steps to create your board and feel free to share it with me, your independent OPTAVIA Coach, so we can partner and cross off your list, one by one!
Define your goals. First, set your goals. What are your overall objectives for 2021?
Create an action plan. Start by focusing on one of your goals and list the steps you need to accomplish that goal. Then identify the actions you need to take for each step. Set an attainable deadline and post your OPTAVIA Plan on your vision board. Review your goals at the end of the month to determine if you are still on track or if any adjustments should be made.
Find pictures and quotes to enhance your drive. There are a wide range of magazines to search through, such as Good Housekeeping or Shape.
Make your board a collage. Be creative with the construction of your board. Consider pasting images on colorful backgrounds to add a bit of color or use a pattern from fabric.
Add words of encouragement. Reinforce your goals and overall vision by adding buzz words and words of inspiration that stand out, helping to strengthen your daily motivation. Check out OPTAVIA's Facebook Page for weekly advice and words of inspiration to use on your board!
Reflect on your learning. Journaling while creating your vision board is a great way to reflect on lessons you've learned, keep track of healthy tips, and document your physical and emotional reactions on your health journey. This can help identify what is working well or if there are any changes that you can make.
Share your dream board. When your dream board is finished, let's talk about your visions, dreams, and goals out loud, taking another step toward making them come true and attainable in the near future.
Ask me, your Independent OPTAVIA Coach, if you'd like to schedule time to make your first dream board or to refresh an existing board from 2020. Let's optimize your time and efforts in 2021 to make it the best year yet!
Join this week's Habits of Health® Webinar, Vision Board Creation, on Wednesday, December 16th at 8:30 p.m. ET/7:30 p.m. CT/5:30 p.m. PT, hosted by Independent OPTAVIA® Coach, Donni Alvarenga.

HOW TO CONNECT:
Please click the link below to join the webinar:
https://zoom.us/j/113312513

Or iPhone one-tap (US Toll):
+1(646)558.8656

Or Dial (US Toll):
+1(646)558.8656

And Enter the Pin: 113312513#

The holiday season is filled with traditions and celebrations. You can enjoy yourself without compromising your health goals by focusing your holiday season on festivities without food!
Surround yourself with an abundance of joy of this season - make the focal point of your celebrations about memorable experiences, and enjoy the company of loved ones without feeling the stress of food.
Pamper yourself. You deserve it! There are many ways to relax and treat yourself and a loved one or friend. Enjoy an at-home spa day with soothing music.
Get crafting. Pick a seasonal craft to sit around the table and complete with your family members.
Experience the arts virtually. Enjoy a virtual musical or theatrical performance; there are tons taking place during the holiday season. Click here to find exciting upcoming virtual performances the whole family will enjoy!
Socialize virtually. 'Tis the season to socialize and reconnect. Schedule some video calls with friends and family to talk and stay in touch. The possibilities are endless!
Break out the board games. Dust off Monopoly and enjoy some family-friendly competition. Pull your favorite games and have a game night. An evening of laughter and fun is just what you need!
Move outside. Gather your family and head outside! There are many ways to enjoy the outdoors throughout every season, like an old-fashioned snowball fight or a sled ride. Family of all ages will benefit from some fresh air fun!
Give your time. There are many places that need donations this time of year. Give back to your community and safely donate food to a local soup kitchen or other organization of your choice. Spread the holiday cheer! You'll be glad you did.
Ask me, your Independent OPTAVIA Coach, about other ways to celebrate the holidays that don't involve food!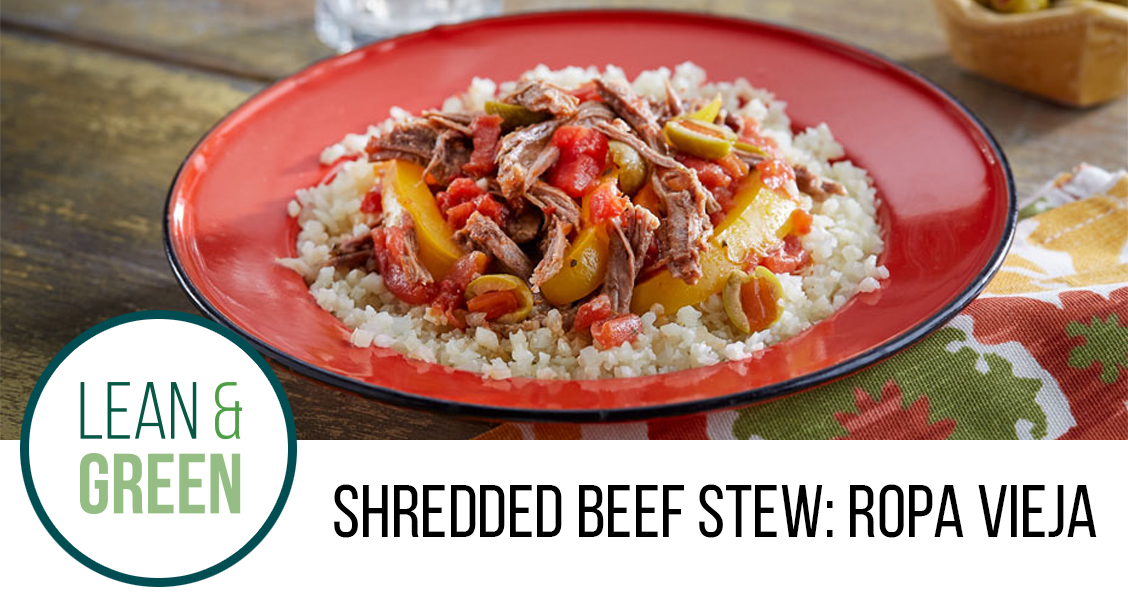 Yield: 4 servings
Complete Lean & Green Meal: 1 lean, 3 green, 2 condiments
Total Time: 45 minutes
Ingredients

1½ lb. flank steak

2 cloves garlic, minced

1 tsp dried oregano

1 tsp ground cumin

1 tsp smoked paprika

1 bay leaf

1, 14.5-oz. can diced tomatoes

¼ tsp or less of each: salt & pepper

1 small bell pepper (any color), seeded and sliced thin

4 pitted green olives, halved

4 cups riced cauliflower

Directions

Add all of the ingredients except the bell peppers, olives, and riced cauliflower to an Instant Pot. Secure lid, push the meat mode, and adjust the time for 30 minutes at high pressure. When Instant Pot beeps, naturally release pressure. Open the lid, remove beef, and shred with 2 forks.
Return shredded beef to Instant Pot, and stir in bell peppers and olives. Place cauliflower in a steamer basket and insert into Instant Pot. Push the steam mode and cook for 5 minutes.
Serve beef stew over riced cauliflower in a bowl.


Slow Cooker Method: Add all of the ingredients except the bell peppers, olives, and cauliflower rice to a slow cooker. Cover with the lid, and cook about 6 hours on low or until beef is tender. Remove and shred beef with 2 forks. Return shredded beef to slow cooker, and stir in bell peppers and olives. Cook for one hour on low. Steam cauliflower rice in the microwave with 2 tablespoons water or on the stovetop in a steamer basket over boiling water. Serve shredded beef stew over steamed cauliflower rice.
Per serving: 330 calories, 13g fat, 14g carbohydrate, 38g protein/p>
Visit our OPTAVIA Pinterest page for an extensive assortment library of Lean & Green meals.

Grandmother Goals
"When I began my journey, I was overweight, tired, and in a lot of pain. I was on medication for high blood pressure, high cholesterol, and acid reflux. I have been overweight my entire adult life and struggled to lose and keep the weight off."
Phyllis had always tried to lose weight for her children so that they wouldn't be embarrassed around their friends by their overweight mother with low self-esteem.
When she began to have grandchildren, though, her motivation to change skyrocketed. "I realized there was no way I could continue on the path I was on and the way I felt! I didn't have grandparents growing up, and I have always wanted to be the best grandmother on the planet!"
Phyllis is currently 68 lbs* down and counting! "I feel like a new person, and I am very active! I haven't reached my goal weight yet, but OPTAVIA changed my life!"
After feeling transformed by OPTAVIA, Phyllis decided to help others on their journeys to optimal wellbeing by becoming an Independent OPTAVIA Coach.
"I started coaching in November 2019, and love helping others by paying it forward! I have sponsored so many already and look forward to sponsoring many more lives."
*Average weight loss on the Optimal Weight 5 & 1 Plan® is 12 pounds. Clients are in weight loss, on average, for 12 weeks.
Kathy Glazer
OPTAVIA Coach
Kathy@EatSmartCoach.com
http://EatSmartCoach.optavia.com/eatsmartcoach
571-213-1988
3 Washington Circle N. W. #303, Washington,D.C. 20037, Also Falls Church,VA
© 2023 OPTAVIA, LLC. All Rights Reserved