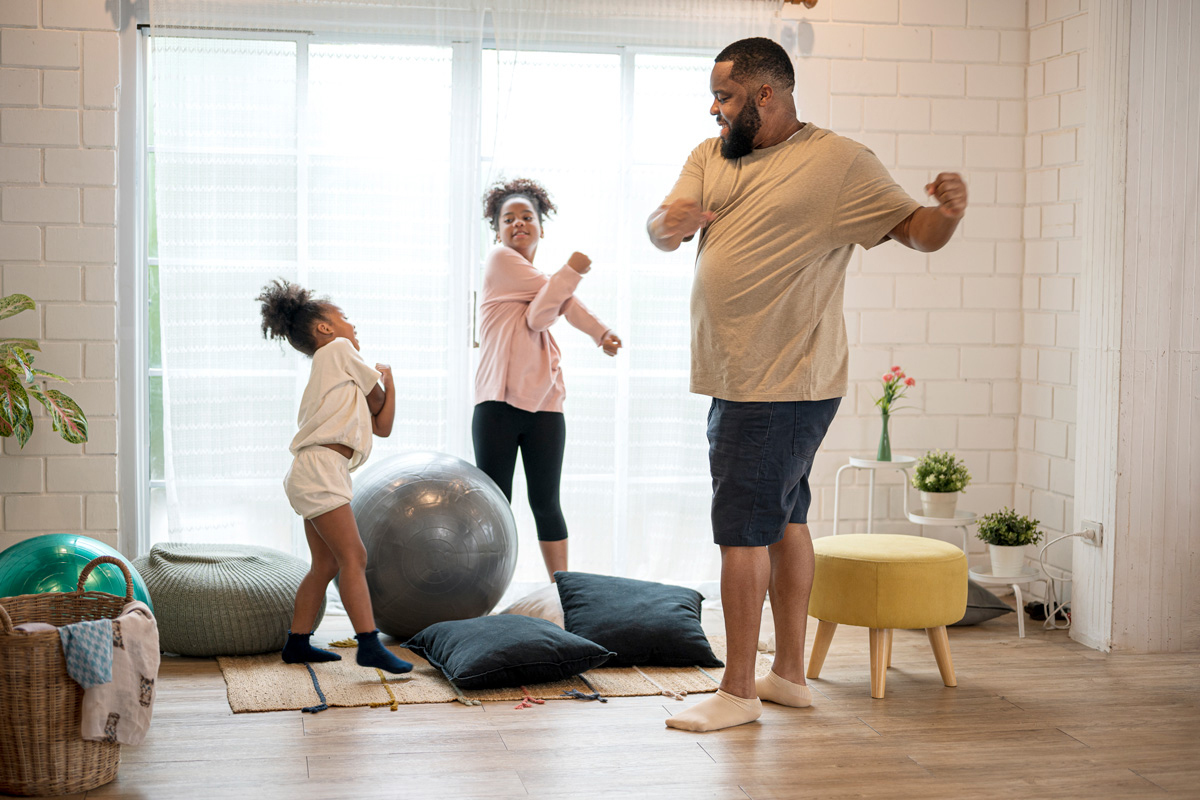 Self-love is more than simply a state of feeling good. It is a state of appreciation for yourself that grows from actions that support your physical, psychological, and spiritual growth into optimal health.
Self-love is also important to living well. It influences who you pick for a partner, the image you project at work, and how you cope with the problems in your life. This is the key factor for empowering yourself to conquer all fears and obstacles on the journey to lifelong transformation.
Consider these tips when addressing ways to love yourself to health:
Decide you are important. Make yourself a priority. You have to feel that you are important enough to allow yourself to change and support yourself in success. Be compassionate with yourself and accept that change does not happen overnight.
Become mindful. People who have more self-love tend to know what they think, feel, and want. They are mindful of who they are and act on this knowledge, rather than on what others want for them.
Practice good self-care. You will love yourself more when you take better care of your basic needs. People high in self-love nourish themselves daily through healthy activities, like sound nutrition, exercise, proper sleep, and healthy social interactions.
Be consistent.  The more consistent you are, the more positive results you may experience. And, if you happen to experience a setback, acknowledge it, and then get right back in the game. The longer you dwell on any shortcoming, the longer it takes to get back on track.
Use your support system. Having a support team is crucial to success. As your OPTAVIA Coach, I'm here to guide you along your journey. Also, our OPTAVIA Community of like-minded people offers valuable tips, insight, and motivation.
Celebrate your success. It's important to reward your efforts consistently while implementing new habits. Recognize your accomplishments when you hit a milestone, even if it's a smaller one. This will motivate you to continue working toward your goals.
The benefits of self-love can bring positive change, not only for yourself but also for your family, friends, and colleagues. Watch how your positive energy becomes contagious and creates an environment of freedom and health where others also thrive!
Ask me, your Independent OPTAVIA Coach, for additional ways to practice self-love on your journey towards Lifelong Transformation, One Healthy Habit at a Time. 
Join this week's Habits of Health® Webinar, Health is a Matter of the Heart, on Wednesday, February 10th at 8:30 p.m. ET/7:30 p.m. CT/5:30 p.m. PT, hosted by Independent OPTAVIA® Coach, Dr. Matt Brock, featuring Independent OPTAVIA® Coach, Dr. Joe Pecoraro.

HOW TO CONNECT:
Please click the link below to join the webinar:
https://zoom.us/j/113312513

Or iPhone one-tap (US Toll):
+1(646)558.8656

Or Dial (US Toll):
+1(646)558.8656

And Enter the Pin: 113312513#

Valentine's Day is just around the corner, and you may be thinking about how to create a perfect celebration for your sweetheart or friends, whether you're staying at home or going out to a favorite restaurant.
Many recipes are filled with unhealthy ingredients that can be tempting, as can dishes on restaurant menus, but there are still plenty of healthy ways you can indulge.
Follow these tips for eating at home or dining out while staying committed to your health and wellness journey:
Fuel yourself before dinner. Remember to eat every 2-3 hours during the day and consider having a small meal or Fueling before your special dinner to avoid overindulging.
Portion control. Celebratory meals are often larger than a normal portion size, so try not to feel tempted to clean your plate. If dining out, try two appetizers instead of an entrée, or if at home, split your home-made entrée with your dining companion.
Resources. Check out the OPTAVIA Dining Out Guide for additional tips to consider when visiting restaurants and eating out. Or, if you're looking for a delicious Lean & Green meal to prepare at home, refer to the OPTAVIA Pinterest page for NEWLY featured recipes designed and created exclusively for OPTAVIA, by The Culinary Institute of America.
Ask me, your Independent OPTAVIA Coach, about other healthy choices you can make on Valentine's Day.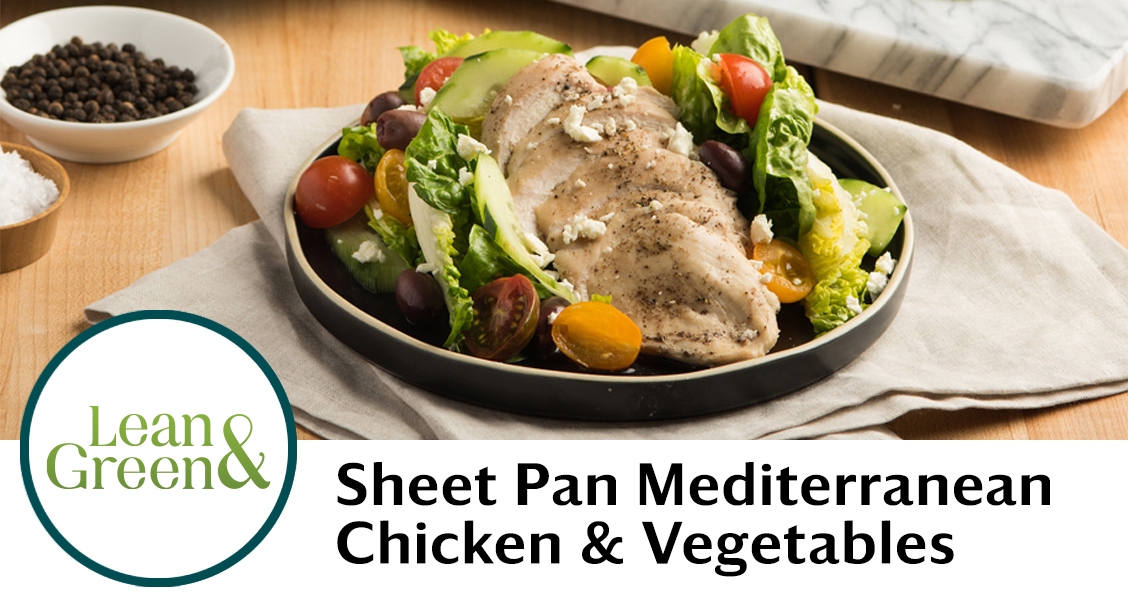 Yield: 4 servings
Complete Lean & Green Meal: 1 leaner, 1 healthy fat, 3 green, 3 condiments
Total Time: 45 minutes
Ingredients

4, 8-oz. raw boneless, skinless chicken breasts

3 Roma tomatoes, quartered (about 1 cup)

1 medium zucchini, cut into 8 wedges (about 2 cups)

1 yellow summer squash, cut into 8 wedges (about 2 cups)

1 large orange bell pepper, quartered (about 1 cup)

1 tbsp canola or olive oil

¼ tsp each: salt & pepper

4 tbsp reduced-fat feta

 

For the dressing:

2 garlic cloves, minced

1 tbsp fresh (or 1 tsp dried) oregano

1 lemon, juiced (about 2 tbsp)

1 tsp olive oil

Directions

Preheat oven to 375⁰F.
Line a sheet pan with parchment paper, and lightly spray with non-stick spray. Place chicken in a single layer on one side of the sheet pan.
Toss the vegetables with the oil, salt, and pepper. Transfer to the sheet pan in a separate section from chicken, and lay in a single layer.
Place sheet pan in oven and cook for about 15 minutes, or until the chicken reaches internal temperature of 165⁰F.
Meanwhile, whisk together the garlic, oregano, lemon juice, and olive oil in a small bowl to make the dressing.
To serve, place one cooked chicken breast (approximately 6 ounces) on a plate with a quarter of the veggie mixture and one tablespoon of feta. Drizzle a quarter of the dressing on top, about 1½ to 2 teaspoons. Repeat for 3 remaining servings.
Per serving: 350 calories, 12g fat, 10g carbohydrate, 50g protein
Visit our OPTAVIA Pinterest page for an extensive assortment library of Lean & Green meals.

Optometrist's Eyes Opened
"I have had a weight issue all my life. Throughout the last 40+ years, I have tried every diet, plan, and medication that exists to lose weight. I've been to addiction programs, psychologists, doctors, and dozens of weight loss centers."
After running into an old friend and OPTAVIA Client, Betty Lynn found the answers she had been seeking her whole life. She joined the Community as a Client and began her journey with her OPTAVIA Coach to optimal health and wellbeing.
Within a few short months, Betty Lynn began seeing results that she could have imagined. "My energy level is through the roof! I'm a better wife, mother, daughter, friend, and Optometrist. I have enough time and energy now to do the things I want to do instead of only accomplishing the things I need to do. I am positive and have extended my longevity.**"
After being a Client for two months, Betty Lynn attended an OPTAVIA event with her Coach, where her eyes were opened to all of the possibilities that being a Coach has to offer. She immediately knew that she wanted to pay it forward and become an Independent OPTAVIA Coach.
"Coaching others and seeing people's lives change has been more rewarding than I could have ever imagined."
Betty Lynn has lost over 100lbs* to date. She is thankful to OPTAVIA for reclaiming her life, along with receiving the incredible opportunity of helping others achieve success on their transformation journeys.
*Average weight loss on the Optimal Weight 5 & 1 Plan® is 12 pounds. Clients are in weight loss, on average, for 12 weeks.
**OPTAVIA makes no guarantee of financial success. Success with OPTAVIA results only from successful sales efforts, which require hard work, diligence, skill, persistence, competence and leadership. Please see the OPTAVIA Income Disclosure statement for statistics on actual earnings of Coaches.
Rebecca Lange
Independent Certified OPTAVIA Coach
rebeccalange117@gmail.com
http://www.MyJourneyToAHealthyMe.com
336-202-3316
P.O. Box 38941
Greensboro, NC 27438
© 2023 OPTAVIA, LLC. All Rights Reserved