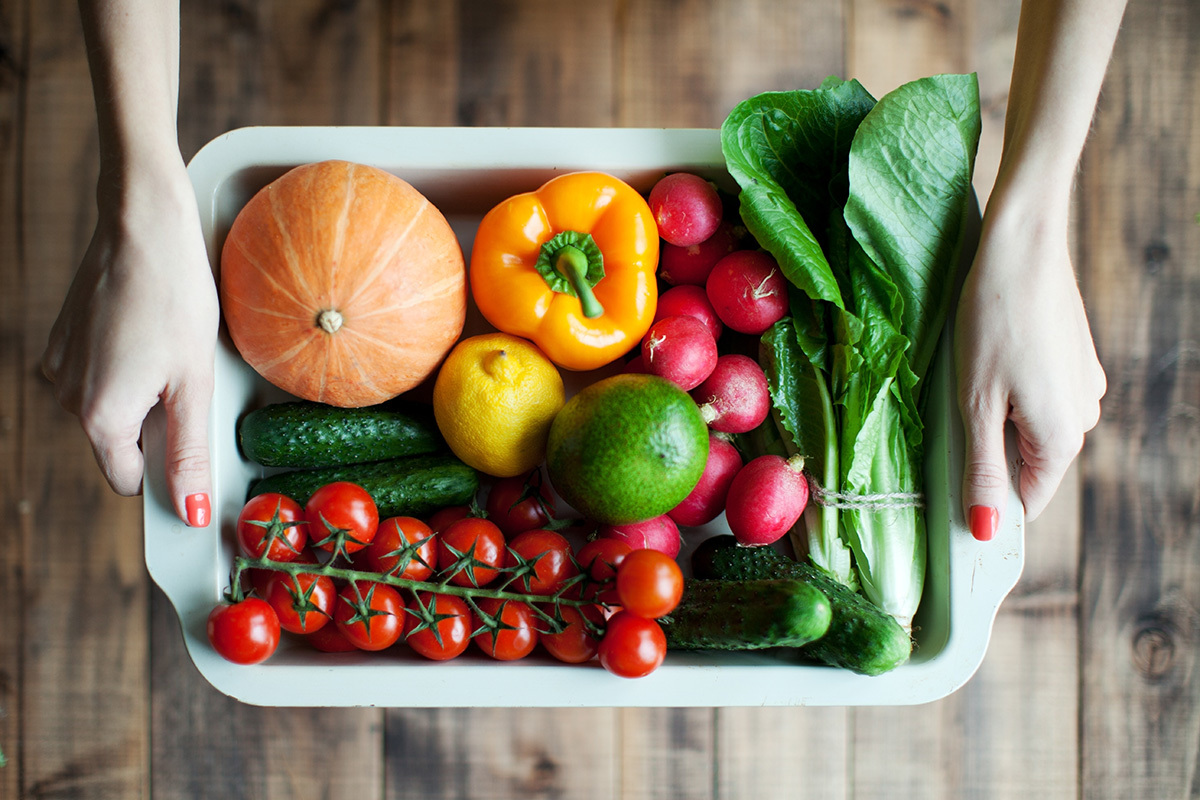 Once you reach a healthy weight – the first step to achieving optimal health – your next step is to transition from your weight loss routine to eating healthy for life to sustain long-term weight management. In Element 14, you'll begin to incorporate a full range of healthy foods into your diet so you're able to prepare a variety of meals. If you aren't yet ready to transition, stay focused on your health goals and reaching your healthy weight.
For the first four weeks of your transition, Dr. Wayne Scott Andersen recommends increasing your daily caloric intake gradually by adding back in the four food groups you avoided during Phase I: additional vegetables, fruits, dairy, and whole grains. Here are some tips to follow when reintroducing these types of foods back in your diet:
Week 1—Additional Vegetables. Add an extra cup (two servings) of vegetables from the green section of the chart (page 293 of Your LifeBook). This week you should be consuming between 850 – 1,050 calories per day.
Week 2—Fruit. At this point, you should remove one Fueling and add two medium-sized pieces or one cup of chopped fruit or berries from the green section of the chart on page 294 of Your LifeBook. This week you should be consuming between 900 – 1,150 calories per day.
Week 3—Dairy. Your dairy option can include low-fat and sugar-free yogurt or milk. This week you should be consuming between 1,000 – 1,300 calories per day.
Week 4—Whole grains & lean protein. During this week, you should add a whole grain option instead of a Fueling: one slice of whole grain bread, ¾ cup of high-fiber cereal, ⅓ cup of whole wheat pasta, or ½ cup of brown rice. You should also add 4 ounces of lean meat, poultry or fish per day. This week you should be consuming between 1,100 – 1,550 calories per day.
At this point, you should now be eating three Fuelings, one Lean & Green meal, one additional cup of vegetables, two medium-sized pieces of fruit or 1 cup of berries or chopped fruit, one cup of low-fat or fat-free dairy, one portion of whole grains, and 4 ounces of additional lean meat, poultry or fish per day.
Your weight may fluctuate during this transition phase as your body gets accustomed to the additional carbohydrates, salt, and calories. Remember to monitor your weight and adjust your caloric intake if you fluctuate more than a few pounds from your healthy weight. Work closely with your Coach to determine your plan of action.
In Element 15—your blueprint for sustainable success in managing your eating habits for life—we'll explore Dr. A's Healthy Eating System, which allows you to add calories progressively to maintain an optimal weight.
Still need to order your NEW Habits of Health® Transformational System? Let's connect today!
Join this week's Habits of Health® Webinar, Your LifeBook—Element 14: Transitioning and healthy eating for life tips made simple on Wednesday, November 13th at 8:30 p.m. ET/7:30 p.m. CT/5:30 p.m. PT, hosted by Independent OPTAVIA® Coach Amber Smithson.

HOW TO CONNECT:
Please click the link below to join the webinar:
https://zoom.us/j/113312513

Or iPhone one-tap (US Toll):
+1(646)558.8656

Or Dial (US Toll):
+1(646)558.8656

And Enter the Pin: 113312513#
If you are transitioning from the weight loss phase to weight maintenance, you may be thinking about increasing your healthy motion and adding exercise*. With some patience, consistency, and a little sweat, fitness will soon be a regular part of your schedule.
Remember, if you're not ready to transition to EAT, focus on NEAT activities such as walking, taking steps, and moving to music.
Here are some tips for introducing exercise, or EAT (Exercise Activity Thermogenesis) into your routine:
Assess your fitness level. Just like achieving a healthy weight, in order to know where you're going, you need to know where you're starting. First, consult with your healthcare provider to determine what kind of exercise is best. If you're brand new to exercise, record how long it takes you to walk a mile and check your pulse before and after. These measurements are the benchmarks for improvement.
Consider your goals. Are you exercising to maintain your current weight or are you preparing to run a marathon? Having clear goals will help gauge your progress and stay motivated.
Start slowly. Since you are just introducing or reintroducing exercise into your routine, it's very important to start slowly and to listen to your body carefully. Stop if you experience any signs of pain or discomfort and contact your healthcare provider. Incorporate rest between sessions to allow your body time to recover.
Make it a routine. You already have your alarms set to remind you when to eat. Now, add a new alarm for your exercise routine. Try exercising around the same time every day so this repeated behavior becomes a healthy habit.
Make it fun. The easiest way to continually exercise is to make it fun! Exercise with a friend or find activities you enjoy and add them to your routine. Try taking a new fitness class that interests you like yoga or kickboxing. Not only will you have fun, but you could make new friends in the process!
Ask me, your OPTAVIA Coach, for other tips to introduce EAT on your journey to Lifelong Transformation, One Healthy Habit at a Time®.
* Contact your healthcare provider prior to starting an exercise program.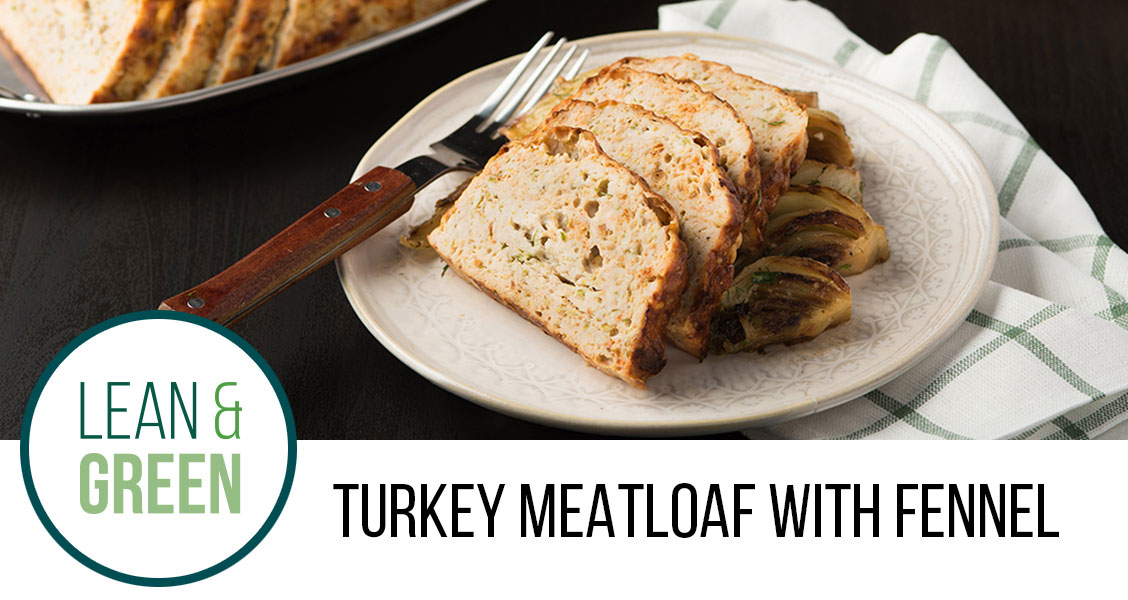 Per Serving: 1 Leanest | 3 Green| 3 Condiments| 2 Healthy Fats
Yield: 4 servings
Total Time: 45 minutes
Ingredients

2 lbs. 99% lean ground turkey

3 cups finely chopped Napa cabbage (about 6 oz.)

2 green onions, minced

¼ cup pine nuts, toasted and crushed

1 tsp paprika

1 tsp salt, divided

1 tsp coarsely ground black pepper, divided

1 tbsp olive oil

2 small fennel bulbs (about 1 lb.)

2/3 cup chicken stock

2 tbsp parmesan cheese

Directions

Preheat oven to 400°F.
In a large mixing bowl, combine the ground turkey, Napa cabbage, green onions, pine nuts, paprika, ¾ teaspoon of salt and a ½ teaspoon black pepper. Line a baking sheet with parchment paper. Shape the ground turkey mixture into a loaf 7-inches long and 4-inches wide, and place it on baking sheet.
Bake the meatloaf for about 30 minutes or to an internal temperature of 165°F.
Meanwhile, remove the green stalks of the fennel and cut the bulbs in half lengthwise. Cut each half of fennel into quarter wedges and remove the center core. Reserve some of the fine fronds, and cut them coarsely for later use.
Heat a nonstick skillet with oil and sear the fennel wedges until lightly browned.
Add the chicken stock and remaining salt and pepper, and cover the skillet with a lid. Cook on medium to high heat for about 5 minutes or until the fennel is tender. Remove the lid, and continue to cook until all liquid has evaporated. Stir in the parmesan cheese and fennel fronds.
Carve the meatloaf and serve along with the fennel.
Per Serving: 400 calories | 61g protein | 14g carbohydrate | 18g fat
Visit our OPTAVIA Pinterest page for an extensive assortment library of Lean & Green meals.

True Transformation
"A few years ago I was a typical victim of middle age. My metabolism had practically screeched to a halt and nothing was working. My body just refused to respond. If I did start a diet, I had usually sabotaged myself by lunchtime, which just added to my hopelessness. I had almost given up."
A few years ago, Sally went to a family wedding in Australia and, although she had a good time, she felt very uncomfortable and self-conscious.
"When the pictures from the wedding came back, it was my lightbulb moment. Even though I know I didn't, I felt like I ruined all the pictures as everyone else looked incredibly elegant. I couldn't share the photos because I was just too ashamed."
Sally spent the next two years struggling to lose the weight. She tried smoothies and counting calories, but nothing was sustainable. She soon had to return to Australia to visit the new baby in her family.
"I was determined not to look the same as I did at the wedding. Suddenly, I only had one month before the trip and I was still the same weight. I looked around at the five people I knew who had lost weight on the OPTAVIA Program and I decided to give it a go."
Sally followed the Program religiously and lost almost 20 pounds* before the plane took off for Australia. When she came back, she continued on Plan and lost 32 pounds* in total!
"I decided to pay it forward and became an OPTAVIA Coach. I found that I loved helping people reach their goals and the true transformation that the Program offers if you follow it correctly."
Sally even took on her own husband as a Client and helped him lose 16 pounds* so far.
"I'm really looking forward to all the opportunities in the future with OPTAVIA."
Kathy Glazer
OPTAVIA Coach
Kathy@EatSmartCoach.com
http://EatSmartCoach.optavia.com/eatsmartcoach
571-213-1988
3 Washington Circle N. W. #303, Washington,D.C. 20037, Also Falls Church,VA
© 2023 OPTAVIA, LLC. All Rights Reserved