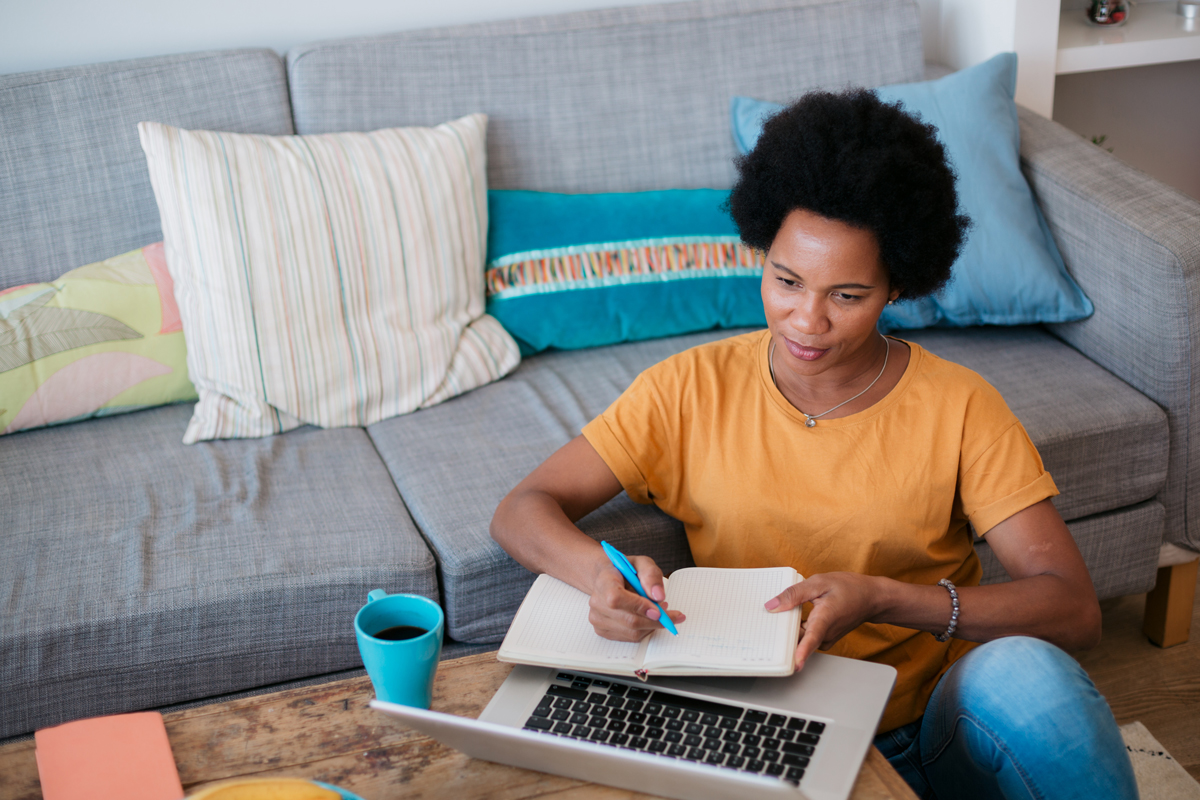 Element 13 explores the tools needed to assess your progress on your journey to optimal health and wellbeing. The key is to track details and experiences you completed throughout the day, while also applying your learnings to plan for the future. You can easily identify your patterns and behaviors to make corrections early on by tracking these results.
Your LifeBook creates an interactive structure that allows you to fully immerse yourself in what it takes to achieve optimal health. Within Your LifeBook, co-founder and independent OPTAVIA Coach, Dr. Wayne Scott Andersen, includes a daily log template to make it easier to learn and implement those healthy habits. The daily log and checklist are designed to help you and I identify areas for improvement so I can support you in the best way possible Here are some tips to motivate you as you record your progress:
Create realistic goals. Drastic change does not happen overnight, which is why it's important to implement small, healthy habits, and create a realistic timeline to achieve your goals. Remember, it's a marathon, not a sprint!
Reward yourself. Discover what makes you happy that does not involve food, and reward yourself for reaching small milestones along your journey. For example, treat yourself to a movie night after eating five Fuelings and a healthy Lean & Green Meal every day for a week.
Ask for support. Your support system can help you handle difficult situations. Find resources, that motivate you to succeed. Reach out to me, and/or the OPTAVIA Community for support and advice on achieving the necessary milestones involved in your journey.
Use visuals. Sometimes we need visual reminders to keep us motivated. Find pictures that symbolize experiences, feelings, or even new items you want to have in your life. A vision board, desktop screensaver, or mobile phone background are great ways to keep your goals top of mind!
In addition to the daily log, it is important to track your weekly and monthly progress. The weekly tracker in Your LifeBook allows you to measure trends without overanalyzing daily results. In comparison, the monthly tracker allows you to see the progress and transformation you've made throughout the year.
Discuss this Element with me, your independent OPTAVIA Coach, and let's make a plan to start tracking your progress today!

Check out Dr. A's Element Stories here!

June is National Family Month. It is timed to coincide with the end of the school year, when families start spending more time together, and focus attention on creating summertime memories that are fun and healthy. National Family Month is meant to both celebrate the strength of families and offer ideas to support familial success.
You can create a firm foundation by committing to practices and building healthy habits that will help strengthen your family's foundation of health.
Consider these tips:
Schedule Family Time. Try to make a habit of regular family gatherings for fun. By keeping it on a regular schedule, everyone will know that they need to keep that night clear for family time. Let them watch you cook. You may be surprised at how interested they can be.
Help Plan Meals. Get your family involved in meal planning. Choose a few L&G recipes in the app to make together Find out their favorite vegetables and get them involved!
Do Chores as a Family. Make cleaning your home or caring for the yard a healthy responsibility of the whole family. Create a list of chores and have everyone sign up. Set up a time when everyone can get in motion and tackle their chores at the same time.
Limit Electronic Usage. Basic conversations are the building blocks of togetherness. Human connections are more personal and effective. Create uninterrupted space, avoid cell phones and computers to interact and discuss health, wellness and fitness goals as a family.
Spending time together as a family can foster communication, promote respect and mutual appreciation, build confidence and self-esteem, and provide memories that last a lifetime!
Ask me, your independent OPTAVIA Coach, about additional ways you can create healthy experiences and make lasting memories at the same time.
Yield: 2 Servings
Per Serving: 1 Leaner, 1 Healthy Fat, 3 Green, 3 Condiments
Total Time: 60 minutes
Prep Time: 20 minutes
Ingredients

1 lb. boneless skinless chicken breasts

2 tsp extra virgin olive oil, divided

½ tsp ground allspice

¼ tsp kosher salt, divided

¼ cup plain low-fat Greek yogurt

¼ cup shredded cucumber, squeezed dry

¼ tsp minced garlic

1 tsp lemon juice

2 tsp fresh mint leaves, finely chopped

12 oz. radishes, trimmed and cut in half

1/8 tsp ground black pepper

Cooking spray

Directions

Cut the chicken into 1½-inch cubes or pieces and put them in a large bowl.
Drizzle the chicken with half of the olive oil, then add the allspice and half of the salt. Toss well to evenly coat the chicken pieces.
Cover and refrigerate for 30 minutes.
While the chicken marinates, make the yogurt sauce.
Combine the garlic, lemon juice, cucumber, yogurt and mint in a small bowl. Mix well and set aside until ready to use.
In a large bowl, toss the radishes with the remaining olive oil, pepper, and remaining salt and place on a small parchment lined backing sheet in a single layer.
Roast in a 450°F oven for 10 to 15 minutes or until fork tender.
While the radishes roast, spray the grates of an outdoor grill (or an indoor griddle) with nonstick cooking spray and heat.
Thread the chicken pieces evenly on four 8-inch-long skewers (see note).
Grill the chicken skewers over medium-high heat, turning each kebab one-quarter turn every couple minutes, until the meat is browned all over, about 10 to 12 minutes.
To serve, divide the radishes evenly onto two plates. Place two chicken kabobs on each plate with about 2 tablespoons plus 1 teaspoon of sauce each.

Note: If using wooden skewers, soak in water for about 20 minutes prior to use.
Nutrition Per Serving: 350 calories, 11g fat, 9g carbohydrate, 55g protein
Discover other plan-approved Lean & Green recipes in the OPTAVIA App.
Download the OPTAVIA App today!




Changing a Legacy
With heart disease weaved throughout the fabric of her family's legacy. Catherine wanted to change the narrative. For more than 5 generations, heart disease claimed the lives of young people within her family due to poverty and unhealthy food options that were readily available and easier to prepare.
Catherine did not have access to healthy food at a young age and it impacted how she prepared meals for her family. As a result, she wanted to become an agent of change for future generations, Catherine went on a personal journey with OPTAVIA that changed her life. After achieving her goals while on Plan she signed up as a Coach. "I was confident that I found the answer to help me to continue improving my heart health and my family's well-being."
Having her 85-year-old mother as her first Client, Catherine poured her all into the mission of creating Lifelong Transformation, One Healthy Habit at a Time. 'Losing my brother from a massive heart attack at the age of 60yrs was heartbreaking. I was determined NOT to let that happen to me or others in my family. I can't put into words to witness the results my mother experienced while on Plan, with my support as her Coach.
Catherine has experienced pure joy from seeing her mom's dedication to her health pay off.
*Average weight loss on the Optimal Weight 5 & 1 Plan® is 12 pounds. Clients are in weight loss, on average, for 12 weeks.
Rebecca Lange
Independent Certified OPTAVIA Coach
rebeccalange117@gmail.com
http://www.MyJourneyToAHealthyMe.com
336-202-3316
P.O. Box 38941
Greensboro, NC 27438
© 2023 OPTAVIA, LLC. All Rights Reserved