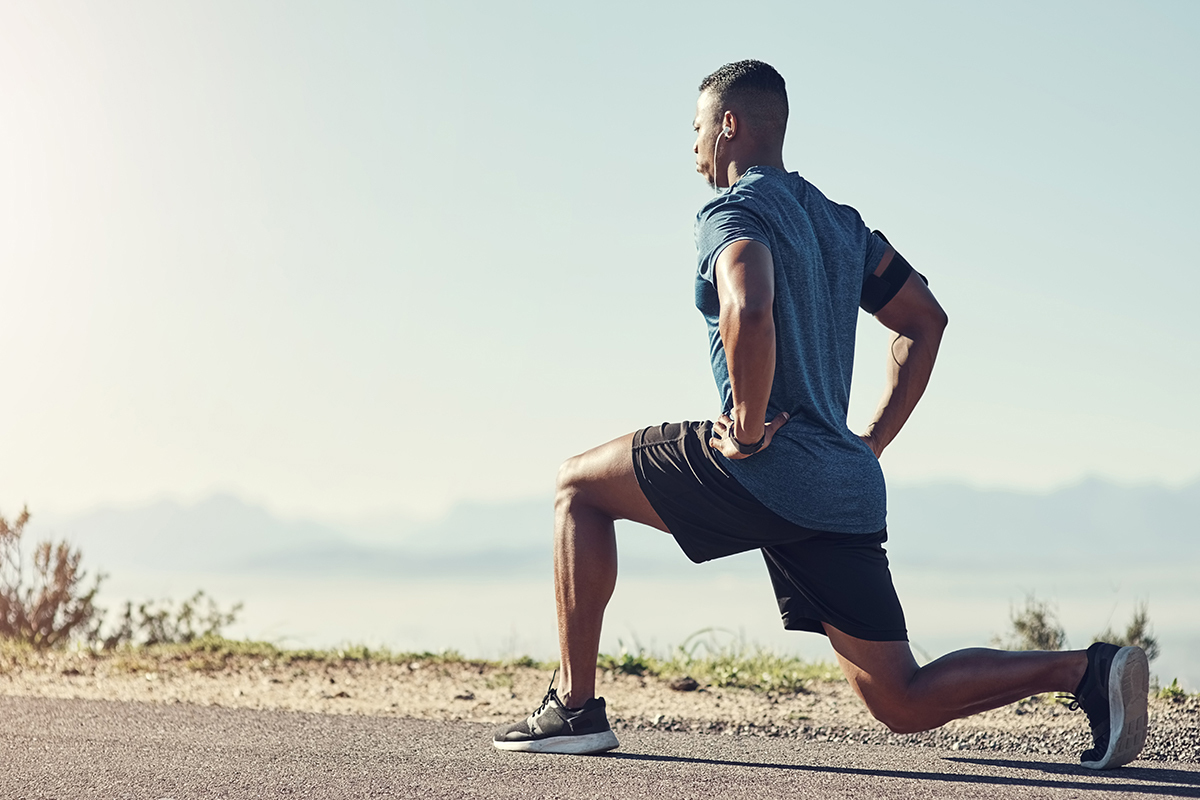 In Your LifeBook Element 17, we explored how NEAT (Non-Exercise Activity Thermogenesis) helps you burn an additional 200 – 300 calories per day without making drastic changes to your daily routine. The NEAT system already contributes to most of your daily energy expenditure, or the number of calories you burn.
Element 18 explores EAT (Exercise Activity Thermogenesis), and how it can enhance your healthy motion routine, so you sustain your healthy weight during Phase II. By adding NEAT, you'll be equipped to achieve the Habits of Motion System's three core goals:
Create a consistent balance between energy in and energy out.
Optimize cardiovascular health to keep your cells functioning properly.
Build strong, healthy bones and muscles to help you stay active and maintain a healthy weight.
The EAT system is divided into three progressive levels that you can accomplish at your own pace—Walking and Fitness Program, Resistance Program, and Boosting Your Workouts (High-Intensity Interval Training). Remember, it's important to talk to your healthcare provider before beginning any workout routine.
Level One—Walking and Fitness Program: Begin by walking 20 minutes a day, including five minutes to warm up and five minutes to cool down. Increase your walk by five minutes each week. Once you've reached 20,000 steps per week (in addition to the steps you're taking with NEAT) and have been walking five days every week for at least one month, you're ready to progress to Level Two.
Level Two—Resistance Program: Each Resistance Program session focuses on either your upper body or lower body, along with core muscles. Choose two days a week for these workouts, but remember to rest at least two days in between sessions to allow your body time to recover. A 30-minute session should consist of a five-minute warm-up, five repetitions of five selected movements, five different exercises that work the same muscle groups, and a five-minute cool-down stretch.
Level Three—Boosting Your Workouts: As your muscles strengthen and you become more fit, the easiest way to advance your workout is to increase the intensity, frequency, and total amount of time. Dr. Wayne Scott Andersen provides some examples of how to do this on page 369 of Your LifeBook. You can also incorporate HIIT (High-Intensity Interval Training), which will increase your exertion. For recommended HIIT workouts, refer to page 371 of Your LifeBook.
Being active every day by implementing NEAT and/or EAT into your routine is essential to maintaining optimal health. By utilizing this program, you'll experience enough healthy motion to help keep your weight consistent while progressing toward optimal health.
If you haven't already watched our transformative video series, featuring Your LifeBook – Elements 01-26, published recently on CLIENT ANSWERS, we invite you to engage and take a deeper dive into each Element. These videos, Your LifeBook, and me, your Coach, can give you the tools to empower yourself and move forward in creating optimal health and wellbeing. Check them out!
Join this week's Habits of Health® Community Time, Your LifeBook— Element 18: Exercise is Your Gift to Yourself On Wednesday, September 2nd at 8:30 p.m. ET/7:30 p.m. CT/5:30 p.m. PT, hosted by Independent OPTAVIA® Coaches, Casey and Candy Mitzel.

HOW TO CONNECT:
Please click the link below to join the webinar:
https://zoom.us/j/113312513

Or iPhone one-tap (US Toll):
+1(646)558.8656

Or Dial (US Toll):
+1(646)558.8656

And Enter the Pin: 113312513#

According to an article posted on the brain science website, SharpBrains.com, brain exercises can help increase your brain's cognitive reserve.
Here are some simple practices that will allow you to keep the five senses of the brain - sight, touch, smell, hearing and taste - sharp.
Test your recall. Make a list of grocery items, things to do, or anything else you can think of and memorize it. An hour later, see how many items you can recall. Make items on the list as challenging as possible for the most significant mental stimulation.
Do math in your head. Figure out problems without the aid of a pencil, paper, or calculator. Try walking simultaneously to make it more difficult, and get some healthy motion in too!
Take a virtual cooking class. Learn to cook a new, healthy meal. Cooking uses a number of senses: smell, touch, sight, and taste, which all involve different parts of the brain.
Create word pictures. Visualize the spelling of a word in your head, then try and think of other words that begin (or end) with the same two letters.
Refine your hand-eye coordination. Take up a new hobby that involves fine-motor skills, such as knitting, drawing, painting, or assembling a puzzle.
These are just a few ways to keep your brain refreshed and in healthy.
Remember that healthy habits are rooted in the way you think, so strengthening your mental wellbeing plays a vital role in making your health journey a success, along with the other habits of health!
Reach out to me, your OPTAVIA Coach, if you want to practice these exercises together!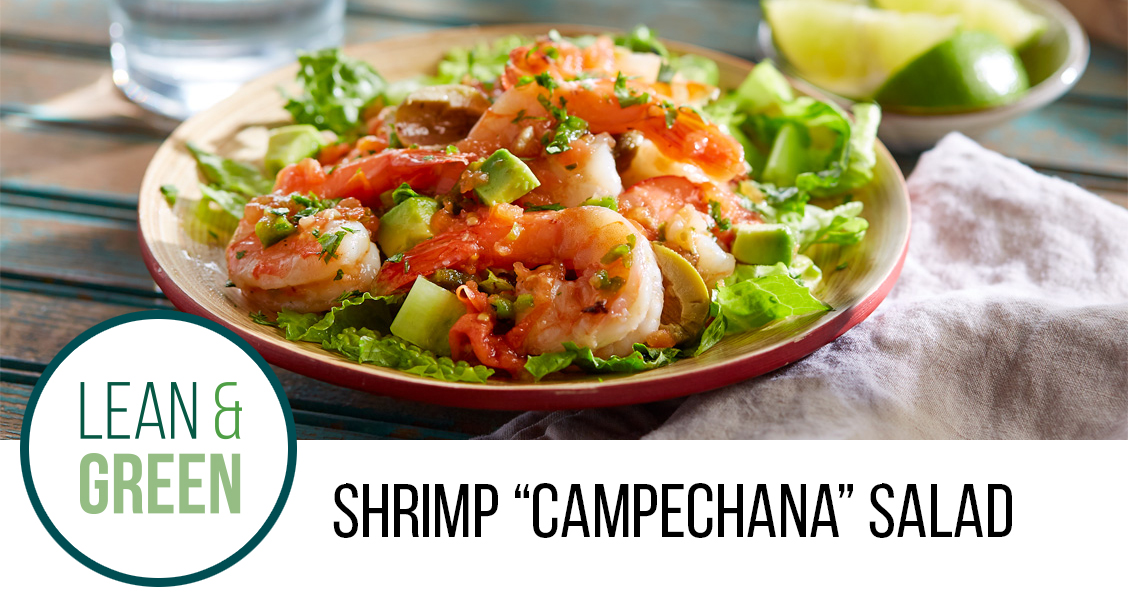 Yield: 4 servings
Complete Lean & Green Meal: 1 leanest, 2 healthy fats, 3 green, 3 condiments
Total Time: 30 minutes
Ingredients

2 lbs. shrimp, peeled and deveined

1 lb. fresh whole tomatoes

1 jalapeno pepper

1 clove garlic

2 scallions, white part only

½ tbsp olive oil

1 tsp dried oregano, preferably Mexican oregano

8 pitted green olives, halved

4 tbsp lime juice

½ cup fresh cilantro, chopped

1 avocado, diced (9 oz. without pit)

8 oz. (about 2½ cups) romaine lettuce, washed and torn or chopped

¼ tsp each (or less) salt & pepper

Directions

Preheat oven to broil.
Bring a medium pot of water to a boil, and cook shrimp about 2-3 minutes until pink. Remove shrimp and shock in an ice bath until cooled. Drain, pat dry, and set aside.
Toss tomatoes, jalapeno, garlic, and scallions in olive oil. Transfer to a sheet pan and broil about 5-10 minutes until outside skin is charred. Remove pan, and allow to cool long enough to handle.
Remove the core from the tomatoes, stem from the jalapeno, skin from the garlic, and root of the scallions. Place in a food processor, and pulse until chopped or at desired consistency.
Transfer tomato mixture to a mixing bowl. Add olives, lime juice, cilantro, avocado, shrimp, and toss well—season with salt and pepper to taste. Pour over lettuce, and serve.
Per serving: 350 calories, 12g fat, 14g carbohydrate, 49g protein
Visit our OPTAVIA Pinterest page for an extensive assortment library of Lean & Green meals.

Phenomenal
"One of my proudest milestones was when I could wear my wedding ring again after not wearing it for more than 15 years."
Gail Bartlett's transformation story has brought wonderful changes into her life. "I began my transformation journey in September of 2014 by building my healthy mind and enjoying the support of the coaching system."
"My Coach kept on me. Several months later, I finally became a Client following a three-way call and was able to experience the full offerings of the OPTAVIA program in developing my healthy body."
Gail says the changes in her body were nothing short of phenomenal. "I went from a non-sick state to a vibrant and healthy lifestyle. In the past, I was a couch potato—now I get to enjoy exercising five days a week at the pool." Gail is ecstatic to have lost 130 pounds.* "Even more exciting is that I've now maintained my healthy weight."
In addition to being able to wear her wedding ring again, Gail is particularly proud of another memory. "I'm the mother of two daughters, 16 and 19 years old. They're now proud to be seen with me and express statements such as, 'I'm so excited that I can now hug you and put my arms all the way around you.'"
As an OPTAVIA Coach, Gail enjoys paying it forward and guiding her Clients on their own journeys. "I can truly say that OPTAVIA was not a diet, but has indeed become my lifestyle—a lifestyle of Optimal Health."
*Average weight loss on the Optimal Weight 5 & 1 Plan® is 12 pounds. Clients are in weight loss, on average, for 12 weeks.
Kathy Glazer
OPTAVIA Coach
Kathy@EatSmartCoach.com
http://EatSmartCoach.optavia.com/eatsmartcoach
571-213-1988
3 Washington Circle N. W. #303, Washington,D.C. 20037, Also Falls Church,VA
© 2023 OPTAVIA, LLC. All Rights Reserved