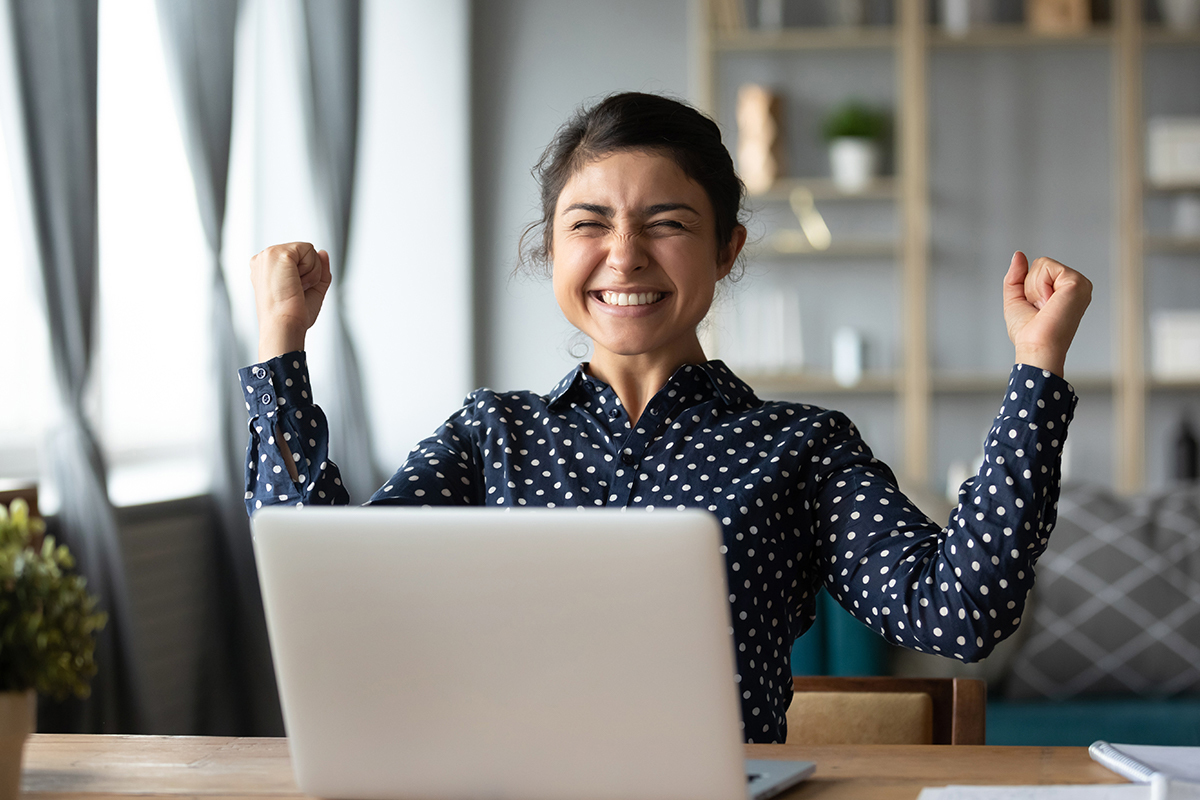 We know that being physically healthy is crucial for reaching optimal wellbeing; however, our mental health is equally important. According to Dr. Wayne Scott Andersen, there are four levels of consciousness. Recognizing the four levels and evaluating which level you have achieved is a great start when it comes to dealing with mental health and reaching the next level of consciousness:
Self-Interest: This level is all about yourself: you are focused mainly on your survival needs, your sense of belonging, feeling a part of something, and your personal self-esteem/ego.
Actualized Self: You are currently at the point in life where you are figuring out what is important to you and your desires.
Integrated Self: You are now able to open your window of tolerance and able to accept the fact that we all have different opinions and views.
Selflessness Self: You have a universal way of thinking and helping others, despite any differences you may have.
To jump to the next level, you should accept accountability for your choices and actions, and take the necessary steps to become the most genuine, humble, and compassionate version of yourself.
Reacting in stressful situations can be difficult, so follow these tips when working to achieve higher consciousness and reaching the next level:
It's not about who wins. Choose to be kind, and adapt this philosophy into your daily routine, if possible. Petty arguments can happen frequently, but you can avoid wasting precious time and energy by preventing an argument before it begins.
Be nice for the sake of being nice. Complement or do good things for others without expecting anything in return. We often fight for attention, praise, compliments, and favors, but the most compassionate and genuine people are those that do good deeds and don't expect a thing in return.
Your reactions speak volumes. Don't sweat the small stuff. Let it roll right off your shoulders! Everyone has flaws, but nobody likes it when they are exposed. It's important to accept that criticism is part of everyday life. It's up to you not to take it personally.
If you haven't already watched our transformative video series, featuring Your LifeBook – Elements 01-26, on CLIENT ANSWERS, please engage and take a deeper dive into each element. These videos, Your LifeBook, and me, your Independent OPTAVIA Coach, can give you the tools to empower yourself to create optimal health and wellbeing.
Watch this week's special recorded Habits of Health Webinar, Your LifeBook Element 24 Your Journey to Higher Consciousness, on Wednesday, November 25, 2020, hosted by Independent OPTAVIA Coach David Bush. To access the Webinar recording, please visit OPTAVIA BUZZ later this week!

HOW TO CONNECT:
Please click the link below to join the webinar:
https://zoom.us/j/113312513

Or iPhone one-tap (US Toll):
+1(646)558.8656

Or Dial (US Toll):
+1(646)558.8656

And Enter the Pin: 113312513#

Meditation is an approach to training the mind, similar to how fitness is an approach to training the body. It enables one to focus on the present moment rather than dwelling on the unchangeable past or uncertain future. Many think that the only form of meditation involves sitting in a lotus pose for an extended period of time, but there are other easy ways to weave mindfulness into your day.
Here are several ways to incorporate meditation into your daily routine as we begin to kick-off the holiday season:
Move! Let your physical fitness be your moving meditation. At-home yoga, aerobics, and walks around the neighborhood are great exercises for complementing a contemplative life. Connect with your mind, body, and observe your environment with a fresh perspective.
Do your chores intentionally. Insert awareness into everyday activities like cooking or washing dishes. Take note of the warm water running down your hands, or feel the texture of each vegetable as you chop.
Meditate while you travel. While you're driving, listen to your favorite song or mantra meditation. Invite your family to join to have some peaceful moments together in the car.
Do what you love. Whether it's hiking, painting, or cooking, immersing yourself in your favorite activity can dissolve your worries. Your stream of thoughts and worry will disappear, making you feel more relaxed.
Utilizing these techniques, even just for a few minutes a day, will help create clarity among the chaos.
Ask me, your Independent OPTAVIA Coach, about other ways to incorporate meditation and being mindful into your daily routine.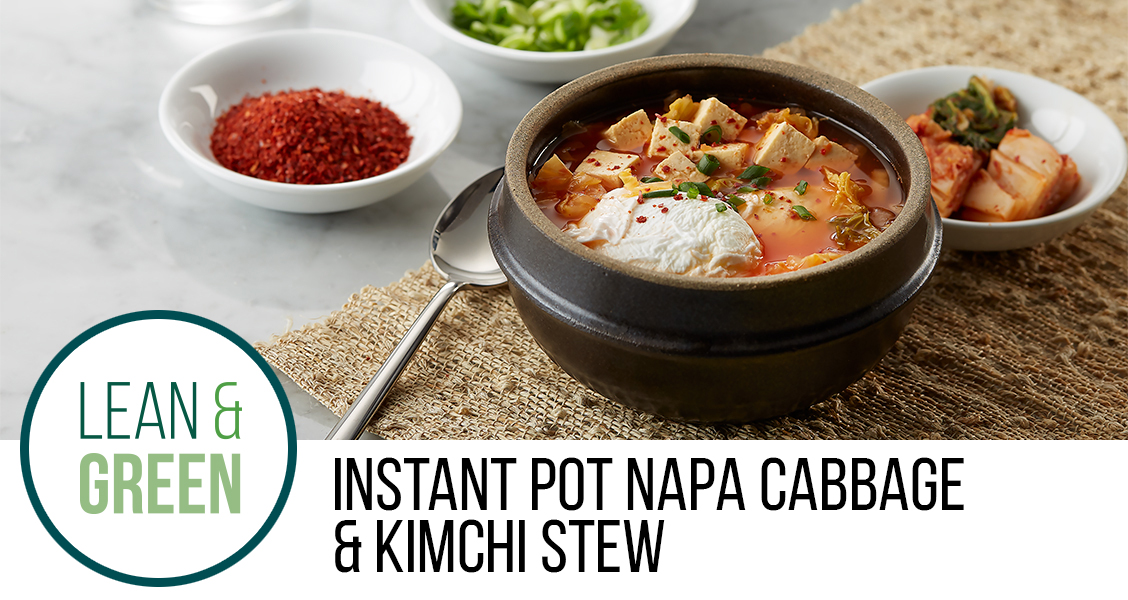 Yield: 4 servings
Complete Lean & Green Meal: 1 lean, 3 green, 3 condiments
Total Time: 30 minutes
Ingredients

5 cups chopped Napa cabbage (about 8 oz.)

¼ cup no sugar added kimchi, chopped

2 cloves garlic, minced

2 tbsp Korean chili flakes or paprika

½ cup kimchi juice

¼ cup white vinegar

3 cups water

8 eggs

20 oz. soft tofu, drained and patted dry with a paper towel or cloth

2 scallions, trimmed and sliced thin

Directions

Push the sauté button on Instant Pot. Once hot, add cabbage, kimchi, garlic, and Korean chili flakes, and cook for 5 minutes.
Add the kimchi juice, vinegar, and water. Secure lid, push to the stew mode and adjust the time to 10 minutes.
When Instant Pot beeps, naturally release pressure. Open the lid, and add eggs one at a time. Push the sauté button again and cook eggs to desired consistency.
Cut tofu into small cubes. Add tofu to stew and simmer for another few minutes.
Serve in bowls and garnish with scallions.

Slow Cooker Method: Add all of the ingredients except the eggs to your slow cooker. Cover with lid and cook for 2 hours on low or until cabbage is tender. Add the eggs, re-cover, and cook for another 20 to 30 minutes. Serve in bowls and garnish with scallions.
Nutrition Facts Per Serving: 260 calories, 14g fat, 11g carbohydrate, 25g protein
Visit our OPTAVIA Pinterest page for an extensive assortment library of Lean & Green meals.

New Energy
At 5'2" and 255lbs, Tena knew that she had to make a change.
It was almost at that very moment, during a life-changing doctor's visit, where she received the contact information of an independent OPTAVIA Coach, who she reached out to a few months later.
"As I started my journey and began to see results, my faith in OPTAVIA's program grew. My energy picked up to a level I hadn't experienced in a long time. My successes were celebrated by my Coach, my OPTAVIA Community, and by friends and family. I was actually taking charge of my own life and my own health for the first time in a very long time!"
With OPTAVIA's Program and her Coach at her side, Tena lost over 100 pounds in a year*.
It was in the midst of her journey that Tena decided to help others in accomplishing optimal health and wellbeing, including sharing OPTAVIA's mission, by becoming a Coach.
"As I began to get Clients and coach them, my excitement became so intense as I quickly learned how powerful and rewarding the Coaching experience can be! Not to mention, it keeps you on your toes and allows you to stay true and faithful to your own journey. As a Client or a Coach, we have a gift of health to share with others, and that makes me want to do my best every day!"
Tena now has the time and energy to play with her grandchildren, go on long walks, and try anything else that comes her way!
"OPTAVIA has changed my life, turned my old habits to new, healthy habits, and make better, healthier food choices on a consistent basis.  OPTAVIA continues to teach me how to live the rest of my life healthy, and I now do the same for others. Thank you, OPTAVIA!"
*Average weight loss on the Optimal Weight 5 & 1 Plan® is 12 pounds. Clients are in weight loss, on average, for 12 weeks.
Kathy Glazer
Independent OPTAVIA Coach
Kathy@EatSmartCoach.com
http://EatSmartCoach.optavia.com/eatsmartcoach
571-213-1988
3 Washington Circle N. W. #303, Washington,D.C. 20037, Also Falls Church,VA
© 2021 OPTAVIA, LLC. All Rights Reserved