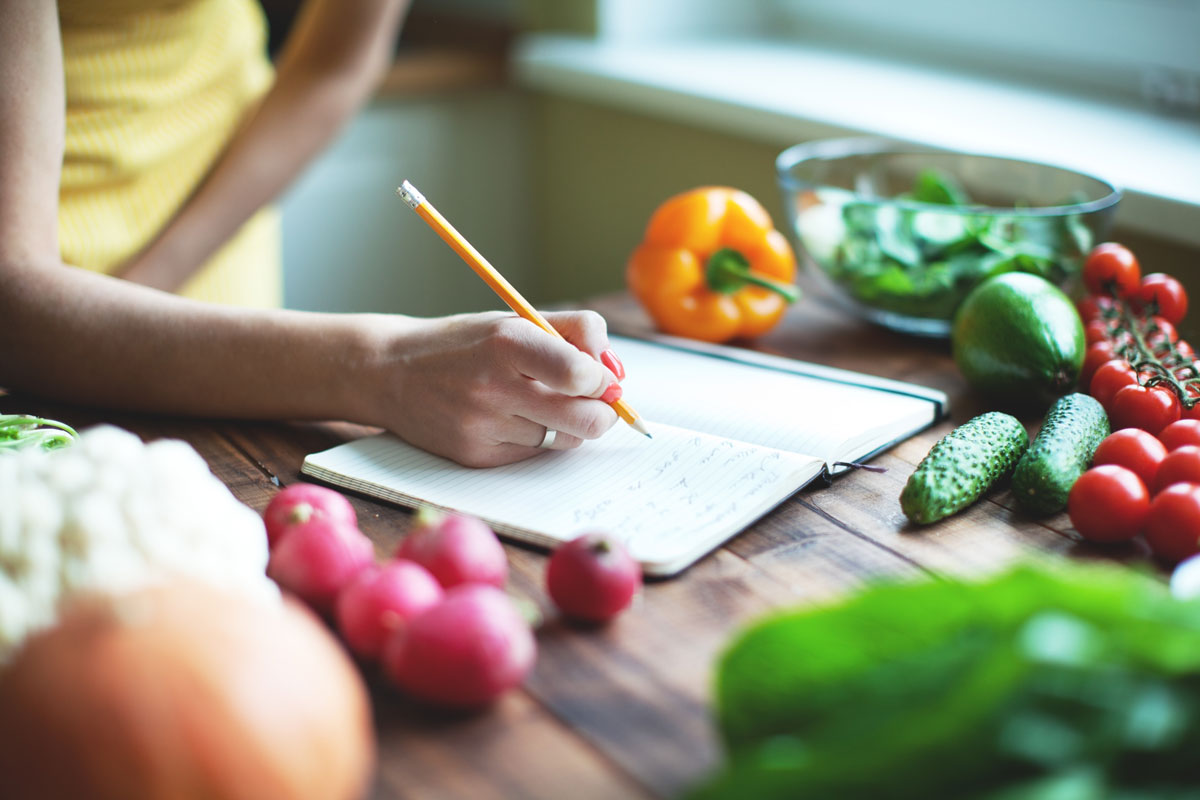 After you have successfully reached your healthy weight and discovered optimal health and wellbeing, the next step on your journey is to optimize and maintain your ideal weight by eating healthy on a consistent basis. Remember, if you aren't ready to transition at this time, it's okay! Simply stay focused on your health and wellness journey, stay connected to your independent OPTAVIA Coach, and continue your journey until you reach your own goals.
In Your LifeBook, Co-founder and independent OPTAVIA Coach, Dr. Wayne Scott Andersen provides a breakdown of the various portions of food groups included in a healthy meal — vegetables, fruits, protein, and grains. A meal on your nine-inch plate should be made up of 50% vegetables and fruits, 25% protein, and 25% grain. Remember you can always add more vegetables and less fruit to the percentage.
Dr. A's recommendation for a healthy meal consists of:
Veggies & Fruits. Since vegetables and fruits comprise half of your meals, selecting low-glycemic options is crucial. Brainstorm and then make a list of your favorite and/or new low-glycemic vegetables and fruits you want to try before your next visit to the market! Choose a wide variety of vibrant foods including salads, crunchy raw vegetables, and nutrient-packed berries. Remember to limit fruit to 25% of your plate; you can always increase the vegetable percentage and choose less than 25% of fruit if you'd like.
Protein. Eating fish one to three times per week can positively impact your wellbeing; check out the recipe below to get started! Lean poultry is another healthy choice to enjoy but note that red meat consumption should be kept to a minimum. After cooking, your protein portion size should fit into the palm of your hand.
Grains. Healthy grains are a nutrient-rich source of energy. Some healthy starches include whole wheat bread, quinoa, wild rice, and sweet potatoes. (Although potatoes are vegetables, they act more like starch due to their higher-glycemic and higher-carbohydrate content.) The portion size of your grains should be equivalent to a tennis ball.
This breakdown provides the right amount of healthy nutrients to balance and satisfy your hunger. Remember, creating and utilizing a strategy to maintain proper portion control is essential.
Work with me, your independent OPTAVIA Coach, during this phase of your transformation. Let's partner to determine the best plan of action so you are set to create healthy eating habits for life!

Check out Dr. A's Element Stories here!

One of the first recommendations in the Habits of Health Transformational System is straightforward: get rid of all of the unhealthy foods in your pantry and your refrigerator.
The next step is to let me, your independent OPTAVIA Coach, assist you when ordering Fuelings, and then to make a trip to the grocery store to fill your house with new and healthy foods for your Lean & Green meals . While it may seem intimidating at first, there are plenty of ways to shop smarter when starting an OPTAVIA Plan.
Check out these tips and ideas to keep you on track when grocery shopping:
Make a list. Before you grab a shopping cart, plan out what you need. Stick to your list and avoid adding anything extra to your cart while at the store.
Don't shop hungry. Eat a Fueling before you leave your house to eliminate nagging hunger that can drive temptation.
Shop fresh. Healthy foods, like fresh vegetables and lean meats, are packed with nutrients, like fiber and protein, which can help keep you feeling full and satisfied. Summer is the perfect time to stock up on healthy seasonal veggies and grill some delicious lean protein, like chicken breast, tofu, and fish, for your Lean & Green meals.
Stay on the outside edge. Most grocery stores are designed to have fresh, healthy foods around the perimeter of the store. Stick to these sections to avoid temptation!
Adding healthy shopping to your regular routine will help you eliminate temptations in your home and allow you to practice cooking delicious and healthy Lean & Green meals.
Remember, you're not alone. If you would like to discuss your strategy when grocery shopping, reach out to me, your independent OPTAVIA Coach.
Yield: 2 Servings
Per Serving: 1 Leaner, 1 Healthy Fat, 3 Green, 3 Condiments
Total Time: 30 minutes
Ingredients

Blackening Seasoning

3 tbsp paprika

2 tsp onion powder

2 tsp garlic powder

2 tbsp ground black pepper

1 tsp dried thyme

1 tsp cayenne pepper

14 oz. 95-97% lean ground turkey

½ tsp salt

¼ cup minced scallion

1½ tsp blackening seasoning (recipe above)

2 tsp olive oil

2 cups cut green beans

¾ cup cherry tomatoes, cut in half

1 cup fresh basil leaves, gently torn

Directions

To make your own blackening seasoning, combine all the blackening seasoning ingredients in a small bowl. Measure out 1½ teaspoons and store the extra in a closed, airtight container to use for other meals.
To make the meatballs, thoroughly combine the ground turkey with the salt and scallions and shape into 6 equal-sized meatballs.
Sprinkle the meatballs with 1½ teaspoons of blackening seasoning.
Heat the olive oil in an 8-inch saucepan over moderate heat.
Place the meatballs into the pan and brown gently from all sides.
Once the meatballs are well-browned, remove them from the pan and set aside.
Add the green beans and ¾ cups of water into the same saucepan and bring to a boil.
Return the browned meatballs into the pan, cover with a lid, and cook gently for 8 minutes, until the beans are tender, and the meatballs have reached an internal temperature of 165°F.
Add the cherry tomatoes and basil leaves and continue to simmer for one more minute.
Serve 3 meatballs per portion with an equal amount of the veggies and their juices per portion.
Nutrition Per Serving: 360 calories, 19g fat, 12g carb, 42g protein
Discover other plan-approved Lean & Green recipes in the OPTAVIA App. 
Download the OPTAVIA App today!



Happy to be Healthy
Shocked by an alarming health discovery in December 2018, Jennifer was advised by her doctor that she'd need to go back on insulin shots and her heart sank. The mere memory of her previous experience with insulin shots through two pregnancies created overwhelming anxiety for Jennifer. "I cried every day as I had to inject a needle into my pregnant belly 5 times a day."
Jennifer felt that she was spiraling out of control and at a loss with maintaining decent health! At the time of this new discovery, Jennifer had already endured two weight loss surgeries and felt she had no other options. "I was a food addict and no diet or surgery seemed to resolve or shift my unhealthy mindset and habits about food."
Jennifer had no clue that her introduction to OPTAVIA would change her life! Her journey started in January 2019 and within 5 months of being on Plan she experienced results that blew her mind. "My doctor was astounded at my progress. Jennifer attributes her newfound clarity and healthy mindset to OPTAVIA. "Now, I am in a completely new place in my life thanks to OPTAVIA! I couldn't be happier."
*Average weight loss on the Optimal Weight 5 & 1 Plan® is 12 pounds. Clients are in weight loss, on average, for 12 weeks.
Rebecca Lange
Independent Certified OPTAVIA Coach
rebeccalange117@gmail.com
http://www.MyJourneyToAHealthyMe.com
336-202-3316
P.O. Box 38941
Greensboro, NC 27438
© 2023 OPTAVIA, LLC. All Rights Reserved