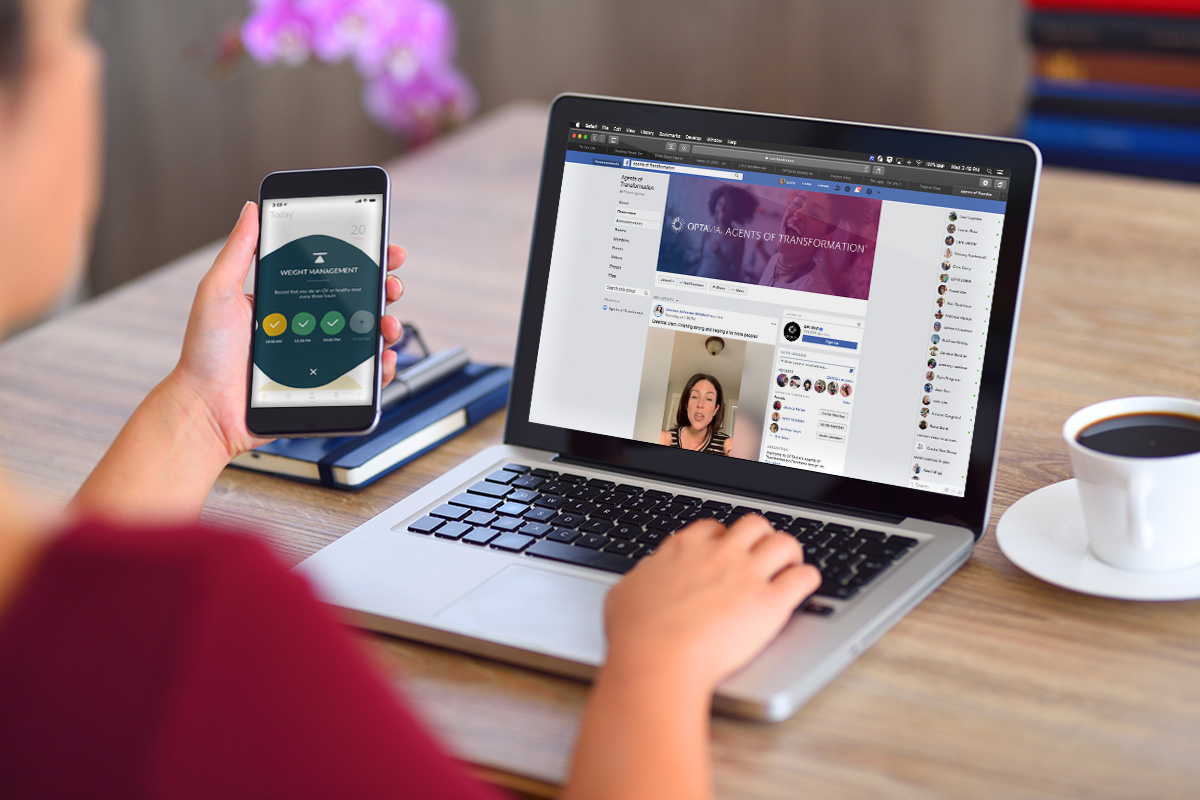 Between meal planning, exercising regular motion, and hydration – developing a support system now (over the summer) can be extremely beneficial for both our physical and mental health.
A strong support system should include someone to reach out to for information, advice, guidance, or just listen instead of talk. By developing a supportive relationship, you may find encouragement, help easing fears and anxiety, but also celebrate your victories along your journey to Lifelong Transformation, One Healthy Habit at a Time®.
In Chapter 18 of Dr. A's Habits of Health, Dr. Wayne Scott Andersen discusses the different types of support systems that work best based on your unique needs.
Consider these tips for building and sustaining a healthy support system this summer:
Get clear on your goals. Having clear health goals with objectives and action steps will help determine what type, or what level of support is necessary. Look for support from a mentor with a certain expertise that relates to what you need guidance with, or a peer that may have already run the race you are currently running. Ultimately, with a clear understanding of your goals and the action steps needed to move forward, will help identify the specific support needed so you can go out and find it!
Find a mentor in your Coach It's important for a Coach to pay it forward with helpful tips and insights as you continue to progress through the various stages of your health journey. It's also important to remember that not everyone moves at the same pace, with the same vigor, etc. As your Coach, I love offering guidance and support, especially when a Client needs to redefine, reset goals, and outline a new plan with achievable action steps, until you become refocused and ready to restart your journey!
Reach out to family and friends. Your loved ones are a great resource for encouragement. Sustain this support network by keeping in touch and updating them with your progress along your health journey. Sharing the Habits of Health® with your loved ones can also help increase your success as you work toward your goal because you can try to work toward similar goals together!
Building connections and having a support system this summer will be vital to making progress to your goals!
Please reach out to me, your OPTAVIA Coach, before summer gets into full swing. I along with the OPTAVIA Community are here to support and help YOU as you work towards optimal health.
Join this week's Habits of Health® Community Time, Strengthening Summer Support Systems, on Wednesday, June 3rd at 8:30 p.m. ET/7:30 p.m. CT/5:30 p.m. PT, hosted by Independent OPTAVIA® Coach, Dr. J.C. Doornick.

HOW TO CONNECT:
Please click the link below to join the webinar:
https://zoom.us/j/113312513

Or iPhone one-tap (US Toll):
+1(646)558.8656

Or Dial (US Toll):
+1(646)558.8656

And Enter the Pin: 113312513#

If you're looking for a relaxing, safe, and fun indoor exercise this summer- consider yoga! More than 36 million Americans practice yoga in the United States, and that number is rapidly growing.
Yoga is practiced by people, young and old, and there is a style of yoga to fit just about every fitness level and lifestyle desire. So if you're looking to de-stress, re-flex, get healthy, or just feel great – Namaste- you can surf the web for tons of at-home yoga video tutorials to try while many of us are spending more time at home. 
No matter which method of Yoga you choose, you will likely feel improvements in the following:
Mind-body harmony. Yoga practice includes breathing exercises designed to help you turn your focus inward. The result is a calmness and mental clarity that helps focus your attention and concentration.
Strength and flexibility. Poses, or asanas, are part of every yoga practice, whether these are held for longer periods of time to encourage deep stretching or performed quickly or strung together as routine. Postures use various muscle groups and almost every pose can be modified for your own fitness level and flexibility, but with continued yoga practice, both improve.
Core strength. Most yoga poses rely on a strong core for balance. To find the correct post that is right for you, you will need to concentrate on finding your center, sitting, and standing properly. With regular practice, your core will get stronger.
Health and wellness. The meditative properties of breathing exercises help to reduce stress. Relaxation is stress's natural antidote. With your improved strength, greater flexibility, increased awareness, and reduced stress, how can your physical and mental health not improve?
Ask me, your OPTAVIA Coach, how to find a meditative practice, or specific type of yoga that appeals to your needs and fitness level.

Yield: 2 servings
Complete Lean & Green Meal: 1 lean, 3 green, 3 condiments, ½ snack
Total Time: 60 minutes
Ingredients

Salmon Burgers

1, 5-oz can drained skinless and boneless pink salmon, packed in water

1 egg, slightly beaten

1½ Tbsp light mayo

½ tsp lemon juice

1 Tbsp minced onion

¼ tsp each or less: salt & pepper

Cooking spray ¼ tsp dried parsley

Dash of pepper

1 packet Medifast Multigrain Crackers, crushed

Cooking spray

 

Cucumber Salad

1, 5.3-oz container low-fat plain Greek yogurt

2 Tbsp apple cider vinegar

1 Tbsp fresh dill (or ½ tsp dried)

Dash of salt and pepper

3 Cups Peeled, thinly sliced cucumbers

Directions

In a small bowl whisk together egg, mayo, lemon juice, onion, parsley and pepper. Gently fold in salmon and crushed crackers. Divide mixture in half, and shape into two patties. Cook on a lightly greased skillet over medium-high heat until golden brown on both sides, about 5 minutes per side.
Meanwhile, whisk together the yogurt, vinegar, dill, salt and pepper. Pour over cucumber slices, and stir to mix in. Chill until ready to serve.
Per serving: 270 calories, 30g protein, 16g carbohydrate, 10g fat
Visit our OPTAVIA Pinterest page for an extensive assortment library of Lean & Green meals.

Full Freedom
Stephanie was overweight for most of her life, since elementary school. She was never an athlete, and she skipped the juniors department and went right into women's sizes.
"I picked up more weight in college and even more after I got married."
Not too long after that, Stephanie's doctor put her on blood pressure medication. She was also having back problems and getting spinal injections to assist with pain management. A neurosurgeon told her she was going to need back surgery.
"That was the straw that broke the camel's back. One of my coworkers had success from the OPTAVIA Program and that is all I needed to know! I didn't care about the cost or what the program entailed. I went online, ordered my kit, and was assigned an Independent OPTAVIA Coach."
Stephanie started her journey in April, and by the end of the year, she had lost 80 pounds* and dropped eight dress sizes!
"I felt better than ever. I really wanted to pay it forward and help others, but I was still skeptical about the weight returning, so I went on to lose an additional 13 pounds* the next year and then signed up to be an Independent OPTAVIA Coach because I knew I could be a good role model."
It was also a goal for Stephanie to ride a horse for the first time when she turned 40 years of age, so she created a dream board of things on her bucket list – both explorative and challenging!
She took her entire family to the Dominican Republic to celebrate and she rode a horse for the first time on the beach**. She was the only person on the tour brave enough to ride her horse into the ocean.
"I quickly learned that it's not just about the number on the scale. Those non-scale victories mean just as much. My journey wasn't just about weight loss. It was equally about finding freedom from within."
Today, Stephanie is free to do things she never thought! She said, "This program changed my life and I love paying it forward. I want to inspire people because I want people to look at me and say, 'because of you, I didn't give up.'"
*Average weight loss on the Optimal Weight 5 & 1 Plan® is 12 pounds. Clients are in weight loss, on average, for 12 weeks.
**OPTAVIA makes no guarantee of financial success. Success with OPTAVIA results only from successful sales efforts, which require hard work, diligence, skill, persistence, competence and leadership. Please see the OPTAVIA Income Disclosure statement for statistics on actual earnings of Coaches.
Kathy Glazer
OPTAVIA Coach
Kathy@EatSmartCoach.com
http://EatSmartCoach.optavia.com/eatsmartcoach
571-213-1988
3 Washington Circle N. W. #303, Washington,D.C. 20037, Also Falls Church,VA
© 2023 OPTAVIA, LLC. All Rights Reserved