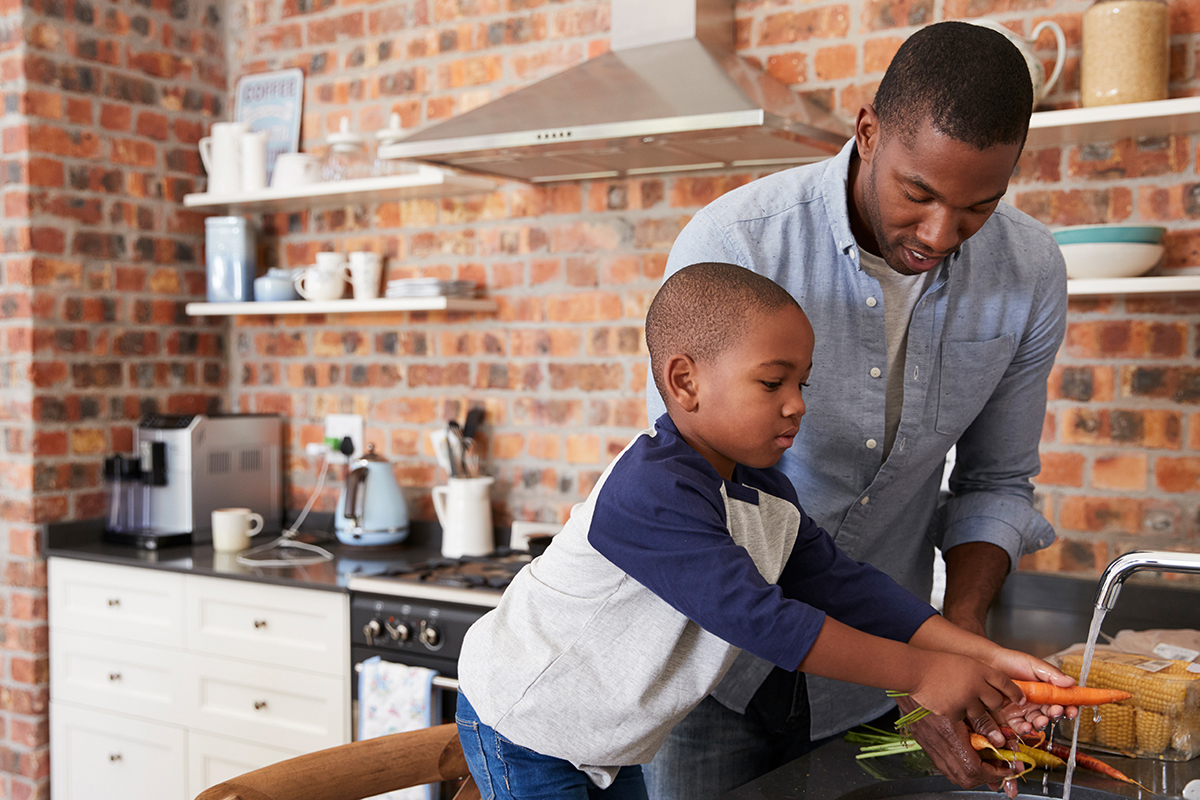 In Element 16, Dr. Wayne Scott Andersen explains why it's essential to be prepared when confronted with unhealthy food choices. When we're suddenly hungry, stressed, or even bored, these unhealthy foods can become very appealing, serving as a quick fix to curb our appetite or emotions. However, the effects are short-lasting and can pose consequences to your health and wellbeing. Here are some tips for making a healthy choice when faced with these temptations:
Stop. Challenge. Choose. Stop and take a slow, deep breath to help control your emotions. Recognize that you are triggering an unhealthy habit. Then think about why you are responding to the situation the way you are. Remind yourself of your goals and the choices you should be making to reach these goals. Finally, choose the healthy option that gives you a similar reward, but is much more beneficial for your long-term health.
Identify your triggers. Knowing what your triggers are and being honest with yourself about your food behaviors is the first step towards changing them. Once you determine your triggers, come up with healthy alternatives that will benefit your health goals.
Change your environment. You can create obstacles for unhealthy decisions and make healthy choices easier. Clear your pantry of any unhealthy foods that could disrupt healthy eating, such as white bread, hydrogenated vegetable oils, refined cereals, and processed sweets. Instead, reach for a Fueling, which is portion-controlled and provides balanced nutrition.
Use your support system. Reach out to your OPTAVIA Coach, a friend, loved one, or the OPTAVIA Community for some extra support during a moment of weakness. A quick call or text can help you regain focus and put your goals in perspective.
Keep in mind that practice makes perfect. Applying these healthy habits on a regular basis will allow you to build optimal health and wellbeing (no hyphen) without depending on willpower.
We also invite you to watch our transformative video series, featuring Your LifeBook – Elements 01-26, published recently on CLIENT ANSWERS. These videos, Your LifeBook, and me, your Coach, give you the tools to empower yourself and move forward in creating optimal health and well-being. Check them out!
Join this week's Habits of Health® Community time, Your LifeBook— Element 16: Dealing with Addictive Food on Wednesday, August 5th at 8:30 p.m. ET/7:30 p.m. CT/5:30 p.m. PT, hosted by Independent OPTAVIA® Coach Leslie Begin.

HOW TO CONNECT:
Please click the link below to join the webinar:
https://zoom.us/j/113312513

Or iPhone one-tap (US Toll):
+1(646)558.8656

Or Dial (US Toll):
+1(646)558.8656

And Enter the Pin: 113312513#

A nutritious breakfast helps reduce cravings and aids digestion, which are equally important for maintaining a healthy weight. Breakfast also provides essential vitamins and nutrients to keep you energized and focused throughout your day. Here are some tips for implementing healthy breakfast habits to power you through the start of your day:
Plan breakfast in advance. If you know you're going to be rushing in the morning, prep in advance. Have your Fueling ready to go or simply take a mental note of what you will eat in the morning.
Eat within an hour after getting up. Have your first Fueling within one hour after waking up to keep blood sugar levels stable throughout the day and boost your metabolism. The longer you wait to eat, the hungrier you may become.
Have healthy food. If you choose, switch up your routine and your day by preparing a healthy Lean & Green meal for breakfast! A hearty omelet or frittata for the entire family to enjoy is also a great option. For Lean & Green recipe ideas, visit OPTAVIA's Pinterest page for an array of featured recipes.
Enjoy your breakfast. Make an effort to sit down and enjoy your breakfast, versus eating on the run. Focus on intentionally chewing your food to slow yourself down, and help aid digestion.
Ask me, your OPTAVIA Coach, for other tips about how to have a healthy breakfast on your journey to Lifelong Transformation, One Healthy Habit at a Time.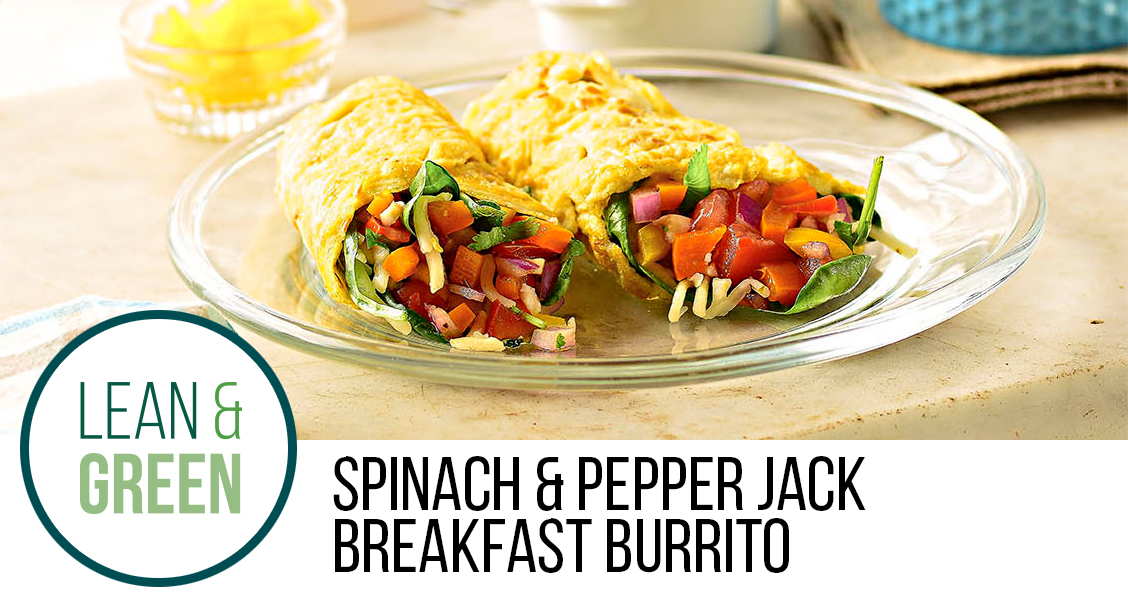 Yield: 2 servings
Total Time: 20 Minutes
Complete Lean & Green Meal: 1 Leaner, 3 Green, 1 Healthy Fat, 3 Condiments
Ingredients

For the Tortillas

2 eggs  

4 egg whites 

2 Tbsp whole flax seeds

Cooking spray

 

For the Filling

4 oz shredded reduced-fat pepper jack cheese

2 cups baby spinach, loosely chopped

 

For the Salsa

1 cup diced tomatoes

½ cup diced bell pepper

1 jalapeno pepper, diced

1 Tbsp chopped red onion

1 clove garlic, minced

2 tsp balsamic vinegar  

1/8 tsp salt 

1/8 tsp pepper 

¼ cup fresh chopped cilantro

Directions

In a small bowl, whisk together the ingredients for the tortilla.
Heat a small skillet over medium-high heat, and lightly grease with cooking spray. Pour half of the egg mixture into the skillet, and swirl to evenly distribute the eggs on the surface, forming a thin, tortilla- or crepe-like shape. Cook for a couple of minutes until the edges and bottom of the tortilla are firm. Tilt the skillet from side to side to make sure eggs are no longer runny. Gently loosen the tortilla from the surface with a spatula, and carefully flip. Continue to cook until eggs are fully set. Repeat with the other half of the tortilla mixture. Set tortillas aside when finished.
Lightly grease the same skillet, and sauté the spinach 2 to 3 minutes, or until wilted, over low to medium-high heat. When done, remove from heat and set aside.
Combine all of the salsa ingredients in a medium-sized mixing bowl.
Place tortilla on a large plate. Add half of the spinach, cheese, and salsa to the middle and roll them into a burrito. Serve immediately.
Tip: To secure the shape of your burrito, wrap aluminum foil around the bottom half of the tortilla after stuffing.
Nutrition Facts:  350 calories, 17g fat, 19g carbohydrate, 29g protein
Visit our OPTAVIA Pinterest page for an extensive assortment library of Lean & Green meals.

I love OPTAVIA
"I love the OPTAVIA program. I love how it has changed my life, and I love how my life is on a different path now. My kids are going to follow me on this path. They are going to see a mom who's happy and confident, and looking forward to the future."
Carrie Frazier's transformation story began two years ago when she gave birth to her fourth child. "Being 44 years old, I was considered an older mom. And honestly, my body didn't bounce back as it did with my other kids. Although I was thrilled to be a mom again, my body was not in the best shape."
Carrie was tired and exhausted, and eating healthy was not on her mind. As the weight crept on, her self-esteem took a nosedive. "I found myself hiding clothes in the closet, avoiding mirrors, and deleting photos as soon as I saw myself. I was not living the life I wanted for my new daughter."
After starting the OPTAVIA program, Carrie noticed a difference quickly. "My hope returned and I felt more determined than ever to make the changes needed. Within six months, I had lost 80 pounds* and felt ten years younger. My energy has remained high, and I look forward to weekly trips to the park with my daughter and being in photos with her!"
As a practicing nurse, Carrie already had a passion for helping others. Becoming an OPTAVIA Coach was a natural next step. "Now I'm paying it forward and helping other people do it. It's so rewarding in my life. Best of all, the relationship I have with myself is healthy and positive once again. I feel blessed beyond measure to have found this life-giving, transformational program!"
*Average weight loss on the Optimal Weight 5 & 1 Plan® is 12 pounds. Clients are in weight loss, on average, for 12 weeks.
Kathy Glazer
OPTAVIA Coach
Kathy@EatSmartCoach.com
http://EatSmartCoach.optavia.com/eatsmartcoach
571-213-1988
3 Washington Circle N. W. #303, Washington,D.C. 20037, Also Falls Church,VA
© 2023 OPTAVIA, LLC. All Rights Reserved