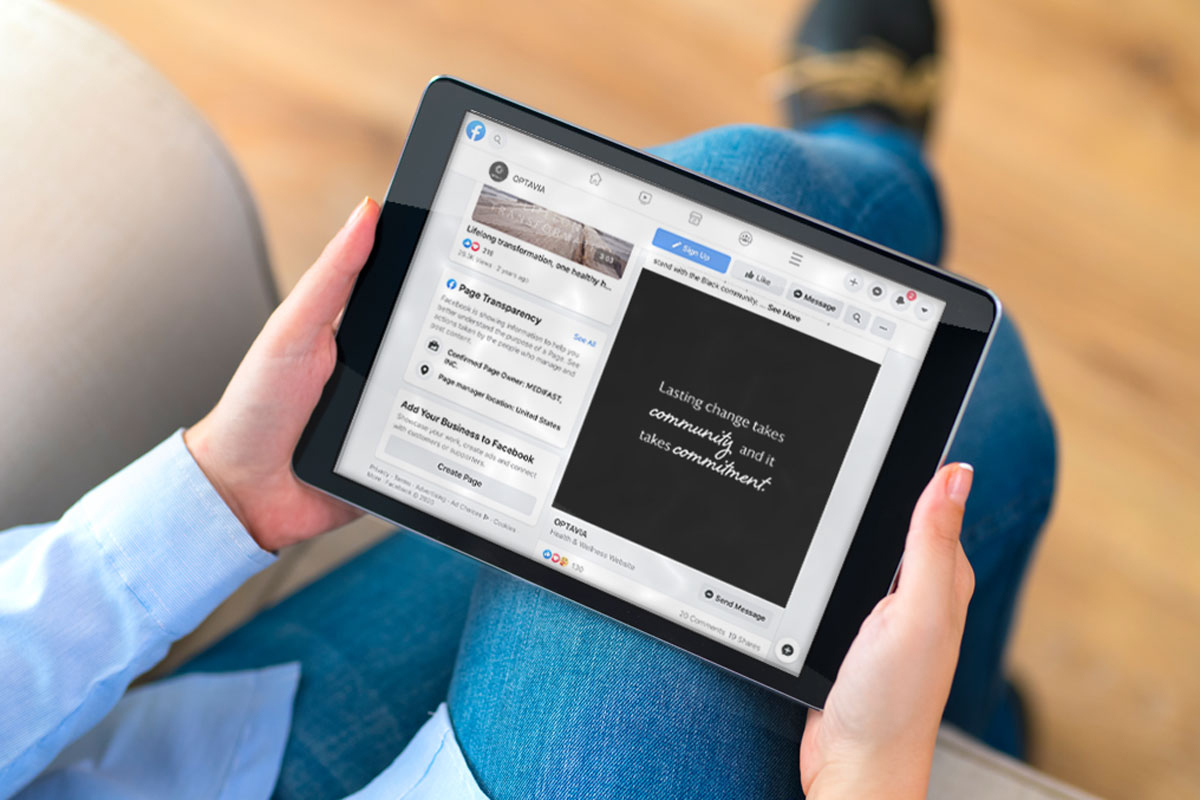 In Element 13, we'll explore the tools to assess your progress on your journey to optimal health and wellbeing. The key is to track details and experiences you completed throughout the day while applying your learnings to plan for tomorrow and the future. By tracking these results, you can easily identify your patterns and behaviors and make corrections early on as needed.
Your LifeBook creates an interactive structure allowing you to fully immerse yourself in what it takes to become optimally healthy. Dr. Wayne Scott Andersen provides a daily log template to make it easier to learn and install healthy habits. The daily log and checklist is designed to help you and your OPTAVIA Coach identify areas to improve in the MacroHabits of Health. Here are some tips to keep you motivated as you are recording your progress:
Create realistic goals. Drastic change does not happen overnight which is why it's important to implement small, healthy habits and create a realistic timeline to achieve your goal. Remember, it's a marathon, not a sprint!
Reward yourself. Discover what makes you happy that doesn't involve food and reward yourself for reaching small milestones along your journey. For example, treat yourself to a movie night if you've eaten five Fuelings every day for a week.
Ask for support. Your support system can help you handle difficult situations, find resources, and motivate you to succeed. Reach out to loved ones, your OPTAVIA Coach, and others in our OPTAVIA Community for support and advice on how to achieve the necessary milestones involved in your journey to optimal health and wellbeing.
Use visuals.  Sometimes we need visual reminders to keep us motivated. Find pictures that symbolize experiences, feelings, or even new items you want to have in your life. A vision board, desktop screensaver, or mobile phone background are great ways to keep your goals top of mind!
In addition to the daily log, it's important to track your weekly and monthly progress. The weekly tracker (page 260) allows you to measure trends without overanalyzing daily results. The monthly tracker (page 262) allows you to see the progress and transformation you've made throughout the year.
Discuss this Element with your Coach and make a plan to start tracking your progress as you create your health story. In Element 14—transitioning to eating healthy for life—we'll examine how to transition from Phase I to Phase II, which focuses on making choices that support long-term weight management. 
We also invite you to watch our transformative video series, featuring Your LifeBook – Elements 01-26, published recently on CLIENT ANSWERS. These videos, Your LifeBook, and me, your Coach, give you the tools to empower yourself and move forward in creating optimal health and wellbeing. Check them out!
Join this week's Habits of Health® Community Time, Your LifeBook— Element 13: Why "What Gets Measured Gets Done", on Wednesday, June 24th at 8:30 p.m. ET/7:30 p.m. CT/5:30 p.m. PT, hosted by Independent OPTAVIA® Coaches, Sean & Meghan Cody.

HOW TO CONNECT:
Please click the link below to join the webinar:
https://zoom.us/j/113312513

Or iPhone one-tap (US Toll):
+1(646)558.8656

Or Dial (US Toll):
+1(646)558.8656

And Enter the Pin: 113312513#

With summer months filled with work on top of day trips and keeping the family entertained, stress is inevitable. You may not recognize it initially, but it has a way of sneaking up when we least expect, and this tends to happen at the most inopportune times.
That's where mindfulness and meditation come into play.
15 minutes of yoga, Pilates, or simple meditation every day will help you relax and become more aware of your thoughts and feelings. The best part? It doesn't require a hefty investment of your time to be effective.
Follow these steps to reduce your worry:
Find a quiet place in the morning. When you get up, find a place where you won't be disturbed. Sit straight on the floor or in a chair and begin to take big belly breaths. Allow your stomach to expand as you breathe through your nose. Then slowly exhale, through your nose or mouth.
As you continue to breathe, allow your mind to go blank. Try not to think about your to-do list. It's time to relax. If you're distracted and can't focus, try thinking of imagery. Think about the sun shining with a bright blue sky or a peaceful stream in the woods. This will quiet your mind and lead to relaxation.
Continue to breath. Smile. Let happiness fill you. This is a good wake-up exercise too! Practice these instructions for 15 minutes a day (if that's too long, start with 5 minutes and work up to 15 minutes). Do this every morning and your mindset will change!
If you do start to feel stressed, recognize it, close your eyes and take five deep breaths. Allow your mind to clear for a few minutes and you'll be able to tackle the issue with a clearer, recharged mind and body.
Making this personal investment every day is important in your quest for Optimal Wellbeing! Ask me, your OPTAVIA Coach, about other ways to create and sustain mindfulness.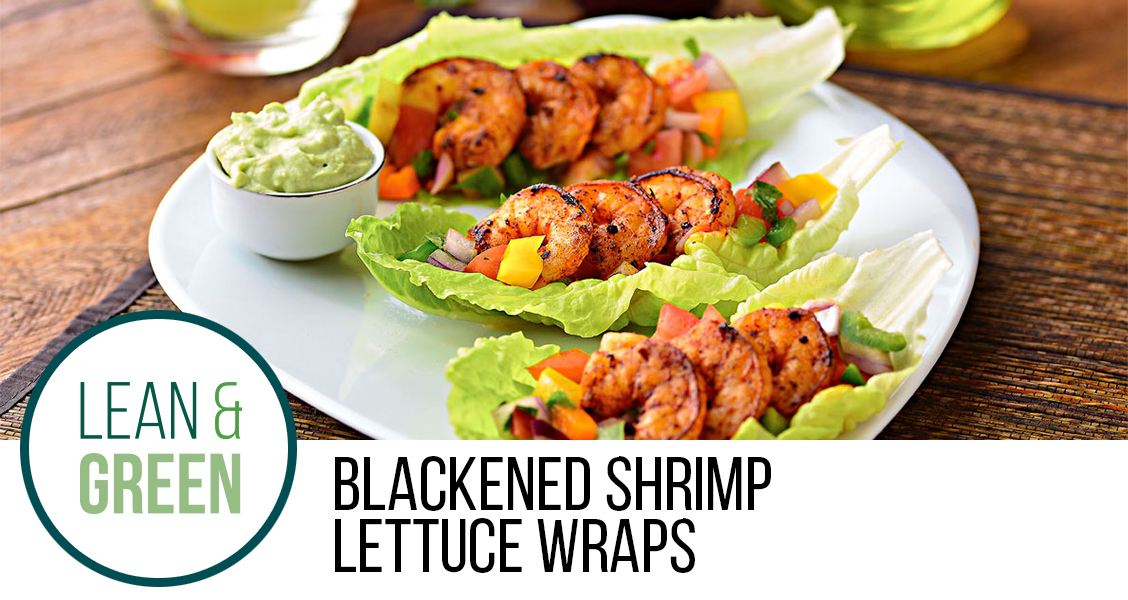 Complete Lean & Green Meal: 1 Leanest, 3 Green, 2 Healthy Fats, 3 Condiments
Yield:  4 servings
Total time: 30 Minutes
Ingredients

2 pounds raw shrimp, peeled and deveined

1 Tbsp Old Bay Blackened Seasoning

4 tsp olive oil, divided

1 cup plain, 2% Greek yogurt

6 oz avocado

2 Tbsp lime juice, divided

1 ½ cups diced tomato

¼ cup diced green bell pepper

¼ cup chopped red onion

¼ cup chopped cilantro

1 chopped and deseeded jalapeno pepper

12 large romaine lettuce leaves

Directions

Place shrimp and Old Bay seasoning in a re-sealable plastic bag (you may need to divide shrimp into two batches). Shake contents of bag to distribute seasoning evenly.
Heat two teaspoons of olive oil in large-skillet, and add half of the shrimp in a single layer. Cook about 2 to 3 minutes per side, until shrimp are pink and cooked through. Repeat with remaining olive oil and shrimp.
For the avocado crema: Combine Greek yogurt, avocado, and one tablespoon of lime juice in blender or food processor. Blend until smooth.
For the tomato salsa: Stir the tomatoes, green bell pepper, onion, cilantro, jalapeno pepper, and remaining tablespoon of lime juice in a medium bowl.
Prepare lettuce wraps by dividing the shrimp, avocado crema, and tomato salsa evenly among the lettuce leaves, serve immediately.
Per Serving: 350 calories, 15g fat, 17g carbohydrate, 39g protein
Visit our OPTAVIA Pinterest page for an extensive assortment library of Lean & Green meals.

Living for Me, My Family, and My Future
"Growing up I was athletic, strong, and healthy. I joined the military right out of high school and was on top of the world, or so I thought. Then things started to change—life events happened, situations deteriorated, and so did my health. I did not love the person looking back at me in the mirror."
Theresa had tried so many ways to get healthy and find herself again. She had short successes, but nothing sustainable.
"My pivotal moment came the end of 2015 when I realized I stopped living for me, my family and my future. I went to volunteer at my local special needs equestrian arena and could not even walk around without getting winded! How was I going to be able to assist the children, teachers, and other volunteers when I couldn't even walk a quarter of the way around the arena?"
Theresa had to give up volunteering, which was something that she loved. That was the moment she decided to make a change. 
"I'd had enough, so I began to work with my OPTAVIA Coach, mentor, and friend. She gently, lovingly, and constantly believed in me when I didn't and was a strong hand to hold toward my journey to Optimal Health with OPTAVIA."
Theresa found success on an OPTAVIA Plan* and was able to volunteer at the arena again, train for a 5K, and encourage healthy habits to her family. She became an OPTAVIA Coach and committed to helping others transform their lives and find the same success on the Program that she had.
"I am never going back! By learning, practicing and sharing my story, I am beginning to LIVE again—for me, my family and my future. I have been a part of some amazing opportunities, done things I never thought I could do, and met some of the most wonderful and inspirational people. But the most rewarding thing for me is to make people smile!"
*Average weight loss on the Optimal Weight 5 & 1 Plan® is 12 pounds. Clients are in weight loss, on average, for 12 weeks.
Kathy Glazer
OPTAVIA Coach
Kathy@EatSmartCoach.com
http://EatSmartCoach.optavia.com/eatsmartcoach
571-213-1988
3 Washington Circle N. W. #303, Washington,D.C. 20037, Also Falls Church,VA
© 2023 OPTAVIA, LLC. All Rights Reserved