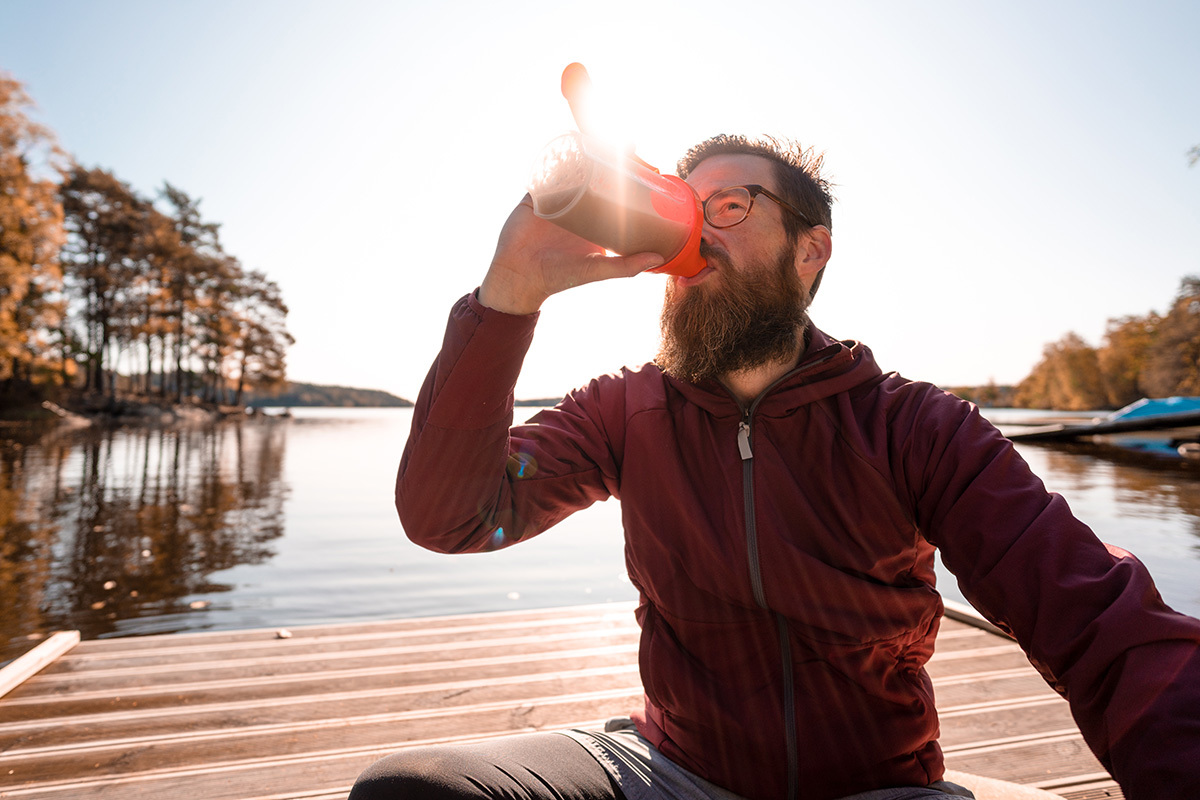 In Element 16, Dr. Wayne Scott Andersen explains why it's important to be prepared when confronted with unhealthy food choices. When we're suddenly hungry, stressed, or even bored, these unhealthy foods can become very appealing as a quick fix to curb our appetite or emotions. However, the effects are short-lasting and can pose consequences to your health and wellbeing. Here are some tips for making the healthy choice when faced with a difficult decision:
Stop. Challenge. Choose. Stop and take a slow, deep breath to help control your emotions. Recognize that you are triggering an unhealthy habit. Then think about why you are responding to the situation the way you are. Remind yourself of your goals and the choices you should be making to reach these goals. Finally, choose the healthy choice that gives you a similar reward but is much better for your long-term health.
Identify your triggers. Knowing exactly what your triggers are and being honest with yourself about your food behaviors is the first step to changing them. Once you determine your triggers, come up with healthy alternatives that will benefit your health goals.
Change your environment. There are several opportunities throughout your day where you can create obstacles for unhealthy decisions to make healthy choices easier. Clear your pantry of any unhealthy foods that could disrupt your healthy eating such as white bread, hydrogenated vegetable oils, refined cereals, and processed sweets. Instead, reach for a Fueling, which is portion-controlled and provides balanced nutrition.
Use your support system. Reach out to your OPTAVIA Coach, a friend, loved one, or the OPTAVIA Community for some extra support during a moment of weakness.  A quick call can help you regain focus and put your goals in perspective.
Keep in mind that practice makes perfect. Applying these healthy habits now will allow you to build optimal health and wellbeing without depending on willpower.
Stay tuned for next week's newsletter featuring Element 17—simple tips to burn more calories without exercising!
Still need to order your NEW Habits of Health® Transformational System? Let's connect today!
Join this week's Habits of Health® Webinar, Your LifeBook—Element 16: The dangers of addictive food and what to do if you're addicted on Wednesday, November 27th  at 8:30 p.m. ET/7:30 p.m. CT/5:30 p.m. PT, hosted by Independent OPTAVIA® Coach Leslie Begin.

HOW TO CONNECT:
Please click the link below to join the webinar:
https://zoom.us/j/113312513

Or iPhone one-tap (US Toll):
+1(646)558.8656

Or Dial (US Toll):
+1(646)558.8656

And Enter the Pin: 113312513#

Thanksgiving is quickly approaching so you are likely already thinking about your menu. With a little planning and preparation, there are many ways to enjoy this special day while keeping your health goals in mind. Here are some tips for making healthy choices and staying on Plan this Thanksgiving:
Eat regularly. Stay on track with your eating schedule and continue to eat your Fuelings every two – three hours throughout the day to avoid overindulging at dinner.
Keep portions in mind. Visualize your portions before actually filling your plate with food. Choose a lean protein like skinless turkey breast and fill at least half of your plate with low-glycemic green vegetables, such as green beans or a salad. Remember, the greener the better, like this week's featured recipe!
Savor every bite. Eat slowly, savor each bite, and put your fork down while you're chewing. Eating slowly also helps your brain recognize when you're full.
Bring a dish. If you're not hosting this year, prepare a healthy side dish to bring to dinner.
Volunteer to clean up. Instead of picking at leftovers, offer to help the host clear the table and wash dishes. Removing yourself from the table will help take attention away from the food and your host will appreciate the kind gesture.
Go for a post-meal walk. After a meal, go on a group walk with friends and family. You'll be able to continue your conversation away from the table while burning some calories.
If you are hosting this year, serve a healthy Lean & Green spread featuring the recipe below, Thyme & Sage Roasted Turkey with Mashed Cauliflower & Steamed Green Beans.
As we strive to meet our health goals, it's important to remember that it takes a community of support to stay strong, positive, and enthusiastic. As your OPTAVIA Coach, I am thankful for you and your commitment to achieving optimal health and I'm here to support you on your journey. Thank you for allowing me to pay it forward with the gift of Lifelong Transformation, One Healthy Habit at a Time®.

Per Serving: 1 Leaner | 3 Green| 3 Condiments| 1 Healthy Fat       
Yield: 8 servings
Total Time: 4 hours
Ingredients

Thyme & Sage Roasted Turkey

1, 12-13 lb whole turkey, thawed if frozen  

2 Tbsp + 2 tsp olive oil  

1 Tbsp dried sage

2 Tbsp dried thyme

½ tsp salt 

½ tsp pepper

Mashed Cauliflower

6 cups cauliflower florets

1 cup low sodium chicken broth 

4 Tbsp light cream cheese  

1 garlic clove, minced 

¼ tsp ground pepper 

¼ cup Parmesan cheese  

¼ cup fresh chopped chives (optional)

Steamed Green Beans

6 cups green beans  

¼ tsp salt  

¼ tsp ground pepper 

Directions

Thyme & Sage Roasted Turkey

Position your oven rack in the bottom third of the oven, and preheat oven to 450°F.
Remove any packaging in the body and neck cavities of the turkey. Let it sit breast-side up on a roasting rack.
Whisk together the olive oil, sage, thyme, salt, and pepper in a small bowl. Make a slit in the skin of the turkey, and rub mixture all over turkey meat.
Pour two cups of water into the roasting pan, and turn down the heat to 350°F.
Roast turkey for one hour uncovered. When turkey begins to turn golden brown, shield breast with foil. Continue to roast for 2 hours and 30 minutes or until minimum internal temperature reaches 165°F.
Transfer turkey to cutting board and tent with aluminum foil; let rest for about 15-30 minutes before carving. Measure out six ounces per serving; save any leftovers for another meal.

Mashed Cauliflower

Place cauliflower florets and 2-3 tablespoons of water in a large microwave-safe dish. Microwave for about 8-12 minutes, or until tender.
In a food processor, combine cauliflower, chicken broth, cream cheese, garlic, and pepper; blend to the consistency of mashed potatoes.
Stir in parmesan cheese and garnish with chives.

Steamed Green Beans

Bring a large pot of water to a boil. Place green beans in a steamer basket over water. Cover and steam until bright green and tender, 8-10 minutes, and then drain off any excess water.
When done, season with salt and pepper.
Per Serving: 350 calories | 52g protein | 12g carbohydrate | 12g fat
Visit our OPTAVIA Pinterest page for an extensive assortment library of Lean & Green meals.

Rediscovering Myself
 "I was always on the chubby side and had a sweet tooth. When I moved out into my own apartment my senior year of college, I knew how to bake but not how to cook, so for the next ten years, I kept gaining weight."
By the time Katie reached 200 pounds, she was miserable. She had to go to physical therapy for her back and she had horrible digestion problems. But most importantly, she wasn't happy.
"I had turned sour and angry which was not a great combo."
When a friend began posting some amazing transformation stories on Facebook, Katie was intrigued. The Program she described was based on healthy habits and not just a "quick fix", which is exactly what Katie needed. She ended up losing 78 pounds* just in time for her wedding.
"As I got lighter, my mood also lightened and I started building new friendships and connecting with others better than I had in years."
Feeling better than she had in years, Katie decided to become an OPTAVIA Coach so she could share her success.
"Over the next year, my income grew**, my life flourished, and I made great friendships through coaching."
Now Katie is maintaining her healthy weight, working on healthy finances**, and continuing to build her social connections.
"As an OPTAVIA Coach, I have assisted people in amazing weight loss results*, I've posted cooking videos on Facebook (yes, me, the girl who only knew how to bake cookies), I've rediscovered myself, and I'm excited to help others find joy in coaching. The next step for me is to rediscover my athletic side from high school!"
Kathy Glazer
OPTAVIA Coach
Kathy@EatSmartCoach.com
http://EatSmartCoach.optavia.com/eatsmartcoach
571-213-1988
3 Washington Circle N. W. #303, Washington,D.C. 20037, Also Falls Church,VA
© 2023 OPTAVIA, LLC. All Rights Reserved
** OPTAVIA makes no guarantee of financial success. Success with OPTAVIA results only from successful sales efforts, which require hard work, diligence, skill, persistence, competence, and Leadership. Please see the OPTAVIA Income Disclosure Statement (bit.ly/idsOPTAVIA) for statistics on actual earnings of Coaches.