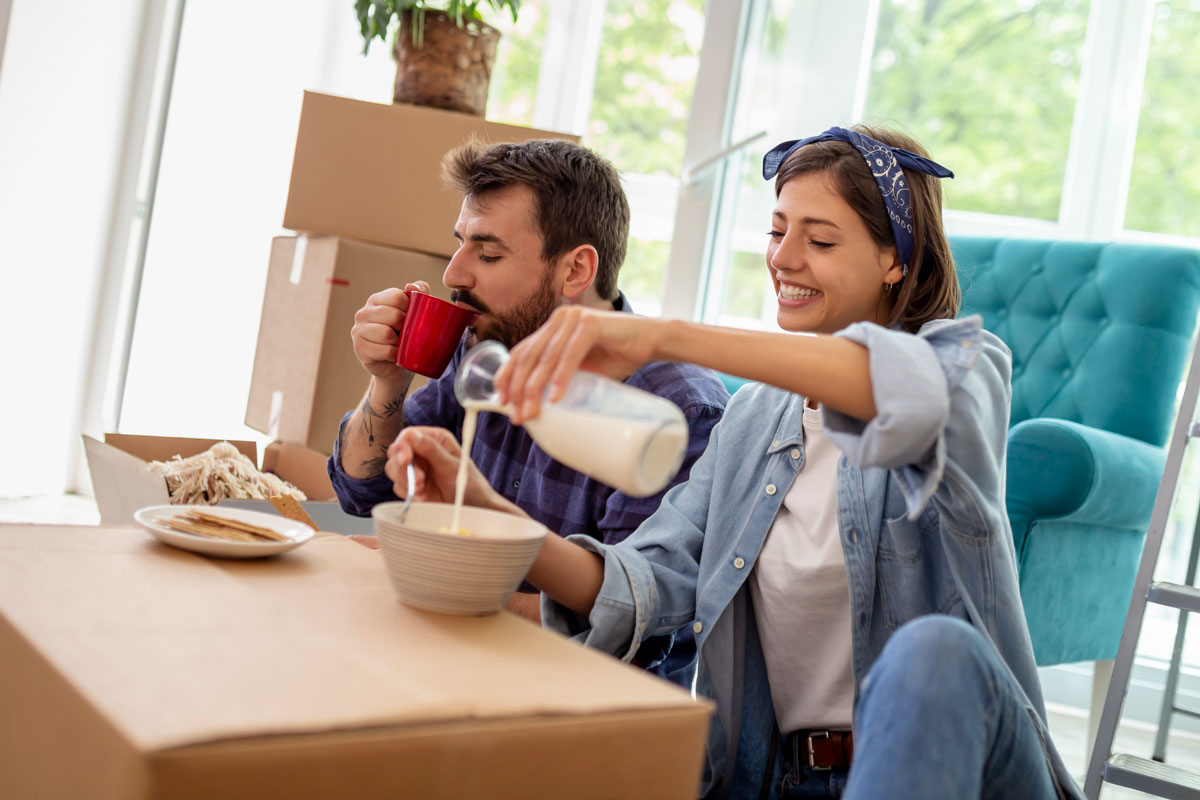 Once you reach a healthy weight, the first step to achieving optimal health, your next step is to transition from your weight loss routine to eating healthy for life to sustain long-term weight management. In Element 14, you'll begin to incorporate a full range of healthy foods into your diet, so that you're able to prepare a wide variety of meals. If you aren't ready to transition yet, stay focused on your wellness goals and reaching your healthy weight!
For the first four weeks of your transition phase, Dr. Wayne Scott Andersen recommends increasing your daily caloric intake gradually by adding back in the four food groups that you avoided during Phase I: additional vegetables, fruits, dairy, and whole grains. Here are some tips to follow when reintroducing these types of foods back into your diet:
Week 1—Additional vegetables. Add an extra cup (two servings) of vegetables from the green section of the chart (page 293 of Your LifeBook). This week you should be consuming between 850 – 1,050 calories per day.
Week 2—Fruit. At this point, you should remove one Fueling and add two medium-sized pieces of fruit, or one cup of chopped fruit or berries, from the green section of the chart on page 294 of Your LifeBook. This week you should be consuming between 900 – 1,150 calories per day.
Week 3—Dairy. Your dairy option can include low fat and fat-free yogurt or milk. This week you should be consuming between 1,000 – 1,300 calories per day.
Week 4—Whole grains & lean protein. During this week, you should add a whole grain option instead of a Fueling: one slice of whole-grain bread, ¾ cup of high-fiber cereal, 1/2 cup of whole-wheat pasta, or 1/3 cup of brown rice. You should also add 4 ounces of lean meat, poultry, or fish per day. This week you should be consuming between 1,100 – 1,550 calories per day.
At this point in your weight loss journey, you should now be eating three Fuelings, one Lean & Green meal, one additional cup of vegetables, two medium-sized pieces of fruit (or one cup of berries or chopped fruit), one cup of low-fat or fat-free dairy, one serving of whole grains, and 4 ounces of additional lean meat, poultry, or fish per day.  
Please note that your weight may fluctuate during this transition phase as your body gets accustomed to the additional carbohydrates, salt, and calories. This is completely normal! Just remember to monitor your weight and adjust your caloric intake, if you fluctuate more than a few pounds from your healthy weight. Work closely with your Coach to determine your best plan of action.
We also invite you to watch our transformative video series, featuring Your LifeBook – Elements 01-26, published recently on CLIENT ANSWERS. These videos, Your LifeBook, and me, your Coach, give you the tools to empower yourself and move forward in creating optimal health and wellbeing. Check them out!
Join this week's Habits of Health® Community time, Your LifeBook— Element 14: Transitioning to Eating for a Healthy Life on Wednesday, July 8th at 8:30 p.m. ET/7:30 p.m. CT/5:30 p.m. PT, hosted by Independent OPTAVIA® Coach, Shirley Mast.

HOW TO CONNECT:
Please click the link below to join the webinar:
https://zoom.us/j/113312513

Or iPhone one-tap (US Toll):
+1(646)558.8656

Or Dial (US Toll):
+1(646)558.8656

And Enter the Pin: 113312513#

Where's your "happy place" this summer? When we close our eyes and imagine a stress-free place, we often see ourselves in a tropical paradise, waves lapping the shore, sand between our toes, and sunshine on our shoulders. Sunscreen typically never plays a part in this daydream.
The sun emits energy in the form of UVA and UVB rays. These rays play a role in our holistic health due to the damage they can cause our skin cells and our skin's DNA.
Here are some tips for selecting the best sunscreen this summer:
Look for UVA and UVB, or the words "broad spectrum" on the label. Concentrate on that, rather than getting a bottle with a high SPF.
Choose an SPF of 15 minimum (for most people), 50 maximum (for those with fair skin, a family history of cancer, or a disease that increases sun sensitivity, like Lupus).
Pick lotions, instead of sprays, to be sure you're covering your whole body.
Of course, sunscreen isn't the only type of protection. Here are a few other safety tips to remember while out and about in the summer sun:
Avoid peak radiation hours. The sun is strongest between 10 a.m. and 2 p.m.
Protect your eyes. Choose sunglasses with total UV protection.
Cover up. If you're prone to burning, wear long sleeves and long pants.
Wear a wide-brimmed hat. Hats not only protect your face and scalp from the sun, but they also protect your eyes.
See a dermatologist, and perform self-exams. If you're in the sun regularly, or you haven't practiced safe sunning in the past, be sure to get annual checkups by a dermatologist.
Now you're ready to go to your real-life happy place!
Still need to order your NEW Habits of Health® Transformational System? Let's connect today!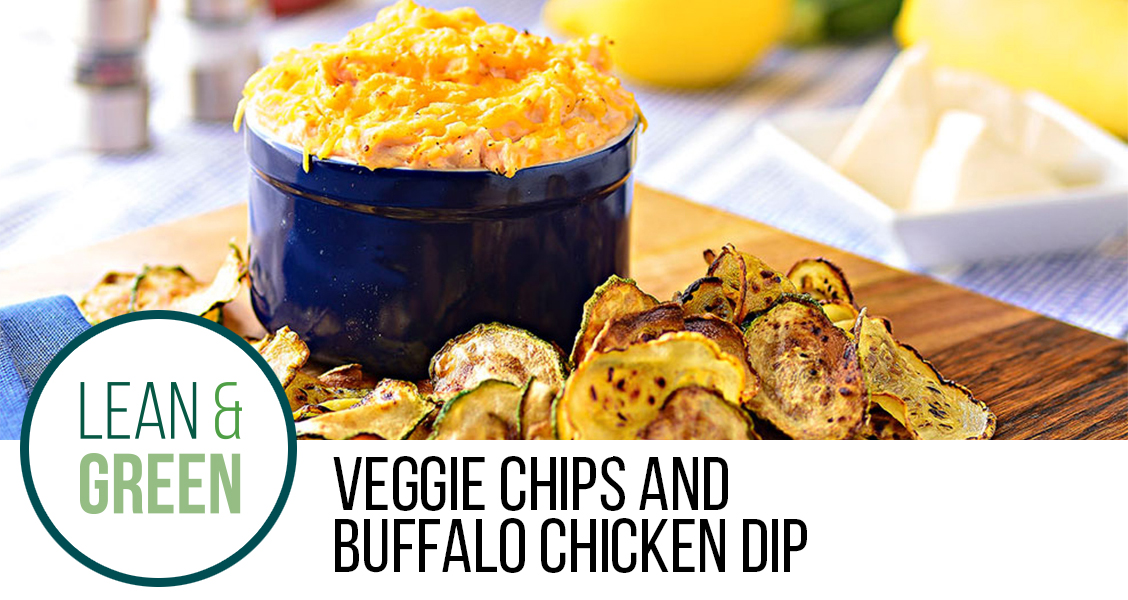 Yield: 4 servings
Complete Lean & Green Meal: 1 Leaner, 3 Green, 3 Condiments, 1 Healthy Fat
Total Time: 55 minutes
Ingredients

For Veggie Chips:

1 Tbsp olive oil

2 tsp lemon juice

½ tsp salt

½ tsp pepper

½ tsp rosemary

3 cups yellow squash, thinly sliced

3 cups zucchini, thinly sliced

 

For Buffalo Chicken Dip:

4 light spreadable cheese wedges, softened

1 ½ cups plain, low-fat Greek yogurt

¼ cup light ranch dressing

¼ cup hot pepper sauce

1, 12.5-oz can chicken breast, drained

1 cup moderate-fat colby and monterey jack cheese, shredded

Cooking spray

Directions

Preheat oven to 400°F.
Whisk the olive oil, lemon juice, salt, pepper, and rosemary together in a large mixing bowl.
Add yellow squash and zucchini, and gently mix to coat.
On a large, lightly greased baking sheet, arrange yellow squash and zucchini slices in a single layer.
Bake for 20 to 30 minutes, until crisp.
Meanwhile, mix all dip ingredients until smooth, and transfer dip mixture to a small, lightly greased baking dish.
Once chips are removed from the oven, add dip mixture and bake for 15 to 20 minutes, until lightly browned, hot and bubbling.
Per Serving: 340 calories, 35g protein, 15g carbohydrate, 14g fat
Visit our OPTAVIA Pinterest page for an extensive assortment library of Lean & Green meals.

Saved
"I've struggled with weight issues my entire life until I found the OPTAVIA program. With the help of my wonderful OPTAVIA Coach, who kept me inspired and focused on my goals, I lost more than 50 pounds in less than three months*!"
After losing this weight, David felt on top of the world. He had more energy and felt rested. But his "WHY" - why he wanted to get healthy - goes a bit deeper.
"I had an awesome father growing up. He was a 'hands-on' dad at a time when being a 'hands-on' dad wasn't common. He worked nights, so he was home during the day. He was always that one father in a sea of mothers at school events. But he was overweight, and he went to an early grave."
David's son, his namesake, never met his grandfather. David wished that they would have shared memories together instead of just a name.
"But life goes on. Kids grow up. Fathers get older. Five years ago, I found myself the same age and the same weight my father was when he passed away. And my son was the same age I was when I lost my father. And that's my 'WHY' story. Simply put, I didn't want history to repeat itself, and because of OPTAVIA, it hasn't!"
David has since seen his son graduate high school, and he will be there when he graduates from college.
"I feel as if I have pushed some magic 'reset' button on my life. It's not the 50 pounds I've lost; it's the years of happy, healthy living I've gained!*** The OPTAVIA program transformed me not only physically, but emotionally, spiritually, and financially**. More than that, when I'm with people, I realize that the most important thing isn't the food on the table, but the people that are around the table."
The greatest blessing of all for David is being part of OPTAVIA's Community of Coaches – people with nothing but love, honesty, and integrity in their souls.
"Now that I am an OPTAVIA Coach and have a network of Coaches working with me, I can literally help thousands of people achieve greater health and transform their lives for the better."
As a former health practitioner, this is a very gratifying, rewarding, and spiritually fulfilling concept for David.
"I feel as if OPTAVIA saved me in every way a person can be saved. Now, I get to pay it forward to others. How amazing is that?"
*Average weight loss on the Optimal Weight 5 & 1 Plan® is 12 pounds. Clients are in weight loss, on average, for 12 weeks.
**OPTAVIA makes no guarantee of financial success. Success with OPTAVIA results only from successful sales efforts, which require hard work, diligence, skill, persistence, competence and leadership. Please see the OPTAVIA Income Disclosure statement for statistics on actual earnings of Coaches.
***No one can predict how long we are going to live, but research suggests that making an overall lifestyle change by taking an active role in your choices and behavior, including losing weight, eating healthier, moving more, and reducing stress, has the potential to help you live a longer, healthier life.
Kathy Glazer
OPTAVIA Coach
Kathy@EatSmartCoach.com
http://EatSmartCoach.optavia.com/eatsmartcoach
571-213-1988
3 Washington Circle N. W. #303, Washington,D.C. 20037, Also Falls Church,VA
© 2023 OPTAVIA, LLC. All Rights Reserved