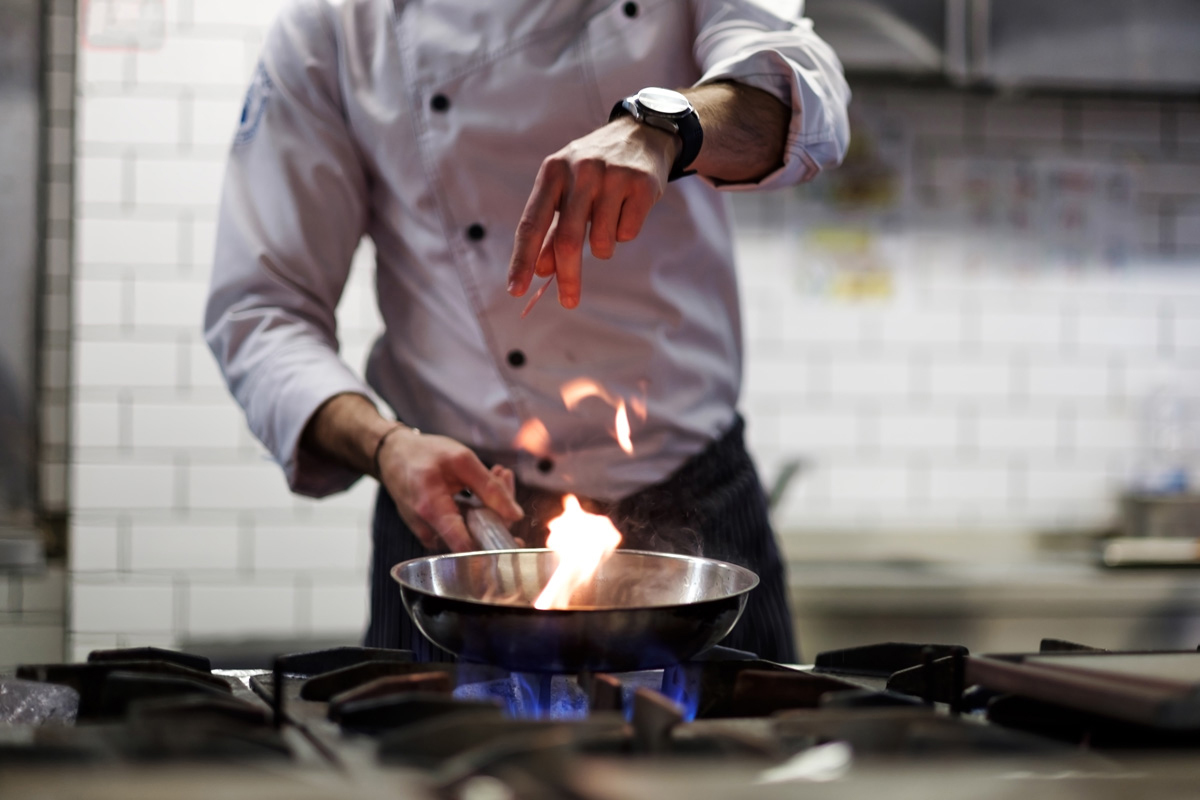 At OPTAVIA, we believe you can live the best life possible, and we know that requires a healthy you. We also know that there will be times when you are out for a special occasion with friends and family and need to make healthy eating decisions. 
I'm here to help, as your Coach, so you're sure to follow best practices and guidelines I've learned when dining out. The good news is that eating out can be easier to navigate than you may think!
Start by rearranging your routine on Plan (if necessary) by using your Lean & Green meal when you need it –at a family brunch, dinner at a restaurant, or lunch with friends.
Here are some tips that may help you stay on track:
Abide by the guidelines for Lean & Green meals as you would at home, which should consist of 5 to 7 ounces of cooked lean protein (like chicken), 3 servings of non-starchy vegetables (like a simple garden salad, sans croutons, onions, or carrots), and 0-2 servings of healthy fats depending on your lean choices. If it helps, review our Dining Out Guide for reference before placing your order.
Request your meat be prepared sans rich sauces with added fats.
Substitute starchy vegetables (like potatoes) for lower carbohydrate choices (like steamed broccoli or green beans).
Ask your server to hold the bread basket or bowl of chips and always order your salad dressing on the side.
Focus on friendly conversation rather than the food! Be completely "in the moment" with your dining companions. Catch up, ask questions, listen intently, and reflect on what they share. Not only will this keep your mind off of food, but it will enrich and grow important relationships with those that are important in your life, like family members, best friends, even those that are also on OPTAVIA's Program. 
If you don't follow the Lean & Green meal requirements to a tee, don't dwell on it, or beat yourself up. Just pick up right where you left off, and get back on Plan starting with your next meal!
If you need additional tips on eating out, feel free to reach out to me, your Independent OPTAVIA Coach for extra support and guidance.
Join this week's Habits of Health® Community Time, Ordering Out Tips, on Wednesday, September 9th at 8:30 p.m. ET/7:30 p.m. CT/5:30 p.m. PT, hosted by Independent OPTAVIA® Coach Tiffany Howard.

HOW TO CONNECT:
Please click the link below to join the webinar:
https://zoom.us/j/113312513

Or iPhone one-tap (US Toll):
+1(646)558.8656

Or Dial (US Toll):
+1(646)558.8656

And Enter the Pin: 113312513#

Back to school time can put pressure on both parents and children, whether your kids are going back to the classroom or learning virtually.
Simple plans for keeping your kids healthy and happy during the school year are key to a smooth transition back to learning and back to the routine that school requires.
Consider these tips when reestablishing healthy back to school habits and for the new school year:
Get enough sleep. Many kids shift their sleeping patterns in the summertime to staying up and waking up later in the morning. In the days leading up to the first day of school, get in the habit of establishing an earlier bedtime, so your child becomes used to going to be earlier. Most important, be sure to put away all electronics at least an hour before bedtime, instead encouraging your child to relax with non-caffeinated tea and a good book. This will ensure an easier transition when it's time for bed.
Ensure a healthy start. A healthy breakfast is the most important meal of the day, and for children, it will increase concentration and focus at the start of the school day. Follow with a healthy lunch filled with lean protein (like turkey roll-ups), fruit (like frozen grapes), and vegetables (like cucumber and celery sticks).
Prep the night before. Make your back to school morning easier by preparing the night before. Partner with your child to select school clothes in advance and pack what you can for lunch in advance. Get a jump-start on breakfast by making a mental note of what you're cooking and prep ingredients in advance.
Encouraging these healthy habits at home or in the classroom will teach your children to make healthier choices from preschool and beyond.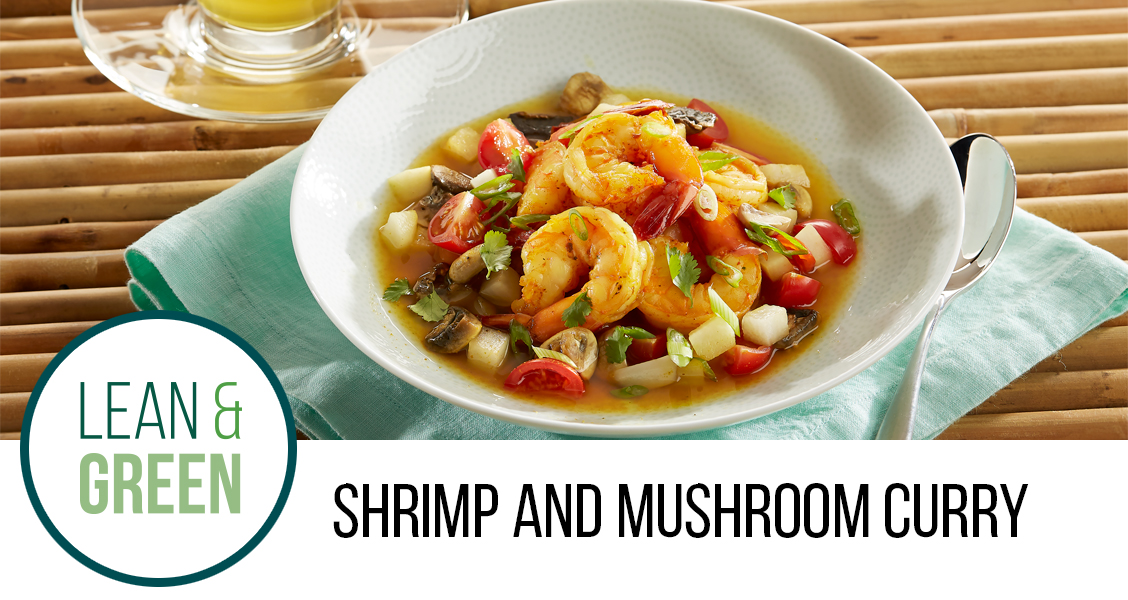 Yield: 4 servings
Total Time: 30 Minutes
Complete Lean & Green Meal: 1 Leanest, 2 Healthy Fats, 3 Green, 3 Condiments
Ingredients

2 tbsp + 2 tsp olive oil

3½ cups button mushrooms, halved or quartered

2 scallions, trimmed and minced

1 cup diced daikon radish

1 tbsp Madras curry powder

1 cup diced tomatoes

1 cup clam juice

1 cup water

 ½ tsp salt

2 lbs. peeled and deveined raw shrimp

 ½ cup fresh cilantro, coarsely chopped

Directions

In a medium to large pot, cook the mushrooms in olive oil over medium-high heat for 8 to 10 minutes.
Add the scallions and daikon radish. Continue to cook for 4 minutes.
Add the curry powder, and cook for 1 minute.
Add the tomatoes, clam juice, water, and salt, and bring to a gentle boil. Simmer for 2 minutes.
Add the shrimp, and bring the curry back to a gentle boil. Reduce the heat to low, and simmer for 2 minutes, or until shrimp turn opaque pink.
Garnish curry with cilantro.
Nutrition Facts: 320 calories, 11g fat, 9g carbohydrate, 49g protein
Visit our OPTAVIA Pinterest page for an extensive assortment library of Lean & Green meals.

It's Never All or Nothing
Kathy was a yo-yo dieter and loved eating unhealthy foods, causing her to gain weight consistently. When Kathy learned of her mother's diagnoses with ALS, she indulged even more due to stress. At her heaviest, she was most desperate for a solution, so she contemplated gastric bypass surgery. But, she was hesitant.
"My heart said there has to be another way. Then I found my OPTAVIA Coach on Facebook. Her story touched me, and I immediately reached out for help."
Dealing with several health issues, Kathy was extremely frustrated with her life and couldn't recognize herself.
"I had no energy. I could not walk far without huffing and puffing. I couldn't turn over in bed. I couldn't tie my shoes. My heart was also having some issues."
A couple of months after starting the OPTAVIA Program, Kathy lost 50 pounds.* Since then, she has learned so much about herself, and she's now an OPTAVIA Coach, encouraging others the same way her OPTAVIA Coach had encouraged her.
"I want to tell you that you can do this. I have learned that it is never all or nothing. I have learned to Stop. Challenge. Choose. I am continuing the Program to get to my goal weight. I love this Program!"
*Average weight loss on the Optimal Weight 5 & 1 Plan® is 12 pounds. Clients are in weight loss, on average, for 12 weeks.
Kathy Glazer
Independent OPTAVIA Coach
Kathy@EatSmartCoach.com
http://EatSmartCoach.optavia.com/eatsmartcoach
571-213-1988
3 Washington Circle N. W. #303, Washington,D.C. 20037, Also Falls Church,VA
© 2022 OPTAVIA, LLC. All Rights Reserved