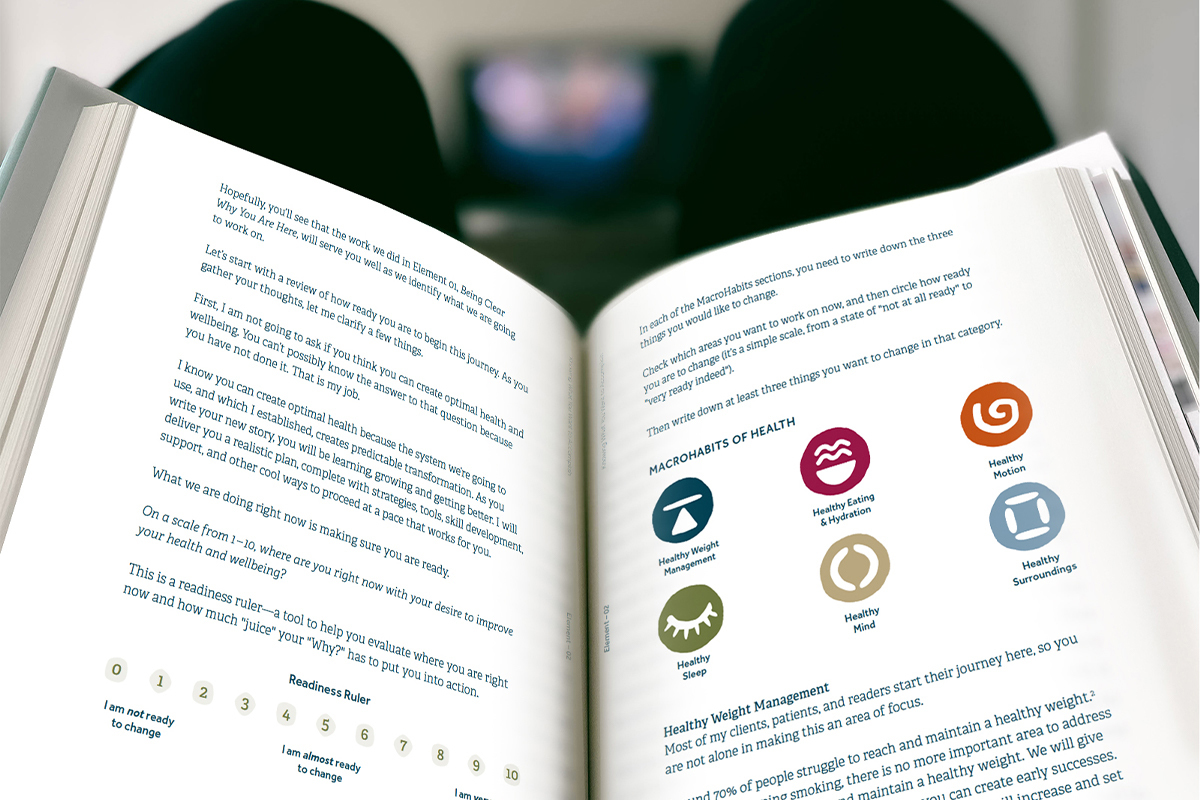 In Element 01 of Your LifeBook, Being Clear Why You Are Here, we explored WHY you want to make a change. The next step is to identify what you want, develop a strategy, and explore your readiness. To begin, you will need to define exactly what you need to accomplish and outline the goals that will allow you to create the life you want to live.
In Your LifeBook, you will find a willingness, confidence, and readiness ruler for each macroHabit of Health. Looking inward and measuring where you fall on each of these scales will help you to identify where you are on your journey and how prepared you are to take yourself to the next level.
Asking yourself the following questions will help you get to know yourself and what you want to accomplish on your journey to optimal health and wellbeing:
What do I want to change? Identify three areas that are the most important for you to change right now. Start broad by selecting a macroHabit of Health, then narrow down the change you'd like to make.
What does this Element mean? Once you select the areas you would like to make changes, figure out what this means for your daily lifestyle. Maybe it means you are cutting out sugary beverages and replacing them with water, or you are committing to creating positive thoughts. If you need help figuring out what a particular Element means, ask me, your Coach. I am here to help you every step of the way!
What does this Element allow me to reflect on? Reflecting on the change you are committing to making is just as important as actually doing it. Identifying what you want to accomplish and how this will truly benefit you is essential to keeping a healthy mind and will motivate you to see your change through.
What actions am I going to take? After choosing your Elements of improvement, action steps are next. Partner with me, your Coach, to develop a strategy and set of action steps that will help you not only see your desired results, but maximize them.
Once you identify the areas you want to change, you have the building blocks for motivation and a grasp of what is important to you. Start marking up Your LifeBook today; a messy LifeBook is a healthy LifeBook!
Ask me, your Independent OPTAVIA Coach, for additional tips on how to identify what you want to accomplish along your journey to Lifelong Transformation, One Healthy Habit at a Time.
Join this week's Habits of Health® Webinar, Your LifeBook – Element 02: Knowing What You Want to Accomplish, on Wednesday, February 3rd at 8:30 p.m. ET/7:30 p.m. CT/5:30 p.m. PT, hosted by Independent OPTAVIA® Coach Craig Blanchette.

HOW TO CONNECT:
Please click the link below to join the webinar:
https://zoom.us/j/113312513

Or iPhone one-tap (US Toll):
+1(646)558.8656

Or Dial (US Toll):
+1(646)558.8656

And Enter the Pin: 113312513#

Achieving your goals on your journey to optimal health and wellbeing encompasses more than just physical health; mental health also plays a key role. The mind is the bodies command center, so it is important that it's being treated properly, along with the rest of your body.
Knowing how to improve your mental health will enhance your transformation experience and give you the mindset you need to accomplish your goals. Here are some tips for your supporting your mental wellness:
Get proper rest. Getting the proper amount of sleep is critical not only for your body, but also for your mind. Getting 7-8 hours of restful sleep can provide extra energy, reduce stress, and improve your memory.
Try something new. When you do something new, your brain is put into a situation that it has never encountered before, causing you to really think. This boost in mind activity can stimulate creativity and improve your overall mood. Get started by trying a new healthy food or hobby!
Exercise your mind. Our brains need exercise just as much as our bodies! Try completing puzzles, playing games, reading books, writing, or painting to sharpen your mind and open new possibilities.
Do something you enjoy. Whether it takes dusting off an old hobby or continuing to pursue an interest, make sure to take time to do something you enjoy. Doing so tends to reduce stress, lower your heart rate, and improve your mood.
Connect with others. Connecting with other people is great for your mental health. Whether you're swapping stories with friends and family or sharing an experience with a new connection, interacting with others improves stress levels, raises happiness, and provides intellectual stimulation that the brain craves. Reaching out to the OPTAVIA Community or me, your Coach, is a great place to start!
Ask me, your Independent OPTAVIA Coach, for other ways to improve your mental health to accelerate your journey to Lifelong Transformation, One Healthy Habit at a Time.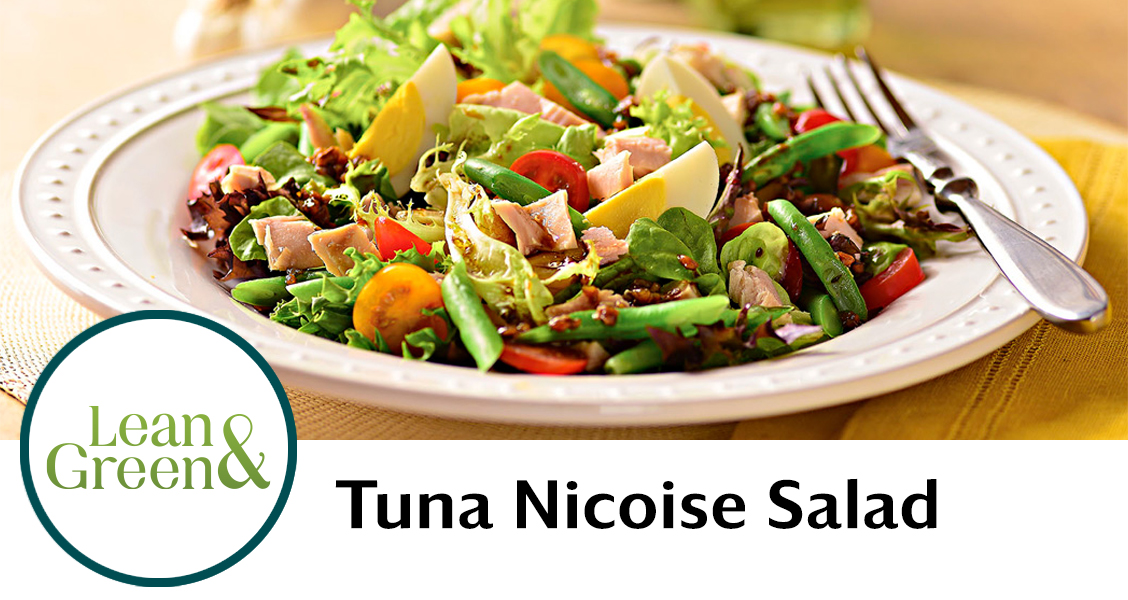 Yield: 4 servings
Complete Lean & Green Meal: 1 Lean, 3 Green, 1 Healthy Fat, 3 Condiments
Prep Time: 10 minutes
Ingredients

4 tsp extra virgin olive oil 

3 Tbsp balsamic vinegar  

2 garlic cloves, minced 

6 cups mixed greens  

2 cups string beans, steamed until just tender 

1 cup grape tomatoes, halved 

6 hard-boiled eggs, sliced 

2, 7-oz cans of tuna, packed in water and drained 

Directions

Whisk together the oil, vinegar, and garlic.
Prepare a bed of mixed greens. Layer with the string beans, tomatoes, egg slices, and tuna. Drizzle with the oil mixture.
Tip: Purchase hard-cooked peeled eggs at the grocery store.
Nutrition Facts: 350 calories, 16g fat, 12g carbohydrate, 36g protein
Visit our OPTAVIA Pinterest page for an extensive assortment library of Lean & Green meals.

Stress to Success
Jeannette's life was full of stress. She was working seven days a week to make ends meet and still suffered financial strain. These anxieties caused Jeannette to develop poor health habits.
"I had bad sleep habits, up until 3 a.m. and sleeping in until late morning, and I didn't exercise at all. I kept gaining weight and always wanted to eat, even when I felt stuffed. I never felt satisfied."
Then Jeannette met her Independent OPTAVIA Coach, committed to the Program, and started living a healthier lifestyle.
"On the Optimal Weight 5 & 1 Plan®, I stayed totally committed, and I lost 70 pounds* altogether. I've maintained my healthy weight. Also, now I'm in bed around 11 p.m., up by 8 a.m., and I'm doing Tai Chi regularly for my healthy mind and healthy motion."
After experiencing such transformative success with OPTAVIA, Jeannette has joined the Coach community.
"I became a Coach, so I could help others lose weight, and then I started dreaming about the possibilities of earning back the life I've always wanted. Being able to help others envision their futures and transform their lives is honestly the most rewarding thing I've ever done!"
Becoming an Independent OPTAVIA Coach has helped Jeannette ease her financial struggles**, as well as help transform the lives of many like-minded Clients.
"Forever in gratitude to my Coach and mentor, Dan Bell, to Dr. A, and to OPTAVIA!"
*Average weight loss on the Optimal Weight 5 & 1 Plan® is 12 pounds. Clients are in weight loss, on average, for 12 weeks.
**OPTAVIA makes no guarantee of financial success. Success with OPTAVIA results only from successful sales efforts, which require hard work, diligence, skill, persistence, competence and leadership. Please see the OPTAVIA Income Disclosure statement for statistics on actual earnings of Coaches.
Rebecca Lange
Independent OPTAVIA Coach
rebeccalange117@gmail.com
http://www.MyJourneyToAHealthyMe.com
336-202-3316
P.O. Box 38941
Greensboro, NC 27438
© 2022 OPTAVIA, LLC. All Rights Reserved