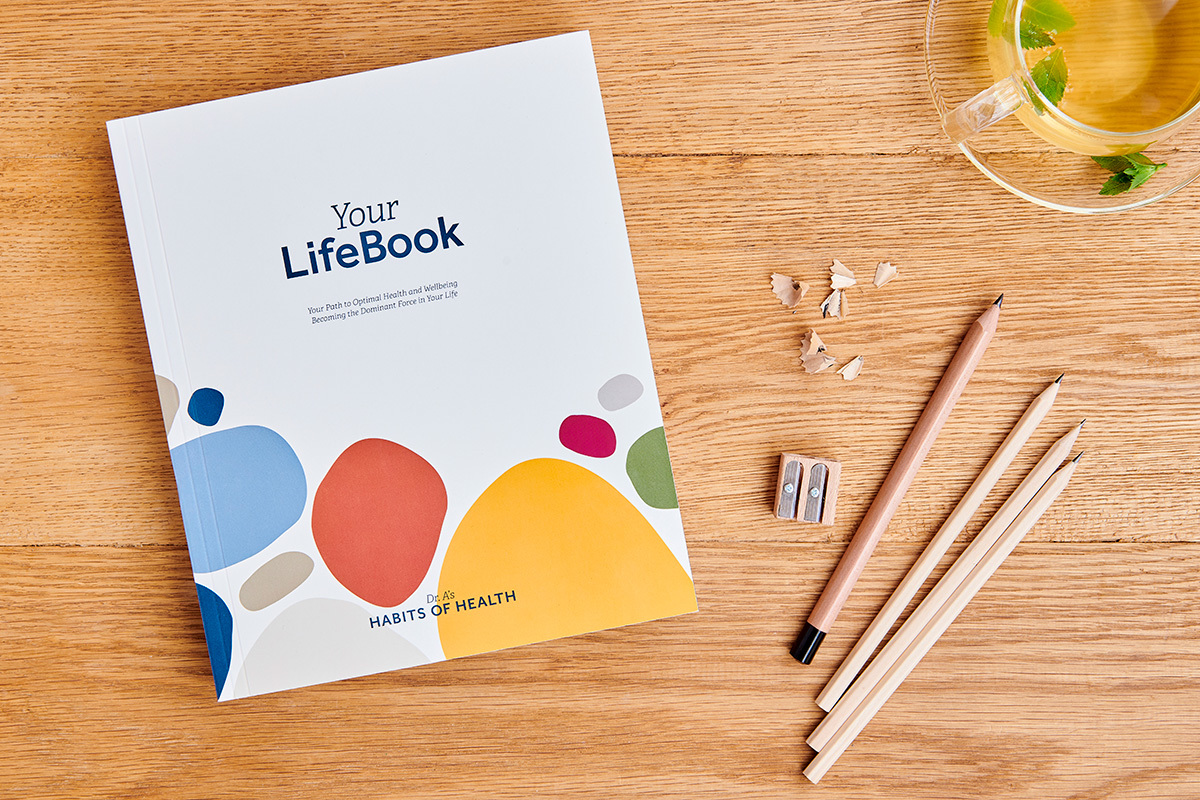 A reflective component of the NEW Habits of Health Transformational System, Your LifeBook is designed to chronicle your first year of building your new, healthier life. Each chapter, or Element, represents a key component that forms the foundation for progress toward optimal health and wellbeing.
This day-to-day guidebook and personal journal is filled with useful tips and advice for addressing the MacroHabits of Health:
Healthy weight management. Reaching a healthy weight can give you more energy, lower your risk for certain diseases, and improve the overall quality of your life.
Healthy eating and hydration. Healthy eating and hydration are essential to fighting food cravings and coincide with healthy weight management.
Healthy motion. Healthy motion keeps your body flexible and strong, and can also impact emotional wellbeing.
Healthy sleep. Sleep is a critical, and often overlooked, component of optimal health. Getting at least seven hours of sleep can rejuvenate your body, reduce food cravings, and improve memory.
Healthy mind. A healthy mind is just as critical as physical fitness. Being mindful and managing stress appropriately are important for your overall health.
Healthy surroundings. Your environment can impact the success of other Macro Habits. Build a support system that motivates you and celebrates your victories with you on your optimal health journey.
This is your story and Your LifeBook is a tool to help shape your destiny during your transformational journey. Your OPTAVIA Coach is there to assist you with navigating through each Element, but Your LifeBook is special and unique to you. While working through these Elements, you'll be equipped with healthy habits and the strategies to write your new healthy story.
Still need to order your Habits of Health Transformational System? Ask me, your OPTAVIA Coach, how to order your System today!
Join this week's Habits of Health® Webinar, Your LifeBook: How is Your Life? on Wednesday, August 7th at 8:30 p.m. ET/7:30 p.m. CT/5:30 p.m. PT, hosted by Independent Certified OPTAVIA® Coach, Amber Smithson with Dr. Wayne Scott Andersen.

HOW TO CONNECT:
Please click the link below to join the webinar:
https://zoom.us/j/113312513

Or iPhone one-tap (US Toll):
+1(646)558.8656

Or Dial (US Toll):
+1(646)558.8656

And Enter the Pin: 113312513#

Set yourself up with a successful strategy for reaching your goals by using the "SMART" formula! SMART is a tool that helps provide clarity, focus, and motivation to achieve your goals. It encourages you to clearly define your objectives and set a completion date. 
Here's an example: You want to incorporate a regular fitness routine into your schedule but you aren't quite sure how to start or what to do. Maybe you have never exercised before. That's okay! Take baby steps and start small, just one step at a time.
Here's how to use SMART:
S: Specific. Your goal should be clear and focused so you are truly motivated to achieve it. When creating your goal, try to determine exactly what it is you want to accomplish and why your goal is important to you.
M: Measurable. Having measurable goals allows you to track and assess your progress. For example, instead of "I'm going to walk regularly," try "I am going to walk for 20 minutes at least three days a week."
A: Achievable. In order to be successful, your goal should be achievable. If you are new to exercise, don't expect to run a marathon on your first day, or even run at all. Start with baby steps and build on them! Celebrate each victory, no matter how small.
R: Realistic. You can tell yourself, "I'm never going to miss a workout." But in reality, kids get sick, bosses call emergency meetings, and tires go flat. Instead, make yourself a promise you can keep, like "I will work out on the elliptical for up to 30 minutes, five days or more per week at my local gym. I will allow myself two or more rest days per week."
T: Time-based. Every goal should have a target date so you have a deadline to focus on and work toward. It's important to give yourself a realistic timeframe to achieve your final objective. Set dates for when you want to accomplish your goals and write them on your calendar. Having that visual reminder will help keep you accountable. 
Help make your goals a reality by using a vision board. Collect pictures of your family and friends, cut out images in magazines that speak to you, and find inspiration through quotes and other meaningful words. Then post it on your board.
Get creative and have fun with it! You could also create a digital vision board and set it as your mobile or computer background so you can see it every day.  
This formula will also help as you work through the new Habits of Health Transformational System. Ask me, your OPTAVIA Coach, about other SMART techniques to achieve your goals on your journey to Lifelong Transformation, One Healthy Habit at a Time®.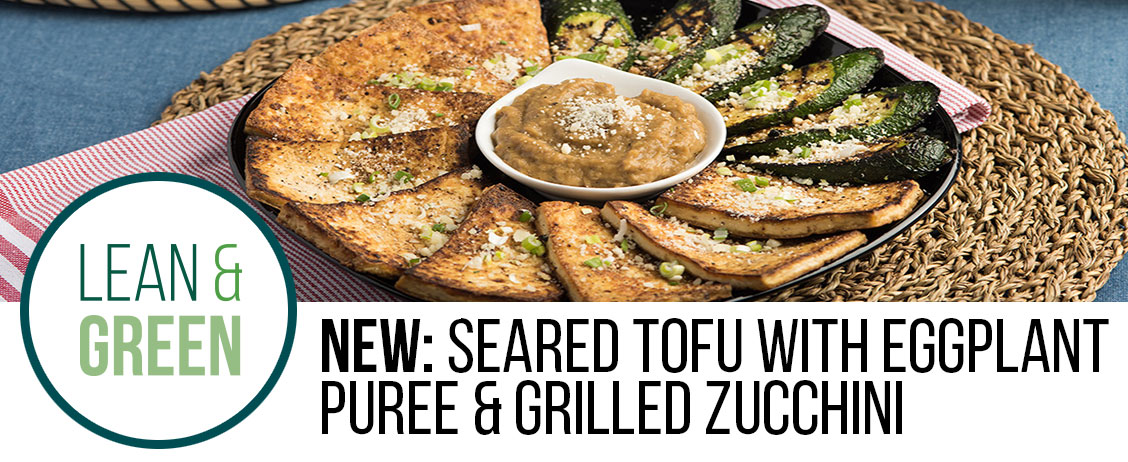 Per Serving: 1 lean, 3 green, 3 condiments, ½ optional snack
Yield: 4 servings
Total Time: 30 minutes
Ingredients

1 eggplant (about 1 lb.)

1 tsp salt, divided

½ tsp pepper, divided

Cooking spray

3½ lbs. extra-firm tofu

1 medium zucchini (about ½ lb.)

2 tsp extra virgin olive oil, divided

¼ cup powdered peanut butter

1 tsp crushed garlic

2 tsp balsamic vinegar

1 tbsp parmesan cheese

Directions

Preheat oven to 425°F.
Cut the eggplant in half lengthwise, and score the flesh with a small knife about ½-inch deep in a crisscross pattern. Place eggplant on a lightly greased baking sheet, and sprinkle a ¼ teaspoon of salt on top. Roast the eggplant with the flesh side up for about 30 minutes, or until the flesh is very soft and the surface is golden brown.
Meanwhile, slice the tofu into ¼- to ½-inch thick slices and place in a mixing bowl. Toss tofu slices with a ¼ teaspoon of both salt and pepper. Set aside and allow to marinate for 20 to 30 minutes.
Cut the zucchini on a bias into ¼- to ½-inch slices and toss with one teaspoon oil and a ¼ teaspoon of both salt and pepper. Grill on both sides until golden brown. Set aside and keep warm.
When the eggplant is finished, remove it from the oven and allow to cool just enough to handle. Scoop the flesh into a food processor. Add the peanut butter powder, garlic, one teaspoon oil, and a ¼ teaspoon of salt. Process into a smooth puree; set aside and keep warm.
In a lightly greased nonstick skillet, sear the tofu slices until golden brown on both sides.
Neatly arrange the tofu, zucchini, and eggplant puree on a plate. Drizzle with balsamic vinegar and sprinkle with Parmesan cheese.

>
Per Serving: 330 calories | 34g protein | 20g carbohydrate | 14g fat
Visit our OPTAVIA Pinterest page for an extensive assortment library of Lean & Green meals.

My Authentic Self
"I knew I was in a crisis when I weighed 411 pounds. I had been obese for more than 20 years. Everything was hard to do and everything hurt. I could barely stand, let alone walk a couple of feet. I was desperate because I had failed at every diet out there. I knew I needed help."
When Dee's OPTAVIA Coach, Mary, shared the Program, Dee was hopeful that she finally found the help she was seeking. While placing her first order, Mary asked Dee 'WHY?'.  Dee responded, "Because I'm dying."
"It was the most honest I've been with myself. Fast forward 15 months and I've lost 196 pounds*. OPTAVIA has made such a huge impact in my life, so I decided to become an OPTAVIA Coach to help my family."
What surprises Dee the most is the change in her mindset. She has learned to love herself and to trust the process.
"I knew this wasn't a diet and I had to trust the science. Obesity is a sickness and I had to make optimal health my every day priority."
Aside from her improved health, Dee reached another milestone the day she was able to bend over and put on her own shoes, something she hadn't done in 15 years."
"Today, I'm thriving. I'm high on life because I feel so good and I'm willing to help others. I'm finally becoming my authentic self."
Kathy Glazer
OPTAVIA Coach
Kathy@EatSmartCoach.com
http://EatSmartCoach.optavia.com/eatsmartcoach
571-213-1988
3 Washington Circle N. W. #303, Washington,D.C. 20037, Also Falls Church,VA
© 2023 OPTAVIA, LLC. All Rights Reserved