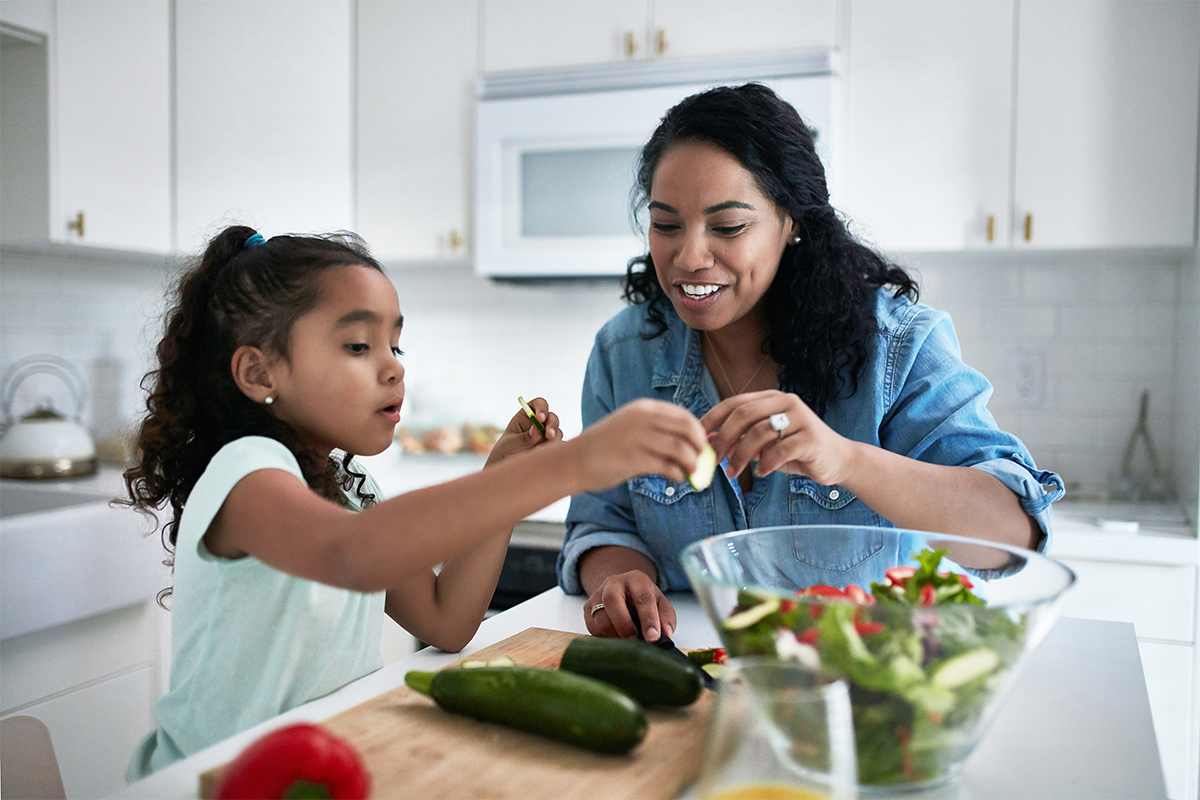 Eating small meals frequently, helps reduce hunger and food intake following meals while also ensuring your body has balanced energy intake without straining your digestion.
Although our schedules have shifted substantially over the past month, learning to eat every three hours is still very much possible and a great way to keep your healthy habits on track.
In Element 08 of Your LifeBook, Dr. A designed a Habits of Health Clock to build into your routines and healthy habits so you can create more optimal days on your journey to lifelong transformation.
Here are initial tips to follow when developing your eating schedule at home, so you can strive to fuel yourself every two – three hours: 
Create your Fueling schedule. Mark off your clock or set an alarm for two – three hour increments so you are alerted when it is time to have a Fueling. Also, remember, you should eat within 30 – 60 minutes of waking up.
List your Fueling routine. Describe the routine, or pattern, you will use to eat every two – three hours. Plan ahead to determine which OPTAVIA products you will eat during the day.
Determine an instant reward. List all the instant benefits of moving from Fueling to Fueling every two – three hours. For example, you may be less hungry in-between meals, have more energy, or be less likely to overeat during subsequent meals.
Write down a long-term reward. List the long-term benefits you have accomplished on your journey to date. For example, you may gain better control of your weight and be more productive while working from home now that you have solidified a firm eating schedule, and have improved your overall health.
Ask me, your OPTAVIA Coach, about other ways to practice healthy eating on Plan during your journey to Lifelong Transformation, One Healthy Habit at a Time®.
Join this week's Habits of Health® Community Time, Your LifeBook – Element 08, on Wednesday, April 15th at 8:30 p.m. ET/7:30 p.m. CT/5:30 p.m. PT, hosted by Independent OPTAVIA® Coach, Karisa Marsello.

HOW TO CONNECT:
Please click the link below to join the webinar:
https://zoom.us/j/113312513

Or iPhone one-tap (US Toll):
+1(646)558.8656

Or Dial (US Toll):
+1(646)558.8656

And Enter the Pin: 113312513#

While the world continues to changing rapidly and with no notice, having a healthy mind is critical to sustaining your physical health and wellbeing. Because, strengthening your personal mindset will not only benefit your own health, but also the wellbeing of those with you at home.
Consider these tips when defining what a healthy mind means to you. Because having a healthy mind will play an essential role in achieving successful weight loss, stress management, and personal wellbeing:
Practice relaxation and meditation regularly:
Relax your body often by doing things that work for you—take deep breaths, stretch, meditate, pray, or engage in pleasurable hobbies.
Take time to relax—eat a healthy meal, read, listen to music, take a bath, or chat online with family and friends.
Listen to your body, feelings, and spirit:
Identify those "stressors" in your life that can cause everyday stress.
Recognize and heed early warning signs of stress.
Acknowledge and accept your own thoughts and feelings.
Take time to renew your spirit through meditation, prayer, keeping a diary, or helping others in need.
Keep yourself healthy by:
Eating healthy foods and stay hydrated.
Getting enough sleep and rest.
Practicing physical exercise.
Setting morning, afternoon, and evening routines.
Stay connected:
Use the telephone, video conferencing, email, text messaging, and social media to connect with friends, family, and others.
Connect with your OPTAVIA Coach and the OPTAVIA Community by following OPTAVIA's social media pages on Facebook and Instagram for inspirational quotes.
Ask me, your OPTAVIA Coach, about other ways you can develop or hone a healthy mindset during these unprecedented times, when keeping stress levels intact can be challenging.

Yield: 4 servings
Complete Lean & Green Meal: 1 lean, 3 green, 3 condiments
Total Time: 30 minutes
Ingredients

4 bone-in pork chops, about 7 ounces each

1 tsp lime juice

1 tbsp jerk seasoning

½ tsp salt, divided

8 oz. baby spinach (about 8 cups)

1 cup sliced radishes

1 cup fresh diced tomatoes

1 tbsp lemon juice

½ tsp ground black pepper

Directions

Season the pork chops with lime juice, jerk seasoning, and a quarter teaspoon of salt. Allow to marinate for 30 minutes.
Cook the pork chops under a broiler or in a very hot oven at 450°F for about 10 minutes to an internal temperature of 145°F.
While the pork cooks, heat 2 tablespoons of water in a medium pot. Add the spinach and cook just until the spinach begins to wilt, about 1 minute.
Immediately transfer the spinach to a bowl, and add the radishes, tomatoes, lemon juice, pepper, and a quarter teaspoon of salt.
Once the pork chop is cooked, allow it to rest for 10 minutes. Serve pork chops alongside the spinach salad.
Per serving: 300 calories, 16g fat, 12g carbohydrate, 28g protein
Visit our OPTAVIA Pinterest page for an extensive assortment library of Lean & Green meals.
A Lifetime of Optimal Health
 "After reaching my highest weight, I knew I had to do something. I tried different diets and three different diet pills with minimal success. Then a year later, I reached out to my husband's aunt, who an OPTAVIA Coach, and asked for help."
Karen knew she wanted to lose weight, but she also wanted to feel better overall. After being diagnosed with an autoimmune disease, she was constantly fatigued and suffering from joint pain.
"I blamed my autoimmune disease for how I was feeling. I didn't know at the time that my weight was causing many underlying problems with my health and wellbeing. I thought that fatigue and joint pain were my new normal."
Since starting the OPTAVIA Program, Karen has lost 55 pounds*. She has more energy and is able to participate in activities with her two active children.
"I am finally drinking enough water, getting a good night's rest, and my body feels so much better since I have been eating healthy. I love that I fit into smaller clothes and that I can run up and down my stairs without getting winded. It's so fun to get compliments from others about my transformation. I even fit into my wedding dress again after 17 years."
Karen is thankful to her Coach and the OPTAVIA Community for their encouragement throughout her journey.
"My Coach has cheered me on and has always been there to answer my questions or concerns. I have learned a lot about myself and how to handle emotional eating. It's been so great to see the success of others in the OPTAVIA Community."
After a few months on the Program, Karen decided she wanted to pay it forward and help others feel as great as she did, so she became an OPTAVIA Coach.
"It's been exciting and rewarding to watch others transform their health. I'm so grateful I found OPTAVIA. I can now look forward to a lifetime of optimal health."
*Average weight loss on the Optimal Weight 5 & 1 Plan® is 12 pounds. Clients are in weight loss, on average, for 12 weeks.
Kathy Glazer
OPTAVIA Coach
Kathy@EatSmartCoach.com
http://EatSmartCoach.optavia.com/eatsmartcoach
571-213-1988
3 Washington Circle N. W. #303, Washington,D.C. 20037, Also Falls Church,VA
© 2023 OPTAVIA, LLC. All Rights Reserved