There's a lot to love about summer: longer days, plenty of sunshine, beach/pool/lake time, and living more carefree and relaxed.
While we always strive to live our best lives, it's essential to stay hydrated and eat healthy during these warm months, and with the rising temperatures and high humidity, the daily amount of water you consume plays a more vital role in maintaining overall health.
Stay hydrated and eat healthy with these tips:
Drink the right amount of water*. Certain health conditions and your lifestyle can determine how much water you need. For example, athletes exercising in the heat may need extra fluids to stay hydrated.
Drink water with every meal. Drinking water with your meals will help you stay hydrated and help with digestion. When you are well-hydrated, your body produces sufficient saliva, which helps break food down into nutrients that the body can absorb.
Recognize the signs of dehydration. Thirst is a key sign of dehydration; pay close attention, and use thirst as a guide. To help prevent dehydration, keep a refillable water bottle with you throughout the day so water is available and easily accessible.
Eat your vegetables. Your food choices can be a significant contributor to your hydration. Most non-starchy vegetables have a high-water content; some of the highest include lettuce, celery, bok choy, tomatoes, and cucumbers.
Go fish! Enjoy the fresh fish offered during the summer season. Not only is fish rich in protein and healthy fat, it is also a light and low-calorie way to keep you satisfied.
Ask me, your independent OPTAVIA Coach, how you can stay hydrated this summer on your journey to Lifelong Transformation, One Healthy Habit at a Time. 
We recommend drinking 64 ounces of water each day. Consult with your healthcare provider prior to changing the amount of water you drink as it can affect certain health conditions and medications.
*NWe recommend drinking 64 ounces of water each day. Consult with your healthcare provider prior to changing the amount of water you drink as it can affect certain health conditions and medications.

Check out Dr. A's Element Stories here!

Optimal health is about increasing your potential and realizing your value. What are you doing to continue your health and wellness journey and achieve optimal health?
It looks and feels different for everyone, but it's important to remember that you own your transformation. Making simple changes to your nutrition, lifestyle, and stress management can help provide you with positive long-term results.
Consider these tips to get even closer to optimal health:
Love yourself. Self-love incorporates self-acceptance, self-awareness, and respect for yourself. It's important to focus on the positive qualities about yourself to facilitate positive change. Make yourself a priority and celebrate your victories on your unique journey to optimal health and wellbeing.
Be present. Living in the now can help create and sustain meaningful relationships, improve social skills, and encourage you to experience new things. When you think and act in the present, you gain focus. As you focus, past worries and future fears start to disappear.
Eat healthy. The food you eat can influence your mood and energy levels. A healthy diet includes a variety of non-starchy vegetables, healthy fats, and lean proteins. Eating healthy helps you reach and maintain a healthy weight and may help reduce your risk of disease.
Manage stress. Stress is triggered when we are faced with overwhelming demands. Realizing that you are in control of your life is the foundation for managing stress. Take charge of your thoughts and emotions by identifying your stressors and utilizing coping methods that are healthy and productive.
Get proper sleep. Sleep plays an essential role in physical health, brain function, and your emotional wellbeing. Aim to get at least 8 hours of sleep each night to allow your body to refresh.
Have a support system. In addition to building connections, your support system can help you handle difficult situations, find resources, and motivate you to succeed. Reach out to me, your independent OPTAVIA Coach, and the OPTAVIA Community for support and advice on your journey to optimal health and wellbeing. We will be here for you every step of the way!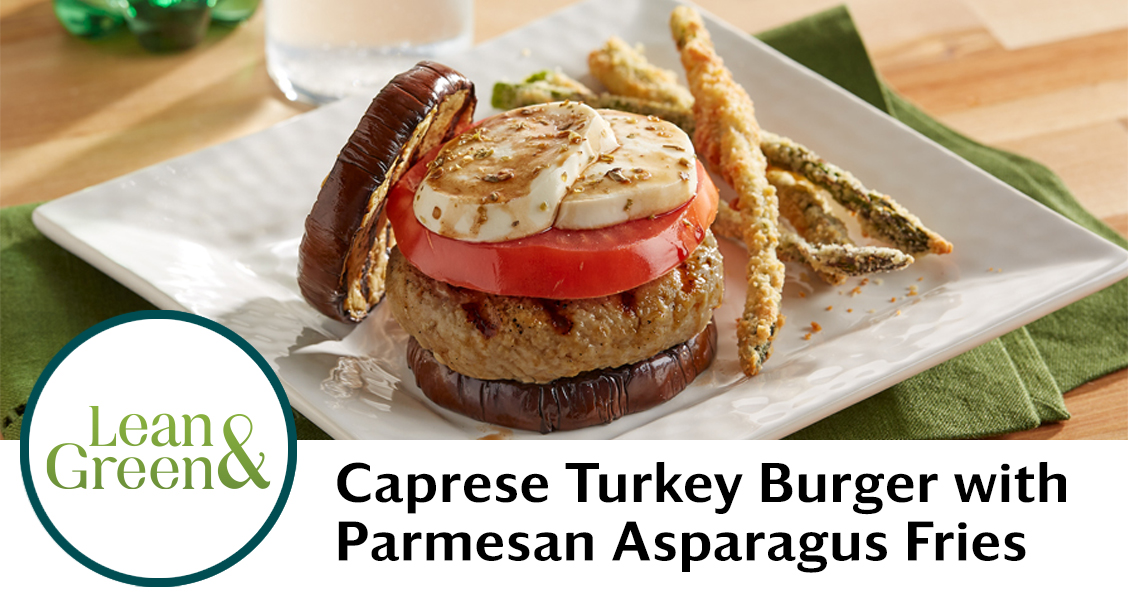 Yield: 4 servings
Total Time: 50 minutes
Per Serving: 1 Leaner, 1 Healthy Fat, 3 Green, 3 Condiments
Ingredients

8 oz. sliced fresh mozzarella

2 tsp olive oil

2 tbsp fresh basil, chopped

1/8 tsp salt, divided

2 cups eggplant sliced into 8, (½ - inch) rounds

Cooking spray

4 tsp balsamic vinegar

1 lb. ground turkey 99% lean

½ tsp garlic powder

3 tbsp Parmesan cheese

3 tbsp almond flour

16 asparagus spears, trimmed

1 large egg white

2 cups sliced tomatoes, about 8 medium slices

Directions

Pre-heat your air fryer or oven to 400°F.
Drizzle the sliced mozzarella with the olive oil and sprinkle with basil and half of the salt. Let marinate while you grill the eggplant and turkey patties.
Heat a grill or grill pan over medium high heat. Spray eggplant rounds with cooking spray and grill until cooked through but still sturdy, about 3 to 5 minutes per side. Drizzle with balsamic vinegar while still warm.
Divide the ground turkey into 4 patties. Season with garlic powder and the remaining half of the salt. Grill until cooked through, about 8 to 9 minutes per side.
While the turkey burgers cook, mix together the Parmesan cheese and almond flour. Whisk the egg whites until frothy. Toss the asparagus spears in the egg white and then roll in the Parmesan mixture to coat well. Bake for 12 to 15 minutes until crispy and cooked.
To serve, place an eggplant slice on a plate. Top with a turkey patty, tomato slices and marinated mozzarella. Serve asparagus fries on the side.
Nutrition Per Serving: 400 calories, 18g fat, 17g carbohydrate, 44g protein
Discover other plan-approved Lean & Green recipes in the OPTAVIA App. 
Download the OPTAVIA App today!




Motivated to Win
August 2022 was when it all began. Holly, a stay-at-home mom, wife, and caretaker started to feel the uncomfortable effects of menopause. She began tracking her weight gain and noticed she had gained a pound or two weekly and became unhappy with her appearance. "I did not like looking in the mirror, trying on clothes, or wearing a swimming suit. I prayed that I would be able to shed those unwanted pounds somehow."
Hearing about the OPTAVIA program, Holly felt reassured that she could conquer her health challenges. Unfortunately, in 2020, Holly's readiness was interrupted by a diagnosis her husband received, causing him to have to take early retirement. Holly was skeptical about moving forward with OPTAVIA, thinking that it was almost impossible to start the journey toward optimal health during this time when her financial outlook seemed dim. "How would I fit this into our family's budget?" Holly thought and, after careful consideration, she decided to take a leap and give OPTAVIA a chance.
"I have never looked back. I was determined to create a healthier version of myself. In week one, I was thrilled with the small weight loss wins I was able to achieve **. The scale was moving in the right direction." Holly journaled, making note of her progress and keeping her "WHY?" at the forefront of her mind.
"I constantly reminded myself that "I CAN DO THIS." Holly's family and friends could not believe how happy and healthy she looked within the first few weeks. Holly felt more energized, and less tired and weary throughout the day. Holly's team of Coaches took her under their wing and gave her the fuel she needed to step into the Coach arena. "They made me feel welcomed. They are the ones that taught me how to be a successful Coach. My Clients allow me to feel satisfied, knowing that I can help them succeed."
Through OPTAVIA, Holly has learned that when you feed your body properly, in return, you get a healthier and happier version of yourself. She expresses heartfelt gratitude for the life-changing impact OPTAVIA has had on her health and wellness.
*Average weight loss on the Optimal Weight 5 & 1 Plan® is 12 pounds. Clients are in weight loss, on average, for 12 weeks.
Rebecca Lange
Independent Certified OPTAVIA Coach
rebeccalange117@gmail.com
http://www.MyJourneyToAHealthyMe.com
336-202-3316
P.O. Box 38941
Greensboro, NC 27438
© 2023 OPTAVIA, LLC. All Rights Reserved