We've all heard the old sayings "look on the bright side" or, "view the glass as half full," but why is positive thinking and understanding your emotions necessary for achieving optimal health and wellbeing?
Positive thinking and proper control over your emotions can lead to more confidence, improve your mood, and combat adverse thoughts, which can lead to unwanted stress and contribute to other health problems.
Recognizing how our emotions are structured is the next step toward transforming unhealthy habits to healthy habits when faced with a difficult or uncomfortable situation. This practice is easier if you use Stop. Challenge. Choose.®:
Stop. Take a slow, deep breath to help control your emotions. Recognize that you are triggering an unhealthy habit. Pausing and taking a breath helps to regain control.
Challenge. Think about why you are responding to the situation the way you are. Remind yourself of your goals and the choices you should make to reach these goals.
Choose. Make the healthy choice that gives you a similar reward but is much better for your long term health.
Here are some tips for creating a positive mindset and understanding your emotions:
Positive affirmations: Positive self-talk can be calming and control stress. Try starting your day by talking in a positive way. Saying, "I can do this ,and "I will try my best", or "I can handle this by taking one step at a time", will help keep your mindset open to developing positive thinking that eventually develop into habits.
Turn "setbacks" into "set forwards". Instead of focusing on a time or occurrence that set you back from achieving your goals, identify how you could have handled it differently while using this opportunity as a lesson to grow and move forward.
Breathe. It's critical to take reflective time to do a breathing exercise at the beginning of your day, when you have a midday break, or prior to bed time. Deep breaths cue the brain to calm down, and allow you to refocus or slow your thoughts.   
Surround yourself with positive people. Reach out to me, your Independent OPTAVIA Coach, or OPTAVIA's supportive Community to talk through any challenges you may be facing on your health journey. Use your social network, or reach out to a friend or family member to seek advice.
If you haven't already watched our transformative video series, featuring Your LifeBook – Elements 01-26, on CLIENT ANSWERS, please engage and take a deeper dive into each element. These videos, Your LifeBook, and me, your Independent OPTAVIA Coach, can give you the tools to empower yourself to create optimal health and wellbeing.
Join this week's Habits of Health® Community Time, Your LifeBook Element 23: Master Your Thoughts and Emotions on Wednesday, November 11th at 8:30 p.m. ET/7:30 p.m. CT/5:30 p.m. PT, hosted by Independent OPTAVIA® Coach Amber Smithson.

HOW TO CONNECT:
Please click the link below to join the webinar:
https://zoom.us/j/113312513

Or iPhone one-tap (US Toll):
+1(646)558.8656

Or Dial (US Toll):
+1(646)558.8656

And Enter the Pin: 113312513#

When Thanksgiving arrives, we sometimes find our healthy habits to be challenged. 
Focusing on staying on Plan and implementing Healthy Habits now, will build a solid foundation for achieving your goals as we approach Thanksgiving. Here are some tips for making healthy choices:
Have a plan of action. When a challenge arises, have a game plan for how you will succeed. When faced with a decision between a healthy or unhealthy choice, remember that making the healthier decision will give you a greater reward in the long run.
Fuel yourself before dinner. Have a small meal or Fueling before you have a big holiday meal to avoid overindulging. Remember to also keep your water bottle with you at all times.
Focus on friends and family. Let your loved ones be the focus, not food. Try planning an activity with your family instead of a sit-down dinner to get everyone moving.
Enjoy yourself. Use this time to focus on yourself by getting some extra sleep, trying a new exercise, or taking some extra meditation time. Health is not just about looking your best; it's also about feeling your best. Taking care of your wellbeing is the catalyst for making other essential healthy changes.
Don't wait for a specific calendar date to embrace or resume a healthy lifestyle. Start implementing these healthy habits now and become a happier and healthier you. Instead of starting on the New Year, you'll already be tracking toward your goals.
Ask me, your Independent OPTAVIA Coach, about other ways to stay on Plan as we kick-off the holiday season!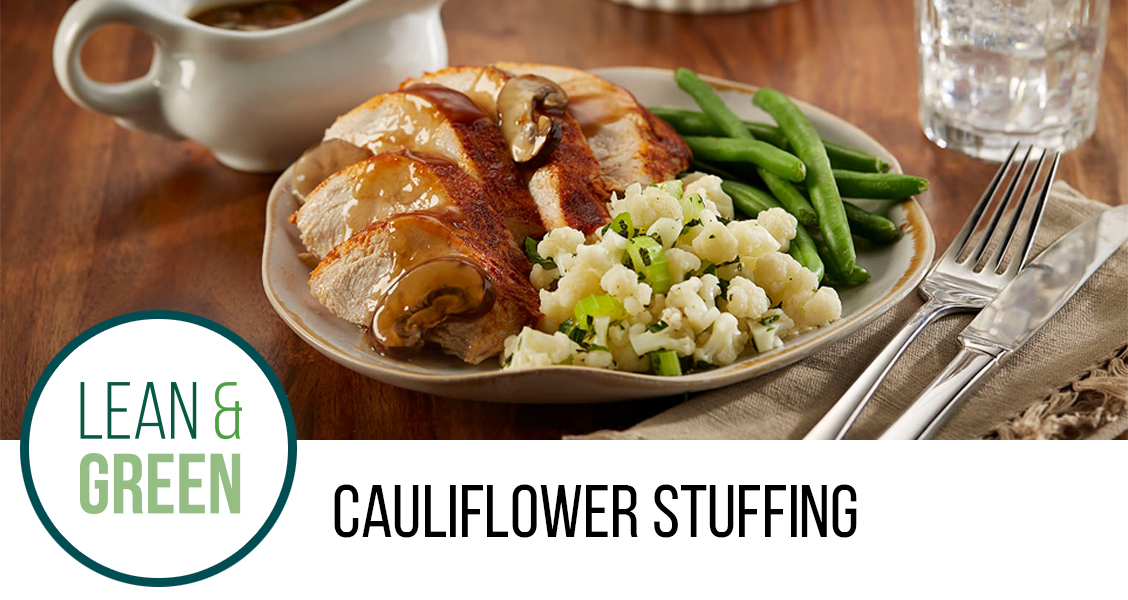 Yield: 4 servings
Complete Lean & Green Meal: 1 leanest, 2 healthy fats, 3 green, 3 condiments
Total Time: 45 minutes
Ingredients

Turkey

2½ -3 lb. bone-in turkey breast with skin

2½ tablespoons olive oil

¼ tsp paprika

1 tsp fresh thyme leaves

¼ tsp each or less: salt & pepper

1 cup chicken broth

 

Mushroom Gravy & Green Beans

2 oz. cremini mushrooms, sliced thin

1-2 sprigs thyme

1 tsp psyllium husk powder

¼ cup chicken broth

2 cups green beans

 

Cauliflower Stuffing

2 cups cauliflower florets

2 scallions, trimmed and minced

½ cup diced celery

1 tsp poultry seasoning

1 tsp fresh thyme leaves, chopped

1 tbsp fresh sage leaves, chopped

¼ cup fresh parsley, chopped

Directions

Turkey: Rinse and pat dry turkey breast. Combine oil, paprika, thyme, salt, and pepper. Rub herb mixture over turkey and set aside. Add 1 cup of chicken broth to Instant Pot with trivet. Place seasoned turkey in trivet, breast side up. Secure lid, push manual mode, and adjust time for 5 minutes at high pressure. When Instant Pot beeps, naturally release pressure. Open the lid and remove turkey. Carefully remove and discard skin.
Mushroom Gravy & Green Beans: Add the mushrooms, sprigs of thyme, psyllium husk powder, and chicken broth to Instant Pot. Before securing lid, place green beans in steamer basket and insert into Instant Pot. Push stew mode and adjust time for 10 minutes. When Instant Pot beeps, naturally release pressure.
Cauliflower Stuffing: Preheat oven to 425⁰F. Combine all stuffing ingredients and mix well. Spread cauliflower mixture evenly onto a lightly greased baking sheet, and roast 15 to 20 minutes or until caramelized yet tender.
To serve: Slice turkey and measure out 7 ounces per serving. Serve with mushroom gravy, stuffing, and green beans.
Per serving: 400 calories, 18g fat, 10g carbohydrate, 51g protein
Visit our OPTAVIA Pinterest page for an extensive assortment library of Lean & Green meals.

Mrs. Jordan Valley
 "I spent a lifetime struggling with weight. I have been obese my entire adult life, even living in morbid obesity in many of my years, tipping the scale at 400 lbs. I had tried so many different things that seemed to fail."
When Launa was introduced to OPTAVIA by a friend, her mindset changed. "I learned to shift my thoughts and relationship around food, and I had training and community to maintain and improve my health every year since."
By using the new Habits of Health Transformational System and Your LifeBook to create long-lasting healthy habits, Launa was able to lose 97 lbs!*
After seeing results on her own journey to optimal health, Launa decided to give this gift to others by becoming an independent OPTAVIA Coach.
"I fell in love with coaching. So many lives and so many different stories all getting the one thing we all want, a healthy, happy life."
After maintaining a healthy weight, Launa decided to take a leap of faith and compete to represent her city in the Mrs. Utah America Pageant.
Her risk paid off! She won Mrs. Jordan Valley and represented her hometown in the Mrs. Utah America Pageant with her new-found confidence, healthy body, and clear mind.
"Who could have guessed that I would be here? Certainly not me. A lifetime overweight girl to a beauty queen contender!*"
*Average weight loss on the Optimal Weight 5 & 1 Plan® is 12 pounds. Clients are in weight loss, on average, for 12 weeks.
Kathy Glazer
OPTAVIA Coach
Kathy@EatSmartCoach.com
http://EatSmartCoach.optavia.com/eatsmartcoach
571-213-1988
3 Washington Circle N. W. #303, Washington,D.C. 20037, Also Falls Church,VA
© 2023 OPTAVIA, LLC. All Rights Reserved