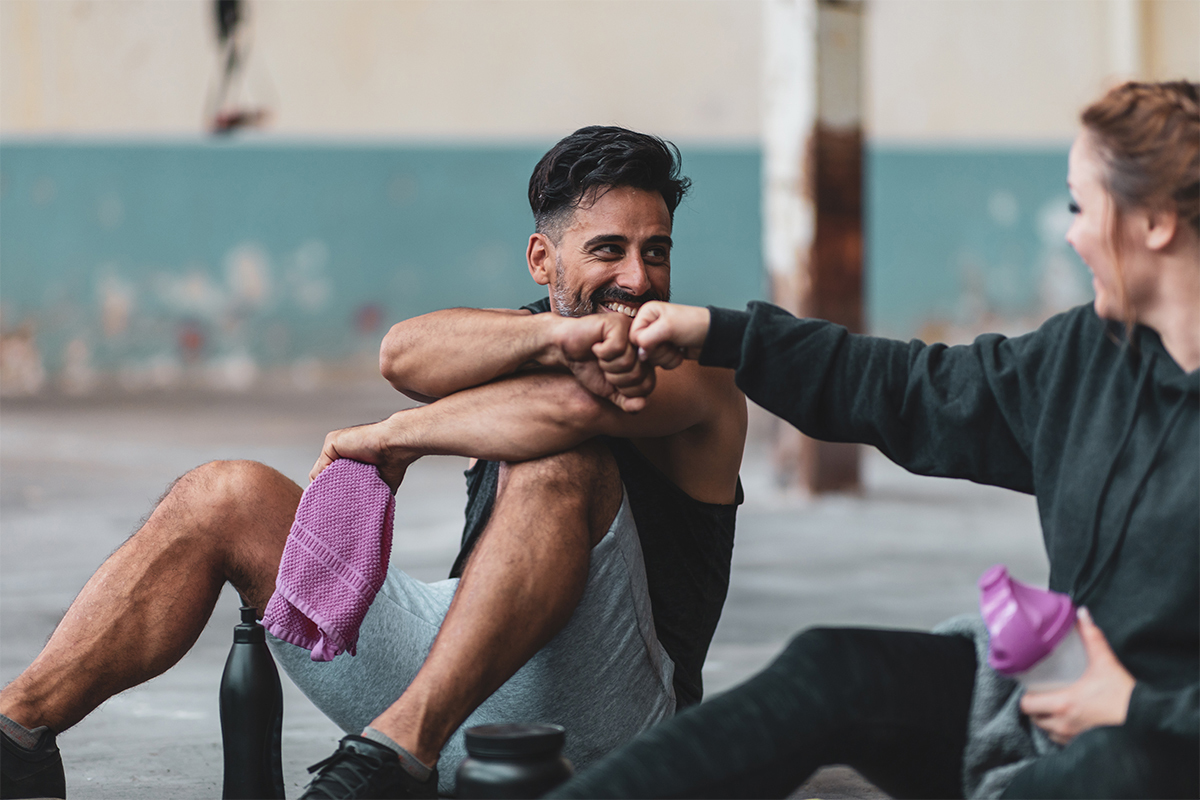 Between balancing meal planning and practicing the Habits of Health® with your upcoming summer plans, developing a support system can be highly beneficial to both your physical and mental health.
A strong support system should include someone to reach out to for information, advice, guidance, or just listen instead of talk. By developing supportive relationships, you can find daily encouragement, a partner to lean on, and someone to celebrate all of your victories along your journey to Lifelong Transformation, One Healthy Habit at a Time®.
Consider these tips for building and sustaining a healthy support system this summer:
Get clear on your goals. Having clear health goals with objectives and action steps will help determine what type, or what level of support, is necessary. Look for support from a mentor with a particular expertise related to what you need guidance with, or a partner that may have already run the race you are currently running. Ultimately, a clear understanding of your goals and the action steps needed to move forward, will help identify the specific support needed so you can go out and find it!
Talk to me, your Independent OPTAVIA Coach! It's important for me, as your Coach, to pay it forward with helpful tips and insights as you continue to progress through the various stages of your health journey. It's also important to remember that not everyone moves at the same pace. As your Coach, I love offering guidance and support, especially when a Client needs to reset goals and outline a new plan with achievable action steps.
Reach out to family and friends. Your loved ones are also an excellent resource for encouragement. Sustain this support network by keeping in touch and updating them with your progress along your health journey. Sharing OPTAVIA and the Habits of Health with your loved ones can also help increase your success as you work toward your goal because you can try to work toward similar goals together!
Building connections and having a support system this summer will be vital to making progress to your goals!
Please reach out to me, your Independent OPTAVIA Coach, before summer gets into full swing. I, along with the OPTAVIA Community, are here to support and help YOU as you work towards optimal health.
Join this week's Habits of Health® Webinar, Strengthening Summer Support Systems, on Wednesday, May 26th at 8:30 p.m. ET/7:30 p.m. CT/5:30 p.m. PT, hosted by Independent OPTAVIA® Coach Celina Murphy

HOW TO CONNECT:
Please click the link below to join the webinar:
https://zoom.us/j/113312513

Or iPhone one-tap (US Toll):
+1(646)558.8656

Or Dial (US Toll):
+1(646)558.8656

And Enter the Pin: 113312513#

With Memorial Day approaching, grilling, warm weather, and even outdoor fun is on the horizon!
Though it can sometimes be challenging to stay on track during this season, there are plenty of fresh, healthy choices available and by having a plan for every special occasion, you can stay on Plan while enjoying yourself at the same time.
Follow these tips for the holiday weekend:
Stick with lean proteins. Stick to lean cuts of protein like sirloin tips, flank steak, skinless chicken breast, and fish. Lean cuts are high in protein but lower in fat and calories. Make sure that whatever protein you choose is not battered and fried.
Remember to put vegetables first. When filling up your plate, think vegetables! Skip the dip and fill up on non-starchy vegetables like salad, asparagus, broccoli, celery, and cucumbers. Non-starchy vegetables are low in calories, a great source of fiber, and should be the majority of your plate, whether cooked or raw.
Offer to be the head chef! Check out the delicious recipe below, from our partners at The Culinary Institute of America, and make it for everyone! What's better than a healthy and delicious recipe to kick off the start of summer?
Focus on fun activities. Instead of making food the focus of the event, have fun enjoying time together with a new activity! Startup a game of backyard kickball or badminton!
Ask me, your Independent OPTAVIA Coach, about other tips to help you stay on Plan during the Memorial Day holiday to ensure you continue your journey to Lifelong Transformation, One Healthy Habit at a Time®.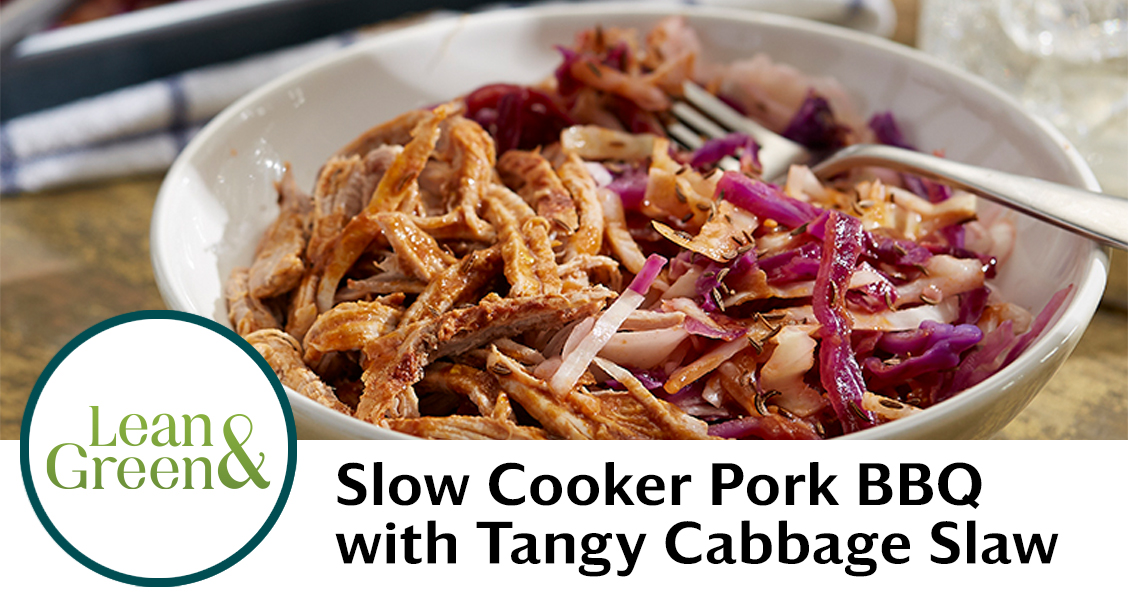 Yield: 4 servings
Complete Lean & Green Meal: 1 leaner, 1 healthy fat, 3 green, 3 condiments
Total Time: 3 hours
Ingredients

1¾ lbs. pork tenderloin

1 tsp salt, divided

6 tbsp sugar-free barbecue sauce

1½ tbsp yellow mustard, divided

¼ cup water

4 tsp extra virgin olive oil

¼ cup cider vinegar

½ tsp caraway seeds

6 cups chopped cabbage

Directions

Whisk together the barbecue sauce, one tablespoon of mustard, and a ½ teaspoon salt.
Rub the barbecue mixture over the pork, and place the pork in a slow cooker.
Pour water over top, and cook on low for 7 hours until very tender.
Remove the pork from slow cooker, reserving liquid for later use, and shred using two forks.
Meanwhile, pour the reserved barbecue liquid into a large saucepan. Stir in the extra virgin olive oil, ½ tablespoon mustard, vinegar, ½ teaspoon salt, and caraway seeds. Bring to a boil.
Add the chopped cabbage, and simmer gently until just wilted about 3 to 4 minutes.
Divide the cabbage slaw into 4 equal-sized portions and serve each with 6 ounces shredded pork.
Nutrition Facts:  Per serving: 300 calories, 10g fat, 10g carbohydrate, 43g protein
Visit our OPTAVIA Pinterest page for an extensive assortment library of Lean & Green meals.

From Sinking to Swimming
"When I say this Program changed my life, I mean it more than anything. I achieved something I never thought possible for myself nor my husband." 
Crystal was 35 years old, weighing 278 pounds, with a full-time job that required standing 12 hours a day. Her husband weighed over 300 pounds and was searching for change as well.
Crystal did not want their health to worsen, so she reached out to her college roommate and asked her how to get started. They started the 5&1 Plan®, and their lives changed drastically. 
"I went from a size 26 to size 4*. I knew I made the right decision within the first week."
Crystal and Dan are now able to enjoy life and vacations without it revolving around food. "Ever since we have achieved this newfound freedom, we have jumped off a boat to snorkel over a sunken ship, swam with sharks, hiked, and rode rides at the fair!" 
None of this seemed possible for them just a few years ago, but thanks to OPTAVIA, they have accomplished more than they imagined. They were so moved by the Program that they decided to become Independent OPTAVIA Coaches themselves!
"Today, we have helped over 60 lives transform. Obstacles that once would have stopped us in our tracks now give us something to reflect on."
"We are so incredibly thankful for this Program that has given us our lives back. It wasn't always easy, but in the end, every single bit was worth it."
*Average weight loss on the Optimal Weight 5 & 1 Plan® is 12 pounds. Clients are in weight loss, on average, for 12 weeks.
Rebecca Lange
Independent Certified OPTAVIA Coach
rebeccalange117@gmail.com
http://www.MyJourneyToAHealthyMe.com
336-202-3316
P.O. Box 38941
Greensboro, NC 27438
© 2023 OPTAVIA, LLC. All Rights Reserved