In Element 02, Knowing what you want to accomplish, you identified those areas you want to change, while creating the building blocks for motivation. The next step is to identify what you need to build new habits that support your new behaviors and create the desired outcomes for the new life you want.
 Follow these steps to create what you want:
Use structural tension to organize your MacroHabits. Identify and write down your primary MacroHabit selection. An example is healthy weight management. Create tension by listing your current reality, meaning what you need to change and/or what you deal with on a daily basis. Follow up with secondary selections, or habits you can develop a plan to give yourself the best chance of reaching your desired results.
Set up a habit loop. A habit loop consists of a cue, a routine, and a reward. Create a cue, or a stimulus to activate your new habit. For most people that is a reminder on their phone or a sticky note. Then, choose one secondary choice and write that down. This is the habit you want to install. To "close the loop", note the reward you've experienced once you complete the habit loop.
Identify the MicroHabits to install. Some habits are easier to install, but for this element, you only need steps one and two. Other habits are more challenging to install, so you will need to better prepare. Before you install a habit, ask yourself three questions:

Is it appealing? Do I want to do it?
Is it achievable? Can I do it?
Is it easily activated? How east can I execute - is there a prompt to remind me to do it?

Connect present action to immediate and long-term rewards.  Connect your present actions to your future self. Visualize, or write your current actions, and then determine how they affect your future self. When you do this, you are more likely to make decisions based on what you want, not what will satisfy you right now.
Once you learn to create what you want, installing and continuing your healthy habits will be easier. Ask me, your OPTAVIA Coach, for additional tips on how to create what you want along your journey to Lifelong Transformation, One Healthy Habit at a Time®.
Still need to order your NEW Habits of Health® Transformational System? Let's connect today!
Join this week's Habits of Health® Community Time, Your LifeBook—Element 03 on Wednesday, February 5th  at 8:30 p.m. ET/7:30 p.m. CT/5:30 p.m. PT, hosted by Independent OPTAVIA® Coach Shantelle Flake

HOW TO CONNECT:
Please click the link below to join the webinar:
https://zoom.us/j/113312513

Or iPhone one-tap (US Toll):
+1(646)558.8656

Or Dial (US Toll):
+1(646)558.8656

And Enter the Pin: 113312513#

You've dropped your bad habits, but the urge is still there. Go easy on yourself - this is normal and expected. What can control the urge and even stop it is creating an environment that's conducive for change.
Remember, our environment influences our habits more than you think and we often compete against it. Making a conscious effort to control and create your environment can make changing easier. Here are some tips on how to create a conducive environment for change:
Create friction. Focus your energy on making it hard to continue bad habits. Move your television out of the bedroom to promote healthy sleep habits. Take another route to work to avoid your favorite coffee shop. Stock the fridge with water to stop yourself from reaching for a soda. When you do this, it makes healthy habits easier to do.
Control your environment. Controlling your environment means equipping it with everything you need to succeed in implementing the change that you want. It is more than removing temptations, it's about yourself to exercise, drink water, or practice healthy motion.
Task association. Task association is a way to train your brain to complete a task automatically. Light a scented candle at night while practicing mindfulness. Each time you do, your brain will associate that task with that scent. This can also be practiced in other ways. For example, if you frequently eat at your desk, remove all snacks from near your desk to associate your desk as a place of work, not eating.
Healthy support system. All of these tasks are more difficult when you start to implement change, yet don't have support. Continue to build your health bubble and promote optimal health and wellbeing. When others are aware of the lifestyle you are leading they will either align themselves or be considerate of the efforts you are trying to make.
Ask me, your OPTAVIA Coach, about other ways to creating conducive environment on your journey to Lifelong Transformation, One Healthy Habit at a Time®.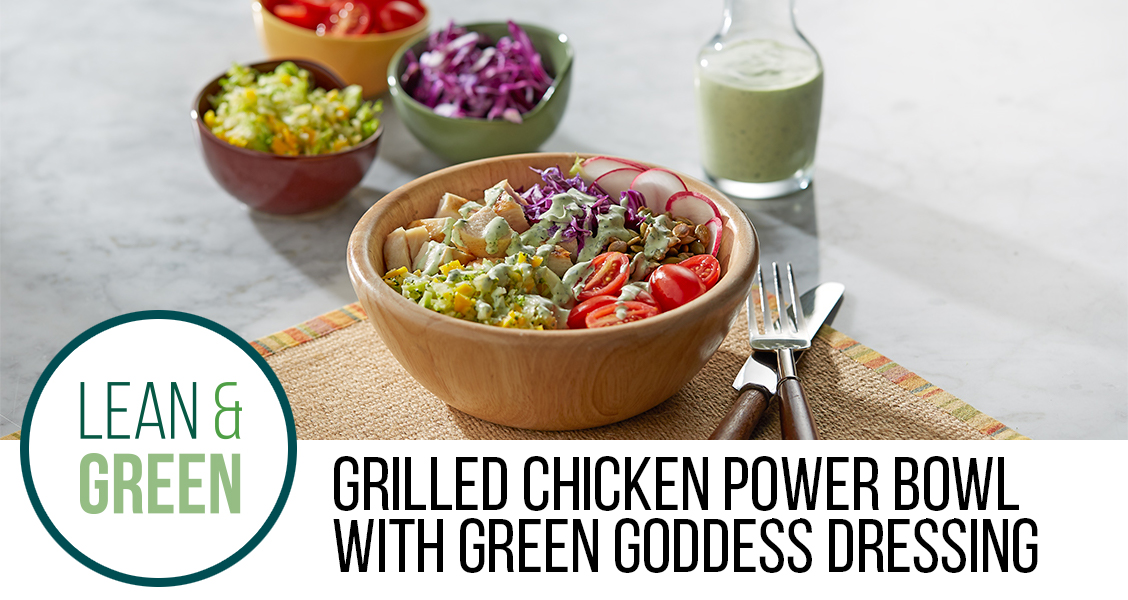 Yield: 4 servings
Complete Lean & Green Meal: 1 leaner, 1 healthy fat, 3 green, 3 condiments
Total Time: 45 minutes
Ingredients

1½ lbs. boneless, skinless chicken breasts

¼ tsp each (or less) salt & pepper

1 cup riced or cubed kabocha squash

1 cup riced zucchini

1 cup riced yellow summer squash

1 cup riced broccoli

8 cherry tomatoes, halved

4 radishes, sliced thin

1 cup shredded red cabbage

¼ cup hemp or pumpkin seeds

 

Green Goddess Dressing

½ cup low-fat plain Greek yogurt

1 cup fresh basil

1 clove garlic

4 tbsp lemon juice

¼ tsp each (or less) salt & pepper

Directions

Preheat grill or oven to 350⁰F.
Season chicken with salt and pepper.
Grill or roast chicken about 10-12 minutes until it reaches an internal temperature of 165⁰F. When done, remove from oven and set aside to rest, about 5 minutes. Cut into bite-sized pieces and keep warm.
While chicken rests, steam riced kabocha squash, zucchini, yellow summer squash, and broccoli in a covered microwave proof bowl about 5 minutes until tender.
For the dressing, combine all of the ingredients in a blender and puree until smooth.
To serve, place an equal amount of the riced veggie mixture into four individual serving bowls. Add an equal amount of cherry tomatoes, radishes, and shredded cabbage to each bowl along with a quarter of the chicken and one tablespoon of seeds. Drizzle dressing on top, and serve.
Per serving: 300 calories, 10g fat, 12g carbohydrate, 43g protein
Visit our OPTAVIA Pinterest page for an extensive assortment library of Lean & Green meals.

Lifeline to Hope
"I was overweight and then obese from childhood on, having grown up with plenty of rich food on the table and a family where emotional eating was the norm. Shopping trips were torture. They generally ended with "let's stop and get something yummy—we deserve it!" and I became a championship-level emotional eater. To make things worse, I am a sugar addict, and sugary foods were always plentiful."
For Joice, diets never worked and growing up in a family that always ate unhealthy foods didn't help. To lose weight, Joice became interested in gastric bypass surgery. Gastric bypass surgery was new at the time and Joice thought it would save her life, but with the surgery came devastating lifelong consequences.
"For the past 40+ years, I have not only been limited in the amount of food I can eat, but also the kinds of foods I can tolerate. When I eat food that doesn't agree with me, the result is either hours of discomfort or eventual regurgitation. No fun. Worse still is the malnutrition, which was extreme in my case. I can't tolerate most meats, veggies, fruits, breads, etc. But carbs were a different story—my stomach was happy to tolerate simple or processed carbohydrates, which became the basis for my food intake."
Joice was miserable, chronically depressed, physically sick, and mostly sedentary. It wasn't until Joice met her OPTAVIA Coach that she thought that she could not only lose weight and improve her health, but she could also be well nourished for the first time in years.
"When I heard about OPTAVIA, I knew immediately this was for me. I made a committed decision to create health and improve the quality of my life. Part of my success can be measured: 108 lbs shed* on the Optimal Weight 5 & 1 Plan® and physiological markers. But, that doesn't compare to other outcomes, such as being more active, actually having fun shopping for clothes, and not dreading airplane rides. I have energy I never imagined and feel great in my own body!"
Since Joice started OPTAVIA, she's gained a new lifeline to hope. After seeing her journey, her husband has joined the program as well and has lost over 100 pounds*. Joice is now paying it forward and sharing her health journey with others.
"I want to be fully alive as long as I live, and OPTAVIA has added life to my years and likely several years to my life**. I am beyond grateful to my entire support community as I continue to create ME! This is my new life—always under construction—and there is no going back!"
*Average weight loss on the Optimal Weight 5 & 1 Plan® is 12 pounds. Clients are in weight loss, on average, for 12 weeks.
Kathy Glazer
OPTAVIA Coach
Kathy@EatSmartCoach.com
http://EatSmartCoach.optavia.com/eatsmartcoach
571-213-1988
3 Washington Circle N. W. #303, Washington,D.C. 20037, Also Falls Church,VA
© 2023 OPTAVIA, LLC. All Rights Reserved
** No one can predict how long we are going to live, but research suggests that making an overall lifestyle change by taking an active role in your choices and behavior, including losing weight, eating healthier, moving more, and reducing stress, has the potential to help you live a longer, healthier life.