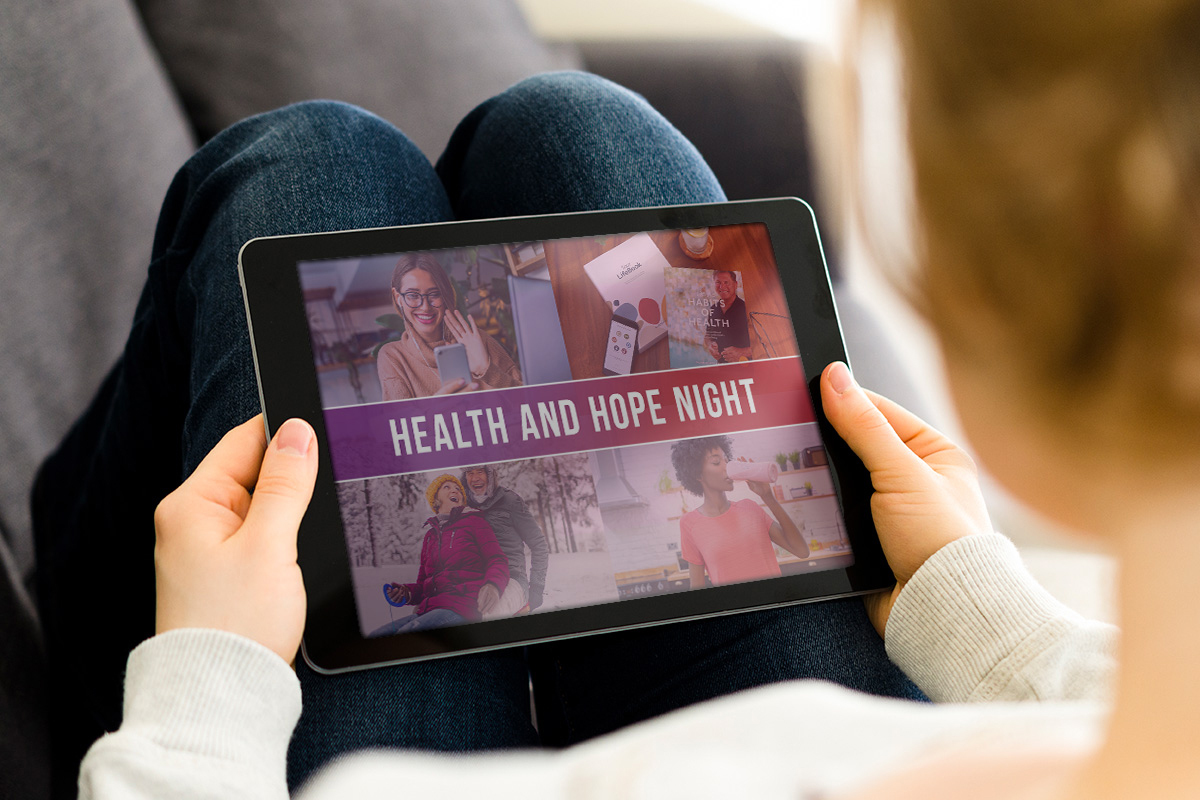 At OPTAVIA, we believe that transforming your life and creating optimal health is achievable by working hard to develop healthy habits and wellbeing.
Part of OPTAVIA's Program entails strengthening your existing partnership with me, your Independent OPTAVIA Coach, but at the same time, I rely on you to keep me focused and driven to meet my own health goals and enrich my own transformation story.
Before we close 2020 and begin a new chapter in 2021, I want to share why YOU are a special gift to me this holiday season:
You allow me to pay it forward. When we awaken potential, we transform masterfully. Being able to share this experience with you is a reward in itself.
Your success fuels me! I'm grateful for the successful transformational stories I've witnessed. Your motivation and commitment to lifelong transformation inspires me every day, and I'm committed to helping steer you to success.
You give me energy. You inspire me to shape my destiny and create a more purposeful life.
Lasting friendships. I appreciate our friendship, developed through meaningful connections and conversations, being present, and simply listening intently. I'm always here to connect authentically and guide you. We are on the path to optimal health together!
Community. Being part of a Community of like-minded people who support each other is only one of the best gifts I receive from OPTAVIA's Program. I also get the chance to mentor to you, while you support me throughout my Coaching process.
Let's close the year together by joining a special one-hour Health and Hope Night on Wednesday, December 30, 2020, led by Independent OPTAVIA Coaches, Dan and Megan Valentine.
Together, we will celebrate transformation stories of others in the OPTAVIA Community and take away inspiration as we continue to cultivate our own stories in the new year.
Join this week's Habits of Health® Webinar, One-Hour Health and Hope Night, on Wednesday, December 30th at 8:30 p.m. ET/7:30 p.m. CT/5:30 p.m. PT, hosted by Independent OPTAVIA® Coaches, Dan & Megan Valentine.

Be sure to RSVP, yes you are "going" on our Health and Hope Event Page where we will live stream this Webinar, in addition to on ZOOM! To invite your network, simply click the invite button and select the friends you want to attend. You can also share this event on your personal Facebook page to get the word out!

HOW TO CONNECT:
Please click the link below to join the webinar:
https://zoom.us/j/113312513

Or iPhone one-tap (US Toll):
+1(646)558.8656

Or Dial (US Toll):
+1(646)558.8656

And Enter the Pin: 113312513#

It is important to start the year off strong by setting realistic goals/resolutions, while also having a positive mindset!
Making a resolution begins with unyielding commitment to something important. Whether you're an OPTAVIA Client that's decided to come back to OPTAVIA, here are some valuable tips to consider when creating your plan for the new year, one step at a time:
Connect with your Coach. Reach out to your OPTAVIA Coach to let them know that you're ready to compile a fresh plan for 2021 that will support you when continuing on your journey to optimal health and wellbeing. As your Coach, I can't wait to help you reach your new health goals!
Identify your WHY. Connecting with your WHY is fundamental in setting goals for your health and all other areas of your life. Personally rewarding (or intrinsically motivated) goals are easier to maintain and eventually become a habit. Continue reminding yourself of your reasons for seeking change by writing them down in a journal or pinning them to a vision board, where you will see them every day. This is a critical step to achieving success!
View challenges as opportunities. The road to success will have obstacles and challenges, but it's how you overcome these challenges that will empower you to transform. Welcome challenges as opportunities to grow.
Ask me, your Independent OPTAVIA Coach, how we can partner to create other measurable and achievable goals to accomplish in 2021, as you continue to work towards Lifelong Transformation, One Healthy Habit at a Time.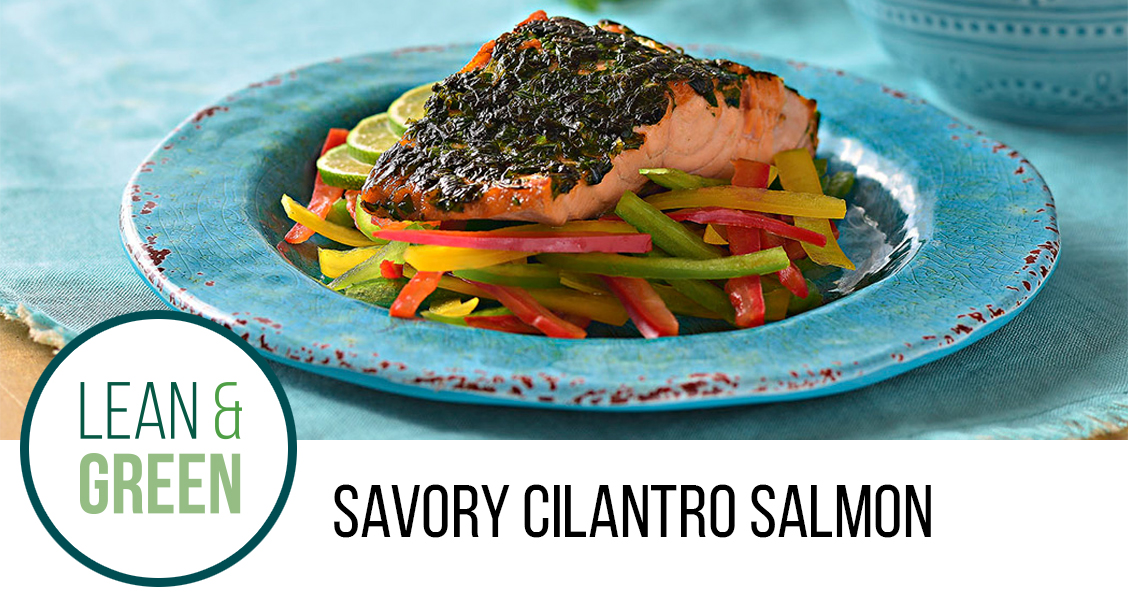 Yield: 4 servings
Complete Lean & Green Meal: 1 Lean, 3 Green, 3 Condiments
Total Time: 80 minutes
Ingredients

For Marinade:

4 cups fresh cilantro, divided

2 Tbsp fresh lemon or lime juice

2 Tbsp hot red pepper sauce

1 tsp cumin

½ tsp salt, divided

½ cup (4 oz) water

4, 7-oz raw salmon filets

2 cups sliced yellow bell pepper

2 cups sliced red bell pepper

2 cups sliced green bell pepper

½ tsp pepper

Cooking spray

Directions

In a food processor or blender, combine half of the cilantro, lemon or lime juice, hot red pepper sauce, cumin, salt, and water; puree until smooth. Transfer this marinade to a large resealable plastic bag.
Add the salmon to marinade. Seal bag, squeezing out air; turn to coat the salmon. Refrigerate for one hour, turning bag occasionally. 
After marinating, preheat oven to 400° F. Arrange the pepper slices in a single layer in a lightly-greased, medium-sized square baking dish, and sprinkle with pepper and remaining salt. Bake for 20 minutes, turning pepper slices once.
Drain salmon and discard marinade. Crust the tops of salmon with remaining chopped, fresh cilantro. Place the salmon on top of the pepper slices, and bake, 12 to 14 minutes, until fish flakes easily when tested with a fork.
Nutrition Facts: 350 calories, 13g fat, 15g carbohydrate, 42g protein
Visit our OPTAVIA Pinterest page for an extensive assortment library of Lean & Green meals.

40 and Thriving
Davina had struggled with weight her whole life. Working 80 hours a week in the restaurant industry took a toll on her mentally and physically.
After looking back at pictures from her 39th birthday, she realized she needed to make a change. "I was cropping more than half of my body and face out of the pictures for it to look attractive to me on social media. That is when the 'flip of the switch' happened. I will be 40 on my next birthday, and I don't want to be this heavy at 40".
Shortly after, Davina reached out to an old friend who was a Coach. Davina followed the 5 & 1 Plan®, made sure she ate every two to three hours, and drank 64 oz water** every day.
"My start date was September 7th, 2019, intending to lose 100 pounds by my 40th birthday: August 19th, 2020."
By March 2020, Davina had lost over 100lbs*, became a Coach, and had more energy than she could possibly imagine!
"I realized that my passion for wanting to help people was right here in my lap. I am walking proof that if you focus your mindset on this program, anything is possible!"
*Average weight loss on the Optimal Weight 5 & 1 Plan® is 12 pounds. Clients are in weight loss, on average, for 12 weeks.
**OPTAVIA makes no guarantee of financial success. Success with OPTAVIA results only from successful sales efforts, which require hard work, diligence, skill, persistence, competence and leadership. Please see the OPTAVIA Income Disclosure statement for statistics on actual earnings of Coaches.
Kathy Glazer
OPTAVIA Coach
Kathy@EatSmartCoach.com
http://EatSmartCoach.optavia.com/eatsmartcoach
571-213-1988
3 Washington Circle N. W. #303, Washington,D.C. 20037, Also Falls Church,VA
© 2023 OPTAVIA, LLC. All Rights Reserved