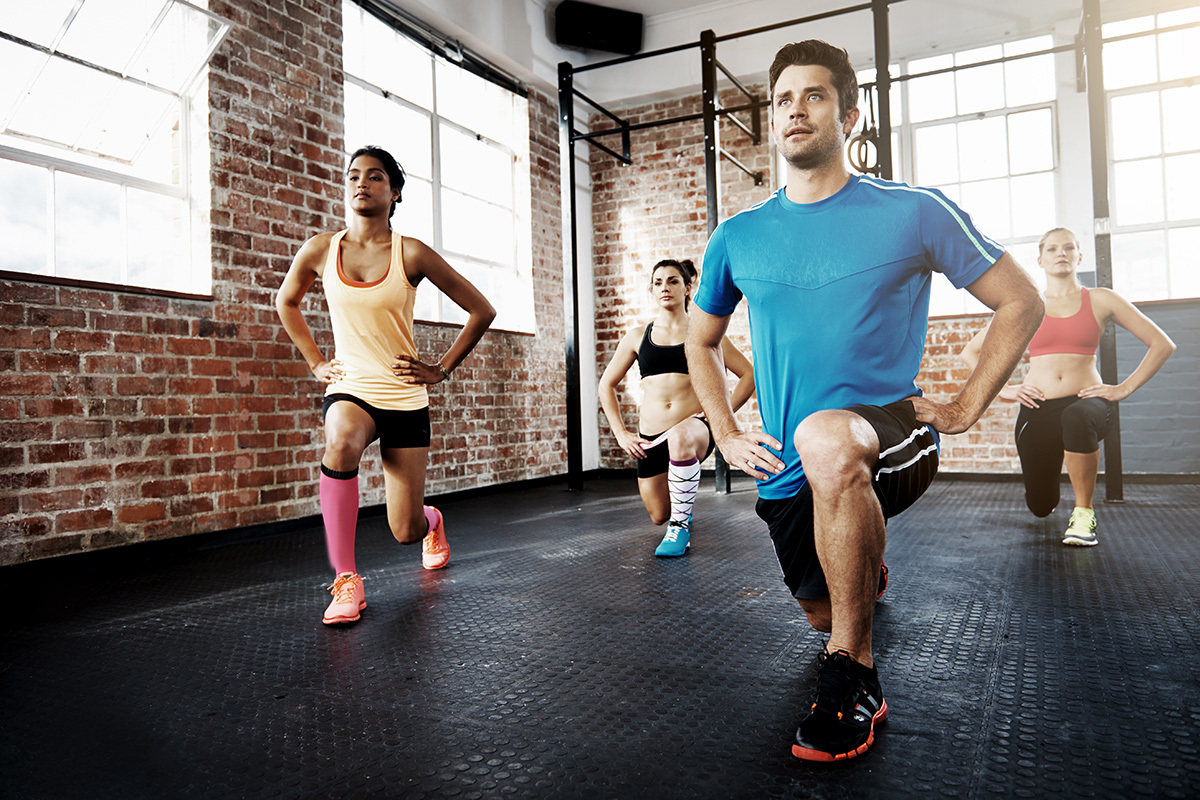 In Element 17, we explored how NEAT (Non-Exercise Activity Thermogenesis) helps you burn an additional 200 – 300 calories per day without making drastic changes to your daily routine. The NEAT system already contributes to most of your daily energy expenditure, or the number of calories you burn. Element 18 explores EAT (Exercise Activity Thermogenesis) and how it can enhance your healthy motion routine to help sustain your healthy weight during Phase II. By adding NEAT, you'll be equipped to achieve the three core goals of the Habits of Motion System:
Create a consistent balance between energy in and energy out.
Optimize cardiovascular health to keep your cells functioning properly.
Build strong, healthy bones and muscles to help you stay active and maintain a healthy weight.
The EAT system is divided into three progressive levels that you can accomplish at your own pace—Walking and Fitness Program, Resistance Program, and Boosting Your Workouts (High Intensity Interval Training). Remember, it's important to talk to your healthcare provider prior to beginning any workout routine.
Level One—Walking and Fitness Program: Begin by walking 20 minutes a day, including five minutes to warm up and five minutes to cool down. Increase your walk by five minutes each week. Once you've reached 20,000 steps per week (in addition to the steps you're taking with NEAT) and have been walking five days every week for at least one month, you're ready to progress to Level Two.
Level Two—Resistance Program: Each Resistance Program session focuses on your upper body or lower body along with core muscles. Choose two days a week for these workouts, but remember to rest at least two days in-between sessions to allow your body time to recover. A 30-minute session should consist of a five-minute warm-up, five repetitions of five selected movements, five different exercises that work the same muscle groups, and a five-minute cool-down stretch.
Level Three—Boosting Your Workouts: As your muscles strengthen and you become more fit, the easiest way to advance your workout is to increase intensity, frequency, and total amount of time. Dr. Wayne Scott Andersen provides some examples of how to do this on page 369 of Your LifeBook. You can also incorporate HIIT (High Intensity Interval Training), which will increase your exertion. For recommended HIIT workouts, refer to page 371 of Your LifeBook.
To maintain optimal health, you need to be active every day through NEAT and/or EAT. By utilizing this program, you'll acquire enough activity to help keep your weight under control while progressing toward optimal health.
Stay tuned for next week's newsletter featuring Element 19—steps to optimize your sleep and increase energy management!
As we get closer to the New Year, if you still need to order your NEW Habits of Health® Transformational System, it's time to reward yourself with this optimal gift of health and wellbeing! Let's connect today to discuss more!
Join this week's Habits of Health® Webinar, Your LifeBook—Element 18: How to give yourself the gift of fitness and optimal health on Wednesday, December 11th  at 8:30 p.m. ET/7:30 p.m. CT/5:30 p.m. PT, hosted by Independent OPTAVIA® Coach Casey Mitzel.

HOW TO CONNECT:
Please click the link below to join the webinar:
https://zoom.us/j/113312513

Or iPhone one-tap (US Toll):
+1(646)558.8656

Or Dial (US Toll):
+1(646)558.8656

And Enter the Pin: 113312513#

The holiday season brings joyful times for celebrating with family and friends, but it can also bring fatty foods and sugary sweets along with it. It can be difficult to stay on track with the smell of Aunt Mary's famous apple pie lingering in the background, but with some organization and planning, you can set yourself up for success. Here are some tips for staying on Plan at your next holiday party:
Have a Fueling first. If you arrive to the party hungry, it can be more difficult to stick to healthy habits. Make sure to have a healthy OPTAVIA Fueling prior to leaving the house.
Eat vegetables. When filling up your plate, think vegetables! Skip the dip and fill up on non-starchy vegetables like salad, asparagus, broccoli, celery, and cucumbers. Non-starchy vegetables are low in calories, a great source of fiber, and should take up at least half of your plate.
Drink water. Staying hydrated helps manage your appetite. Keep your water bottle filled and avoid alcohol and sugary drinks, which add extra calories, stimulate your appetite, and can promote dehydration.
Use a small plate.The size of your plate can influence how much you eat. Using a smaller plate can make your portions look larger and make your brain feel that you're eating more.
Bring a healthy dish. If you're a guest, bring your favorite healthy side dish to share, and if you are hosting, provide plenty of healthy options for others to try. That way you know there's a healthy option for you to enjoy.
Focus on family and friends. Instead of hanging out by the buffet table, take your conversation with a friend or family member to another room. That way you'll have great conversation while avoiding mindless snacking.
Ask me, your OPTAVIA Coach, about other tips for thriving on Plan at a holiday party on your journey to Lifelong Transformation, One Healthy Habit at a Time®.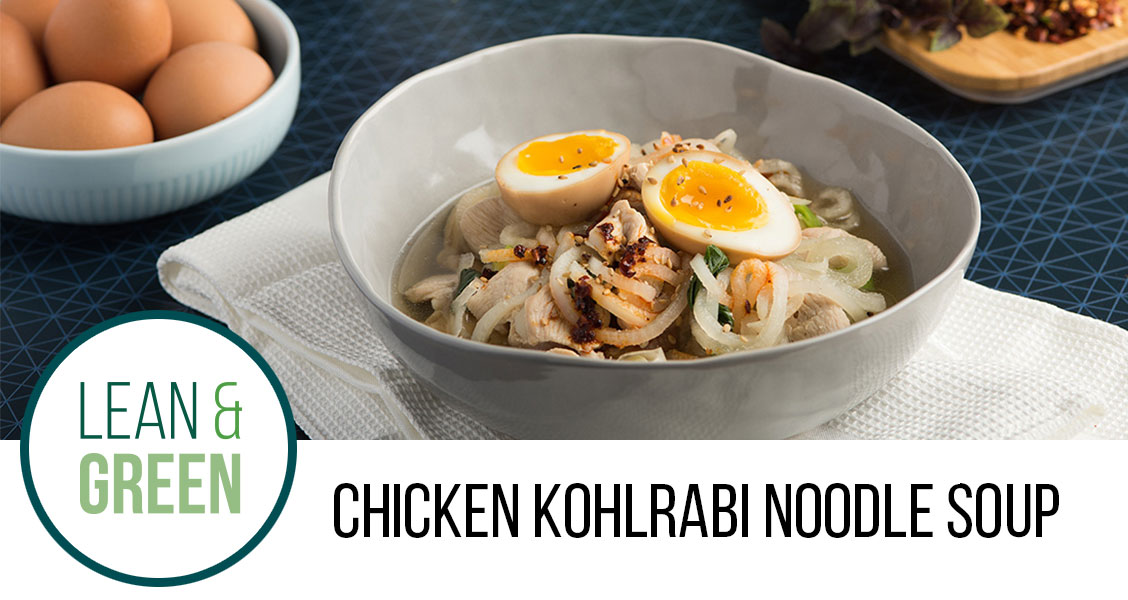 Per Serving: 1 Leaner | 3 Green| 2 Condiments| 1 Healthy Fat
Yield: 4 servings
Total Time: 30 minutes
Ingredients

4 eggs

3 tbsp reduced sodium soy sauce, divided

1¼ lb. boneless, skinless chicken breast, cut into thin slices

2½ lbs. kohlrabi to yield 20 oz. or 6 cups "noodles"

2 cups chicken broth

2 scallions, cut into ¼-inch rings

½ cup fresh basil, gently torn into pieces

¼ tsp red pepper flakes

2 tbsp toasted sesame seeds

1 tsp chili oil

Directions

Place eggs into a small sauce pan and cover with an inch of water. Bring water to a boil, and simmer gently for 6 minutes. Once cooked, place eggs in ice cold water and allow to cool for 10 minutes. Carefully peel the eggs and place them into a small, re-sealable bag. Add 2 tablespoons soy sauce and gently push out as much air as possible from the bag. Seal and allow eggs to marinate for one hour.
Combine chicken slices with one tablespoon of soy sauce and allow to marinate for 30 to 60 minutes.
Meanwhile, peel the kohlrabi and cut or slice it with a "spiralizer", vegetable peeler, or mandolin to make long "noodles." Set aside.
Bring the chicken broth to a boil in a large soup pot. Add the red pepper flakes, kohlrabi "noodles", and chicken. Simmer until tender, about 3 to 5 minutes.
Stir in the basil and scallions.
Remove the eggs from the soy marinade and cut them in half. Arrange an equal amount of kohlrabi noodles and chicken into 4 soup bowls, and carefully pour an equal amount of broth over top. Garnish with 2 half eggs, ½ tablespoon sesame seeds, and a ¼ teaspoon of chili oil per bowl.
Tip: Zucchini or radish "noodles" may be used in place of kohlrabi.
Per Serving: 360 calories | 42g protein | 15g carbohydrate | 14g fat
Visit our OPTAVIA Pinterest page for an extensive assortment library of Lean & Green meals.

Making a Difference One Life at a Time
"Last year while on vacation I was hit with the hard truth by a picture my mom took of me. I almost started crying. I knew I was overweight and not healthy, but I just didn't care and I had given up. My saying was 'I'm fat and happy', but I wasn't."
Greg knew he was overweight, but didn't realize he had let himself get to this point. He felt like he had not only let himself down, but his family also.
"It was a defying moment for me and I knew I had to make some serious changes. My wife and family deserved the best version of me and that is not what I was giving them."
Greg really didn't have the energy to exercise and even though he really wanted to change, he just wasn't sure how it would happen.
Greg noticed that one of his college friends posted on social media that she had just lost 20 pounds and was feeling great, so he reached out for help.
"I joined OPTAVIA and Wendy was my Coach. I lost seven pounds in my first week* and 17 pounds in my first month*. I was so happy to see such fast results and I was not even working out. I went on to lose 68 pounds over the next six months*.
Greg decided I wanted to help others that were struggling with the same issues so he became an Independent OPTAVIA Coach.
"This Program has been such a blessing for me and my family, not only for the weight loss, but I am a better person because of this gift and I love that I get to share it with others now. I have an amazing support team and the OPTAVIA Community has been very supportive. We are making a difference one life at a time and I love it!"
Greg continues to practice the same healthy habits that he shares with his Clients and now enjoys doing things with his family and friends that he didn't have the energy to do in years past.
"My new saying is 'I'm healthy and happy'. I love Dr. A, OPTAVIA, my business team, teammates and everything about this Program!"
Kathy Glazer
Independent OPTAVIA Coach
Kathy@EatSmartCoach.com
http://EatSmartCoach.optavia.com/eatsmartcoach
571-213-1988
3 Washington Circle N. W. #303, Washington,D.C. 20037, Also Falls Church,VA
© 2020 OPTAVIA, LLC. All Rights Reserved.
* Average weight loss on the Optimal Weight 5 & 1 Plan® is 12 pounds. Clients are in weight loss, on average, for 12 weeks.
** OPTAVIA makes no guarantee of financial success. Success with OPTAVIA results only from successful sales efforts, which require hard work, diligence, skill, persistence, competence, and Leadership. Please see the OPTAVIA Income Disclosure Statement (bit.ly/idsOPTAVIA) for statistics on actual earnings of Coaches.