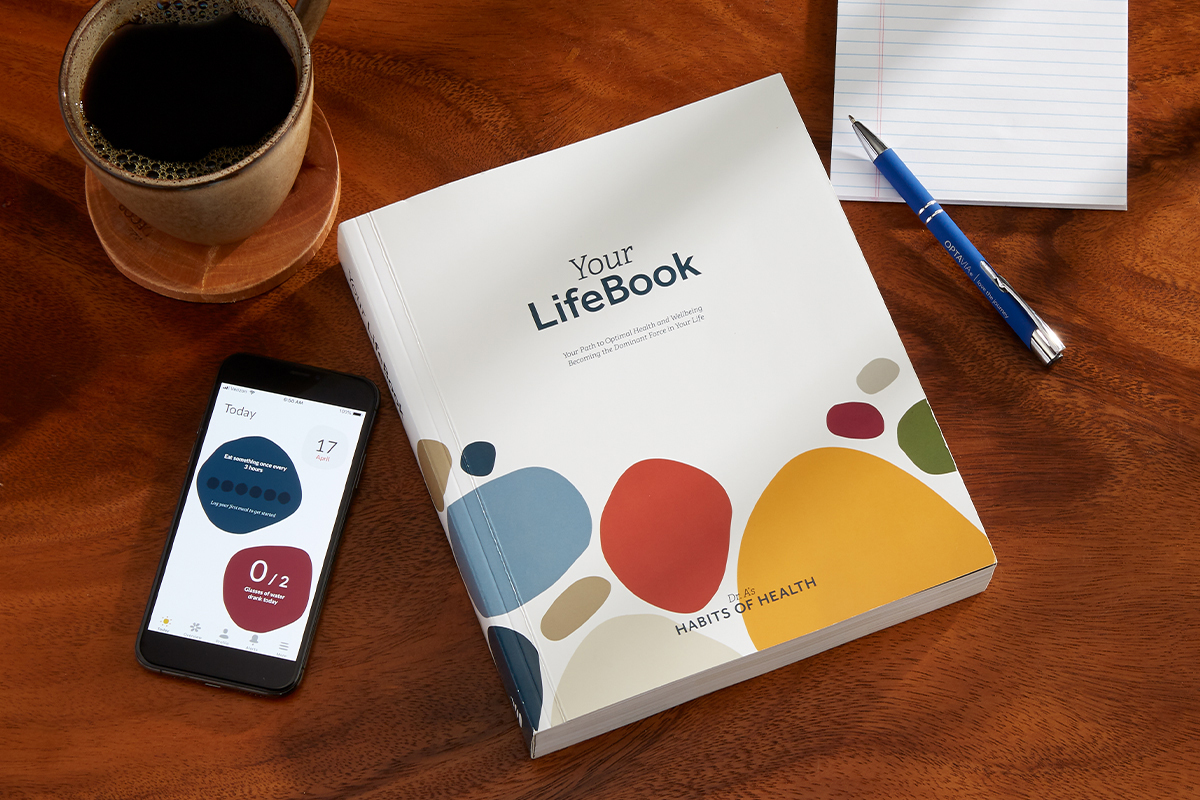 Eating small meals frequently helps reduce hunger and properly fuels your body. It also ensures that your body has balanced energy during digestion. Learning to eat every two to three hours is a great way to keep your healthy habits on track.
In Element 08 of Your LifeBook, Dr. Andersen designed a Habits of Health Clock to build into your routine, so you can create more optimal days on your journey to lifelong transformation.
Here are tips to follow when developing an eating schedule, so you can stay on top of your Fuelings and log your eating every two to three hours:
Stick to your Fueling schedule. Set an alarm for two to three-hour increments after you eat your breakfast, so you are alerted throughout the day when it's time to eat Fuelings and your Lean & Green meal. Remember to eat breakfast within 30 – 60 minutes of waking up to jump-start your metabolism!
List your Fueling routine. Grab Your LifeBook, or food journal, and jot down exactly what you eat every two to three hours. Try to plan ahead by choosing which OPTAVIA Fuelings you will eat during the day, and what protein and vegetables you will eat for lunch or dinner.
Determine the benefits. Keep a list of all the instant benefits of eating a Fueling every two to three hours with you at all times, and include your WHY, to keep you motivated. Here are a few to get you started: you may be less hungry in between meals, have more energy, or be less likely to overeat during subsequent meals.
What have you gained from your journey? List the long-term benefits you have achieved on your transformation journey to date. Maybe you have gained better control of your weight and are more productive during the day now that you have solidified a firm eating schedule. Write down anything you feel has improved your overall health and wellbeing!
Ask me, your Independent OPTAVIA Coach, about other ways to practice healthy eating on Plan, during your journey to Lifelong Transformation, One Healthy Habit at a Time®.
Join this week's Habits of Health® Webinar, Your LifeBook— Element 08: How to Fuel Your Body for Optimal Health, on Wednesday, April 21st at 8:30 p.m. ET/7:30 p.m. CT/5:30 p.m. PT, hosted by Independent OPTAVIA® Coach Lisa Castro.

HOW TO CONNECT:
Please click the link below to join the webinar:
https://zoom.us/j/113312513

Or iPhone one-tap (US Toll):
+1(646)558.8656

Or Dial (US Toll):
+1(646)558.8656

And Enter the Pin: 113312513#

The recent era of technology has made life easier in countless ways. 
While your electronics can sometimes be obstacles in reaching optimal health and wellbeing, you can also leverage the useful tools in your smartphone to help you stay on Plan.
Here are some healthy ways to utilize your smartphone while working towards a health goal(s):
Set reminders. Setting reminders during the day is a great way to ensure you incorporate the microHabits of health, like a healthy mind or motion, into your day. Try setting a reminder to take a short walk, practice deep breathing, and get up during the day to stretch and recalibrate
Exercise your brain. During your drive to and from work or while going for a walk, try listening to an audiobook, a Habits of Health webinar recording, or a podcast. This new information will not only stimulate your brain, but you'll learn something new and get the benefits of healthy movement!
Track your sleep. Try the Sleep Cycle alarm clock! This app monitors your sleep patterns and gently wakes you up after at least eight hours of sleep, at your designated time in the morning, helping you feel refreshed! You can also track your sleep each night to ensure you reach recommended hours.
Ask me, your Independent OPTAVIA Coach, for more ways you can harness the power of your smartphone to help you achieve optimal health and wellbeing.
**We recommend drinking 64 ounces of plain water each day. Please talk with your healthcare provider prior to changing the amount of water you drink, as it can affect certain health conditions and medications.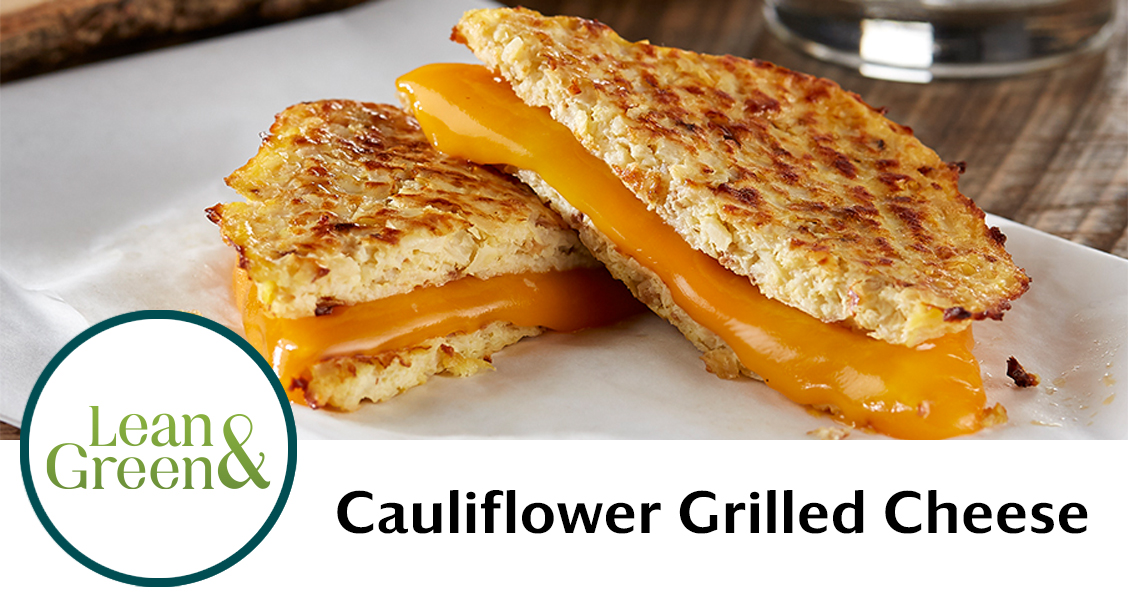 Yield: 4 servings
Complete Lean & Green Meal: 1 lean, 3 green, 1 condiment
Total Time: 30 minutes
Ingredients

6 cups cauliflower rice

3 large eggs

2 tbsp grated parmesan cheese

¼ tsp salt (optional)

12, 1-oz. reduced-fat cheddar cheese slices

Directions

Preheat the oven to 425⁰F.
Spread the cauliflower on a baking sheet lined with parchment paper and bake for 30 minutes until golden brown. Remove from the oven and allow it to cool.
Reduce the heat to 400⁰F.
In a kitchen towel, squeeze the cauliflower to remove the excess moisture. Mix together the cauliflower with the eggs, parmesan, and salt.
Scoop 1/3 cup of the cauliflower mix onto a section of the parchment-lined sheet pan and shape into a bread slice, about ¼-inch thick. Repeat 7 times for a total of 8 cauliflower "bread" slices. Bake the cauliflower "bread" at 400⁰F for 8 minutes.
Remove from the oven, top one cauliflower "bread" slice with 3 slices of cheddar cheese, and then place another cauliflower slice on top. Repeat 3 times for a total of 4 grilled cheese sandwiches.
Return the sheet pan to oven and cook until the cheese is melted. 
Stovetop Method: For a slightly crispier grilled cheese sandwich, follow steps 1 through 6 in the directions above. Once the cauliflower "bread" slices have been baked, use a wide spatula to transfer four of the slices to a lightly coated, non-stick skillet heated over medium high heat. Top each of the 4 cauliflower "bread" slices with 3 slices of cheddar cheese, and then place a cauliflower "bread" slice on top of each one to make a total of 4 grilled cheese sandwiches. Cook until cheese is melted.
Nutrition Facts:  Per Serving: 340 calories, 20g fat, 10g carbohydrate, 31g protein
Visit our OPTAVIA Pinterest page for an extensive assortment library of Lean & Green meals.

Living Out Loud
From the outside, Jami appeared to have it all: her high school sweetheart husband, two children, a successful corporate career, and a booming social life, just to name a few.
On the inside, though, Jami was unhappy. "I found little to no joy in any of my blessings because I was plagued by all of the side effects of my obesity. I 'hid' in mostly all-black clothes, could physically only wear one pair of shoes due to joint pain, and you most certainly would not find me in any social media pictures. My days were an endless cycle of slogging through life, pleasing everyone else at the expense of my own health."
Tired of her drained lifestyle, Jami decided to give OPTAVIA a try and start her journey to optimal health and wellbeing.
After six weeks on Plan, Jami became an Independent OPTAVIA Coach, making her mother her first Client. She began to see her life transform right in front of her eyes.
"I found freedom in living all the way out LOUD in all areas of my family/social circles and quickly learned that I was a lighthouse to guide others to their own breakthroughs. I stopped wearing all black and wore colors that reflected the joy I felt on the inside. I chose to show up on multiple social media platforms as my most authentic self."
Jami is down 90 lbs* down and loving the physical, mental, social, and financial stability OPTAVIA has provided her.**
*Average weight loss on the Optimal Weight 5 & 1 Plan® is 12 pounds. Clients are in weight loss, on average, for 12 weeks.
**OPTAVIA makes no guarantee of financial success. Success with OPTAVIA results only from successful sales efforts, which require hard work, diligence, skill, persistence, competence and leadership. Please see the OPTAVIA Income Disclosure statement for statistics on actual earnings of Coaches.
Rebecca Lange
Independent Certified OPTAVIA Coach
rebeccalange117@gmail.com
http://www.MyJourneyToAHealthyMe.com
336-202-3316
P.O. Box 38941
Greensboro, NC 27438
© 2023 OPTAVIA, LLC. All Rights Reserved