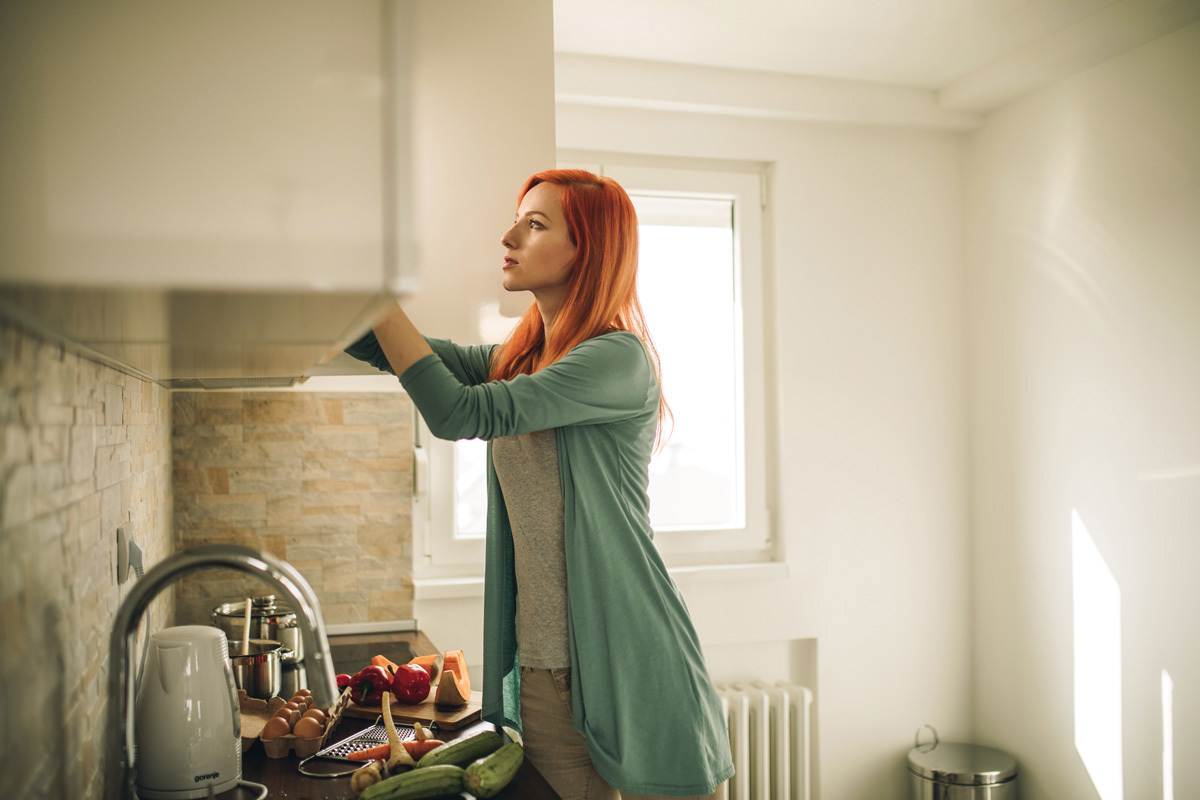 In Element 07, we'll focus on making simple, yet powerful, changes in your environment at home to make it easier to reach your goals. Consider how you can increase the steps needed to make unhealthy choices and decrease the steps required to make healthy choices. It's all about setting yourself up for success.
There are several opportunities throughout your day where you can create obstacles for unhealthy decisions to make healthy choices easier. Here are some tips for improving your surroundings, and creating a leptogenic world, or an environment at home that's conducive to weight loss:
Clear your pantry. Instead of unhealthy foods that could sabotage your healthy eating, such as white bread, hydrogenated vegetable oils, refined cereals, and processed sweets, reach for an OPTAVIA Fueling, which is portion-controlled and provides balanced nutrition.
Meal prep and storage. One of the keys to eating smaller portions is to serve less food. Try using a smaller plate to accommodate smaller portion sizes. Make your kitchen the designated location for serving food and avoid bringing serving bowls when dining at home with your family. Since drinking water can help reduce hunger, set your table with large water glasses and keep a pitcher of water on the dining table for easy refilling.
Optimize your bedroom. Make your bedroom more conducive to healthy sleeping by dimming the lights in your bedroom so your body can start to wind down. When it's time to go to sleep, turn the lights off and make sure your room is completely dark. Choose a bedtime that allows for seven to nine hours of sleep and stick with your routine.
Ask me, your OPTAVIA Coach, for other tips on creating a leptogenic world, while at home, on your journey to Lifelong Transformation, One Healthy Habit at a Time.
Still need to order your NEW Habits of Health® Transformational System? Let's connect today!
Join this week's Habits of Health® Community Time, Your LifeBook - Element 07, on Wednesday, April 1st at 8:30 p.m. ET/7:30 p.m. CT/5:30 p.m. PT, hosted by Independent OPTAVIA® Coach, Jan Paxman.

HOW TO CONNECT:
Please click the link below to join the webinar:
https://zoom.us/j/113312513

Or iPhone one-tap (US Toll):
+1(646)558.8656

Or Dial (US Toll):
+1(646)558.8656

And Enter the Pin: 113312513#

This time at home can allow you to get more creative with meal planning and staying hydrated, by using the tips below:
Eat six small meals per day, one every 2 to 3 hours.
Drink 64 oz. of water per day* by:

Keeping a refillable water bottle with you.
Infusing water with a wedge of lemon or lime, or one of OPTAVIA's infusers.
Set a timer to remind you when to refill.

Plan Lean & Green meals in advance.
Get the whole family involved. Cook and enjoy meals together.
Seek out support, ideas, and inspiration from your Coach.
Avoid buying foods you wouldn't normally keep around. Skip the chips, desserts, baking supplies, or anything else that might derail you, even if they have a long shelf life.
Try to keep healthy foods on hand, especially those with a longer shelf-life, such as these 9 versatile lean & green-friendly items*:

Frozen chicken breast (pre-cooked & raw), seafood, and turkey, chicken or fish burgers*
Canned chicken breast, tuna, and/or salmon (packed in water)
Eggs
Reduced-fat cheese
Frozen veggies, including zucchini noodles, riced cauliflower, chopped bell peppers, and spinach
Canned veggies, like tomatoes, mushrooms, and green beans
Dried herbs & spices
Unsweetened nut milk
Plain nuts & seeds
*Refer to the Lean & Green meal food lists in your OPTAVIA guide to know what nutritional parameters to look for when you shop!
*Consult with your healthcare provider prior to changing the amount of water you drink as it can affect certain health conditions and medications.
Remember that proper hydration and healthy nutrition are equally important when working toward optimal health and wellbeing.
Ask me, your OPTAVIA Coach, about other ways to practice healthy habits in the current climate while on your journey to Lifelong Transformation, One Healthy Habit at a Time®.
Yield: 4 servings
Complete Lean & Green Meal: 1 leaner, 1 healthy fat, 3 green, 3 condiments
Total Time: 45 minutes
Ingredients

1½ lbs. boneless, skinless chicken breasts

¼ tsp each (or less) salt & pepper

1 cup riced or cubed kabocha squash

1 cup riced zucchini

1 cup riced yellow summer squash

1 cup riced broccoli

8 cherry tomatoes, halved

4 radishes, sliced thin

1 cup shredded red cabbage

¼ cup hemp or pumpkin seeds

 

Green Goddess Dressing

½ cup low-fat plain Greek yogurt

1 cup fresh basil

1 clove garlic

4 tbsp lemon juice

¼ tsp each (or less) salt & pepper

Directions

Preheat grill or oven to 350⁰F.
Season chicken with salt and pepper.
Grill or roast chicken about 10-12 minutes until it reaches an internal temperature of 165⁰F. When done, remove from oven and set aside to rest, about 5 minutes. Cut into bite-sized pieces and keep warm.
While chicken rests, steam riced kabocha squash, zucchini, yellow summer squash, and broccoli in a covered microwave proof bowl about 5 minutes until tender.
For the dressing, combine all of the ingredients in a blender and puree until smooth.
To serve, place an equal amount of the riced veggie mixture into four individual serving bowls. Add an equal amount of cherry tomatoes, radishes, and shredded cabbage to each bowl along with a quarter of the chicken and one tablespoon of seeds. Drizzle dressing on top, and serve.
Per serving: 300 calories, 10g fat, 13g carbohydrate, 41g protein
Visit our OPTAVIA Pinterest page for an extensive assortment library of Lean & Green meals.

From Setback to Comeback
"I've been overweight all my life. I was always the last one picked in PE and the first one to get picked on at recess. Food was my comfort."
As an adult, Jeanmarie became obese. She tried several weight loss programs and even considered surgery.
"I had other issues that weren't related to food, but I kept turning to food for comfort."
Jeanmarie's daughter, Kim, had witnessed her mother's unhealthy habits and became her "food buddy".  At one of Kim's medical appointments, Jeanmarie asked the physician if there was anything they could do to get to a healthy weight.
"The doctor gave me a card and said, 'This is my patient. She has achieved health with OPTAVIA and wants to help others.'"
Jeanmarie wasn't completely sure if she was ready to go on Plan, but when she saw how positive everyone was about getting healthy and their amazing transformations, she wanted that same success.
"So I gave it a chance and my eating habits improved significantly! My weight loss has been gradual, but steady. I don't give up. "
Jeanmarie's setbacks led to a major comeback. She lost 110 pounds* and has gained so much – more energy, fewer aches, the ability to fit in a seat, and the passion to share healthy habits with others.
"My doctor is thrilled with my weight loss. I love coaching others and sharing the OPTAVIA Program."
*Average weight loss on the Optimal Weight 5 & 1 Plan® is 12 pounds. Clients are in weight loss, on average, for 12 weeks.
Kathy Glazer
OPTAVIA Coach
Kathy@EatSmartCoach.com
http://EatSmartCoach.optavia.com/eatsmartcoach
571-213-1988
3 Washington Circle N. W. #303, Washington,D.C. 20037, Also Falls Church,VA
© 2023 OPTAVIA, LLC. All Rights Reserved