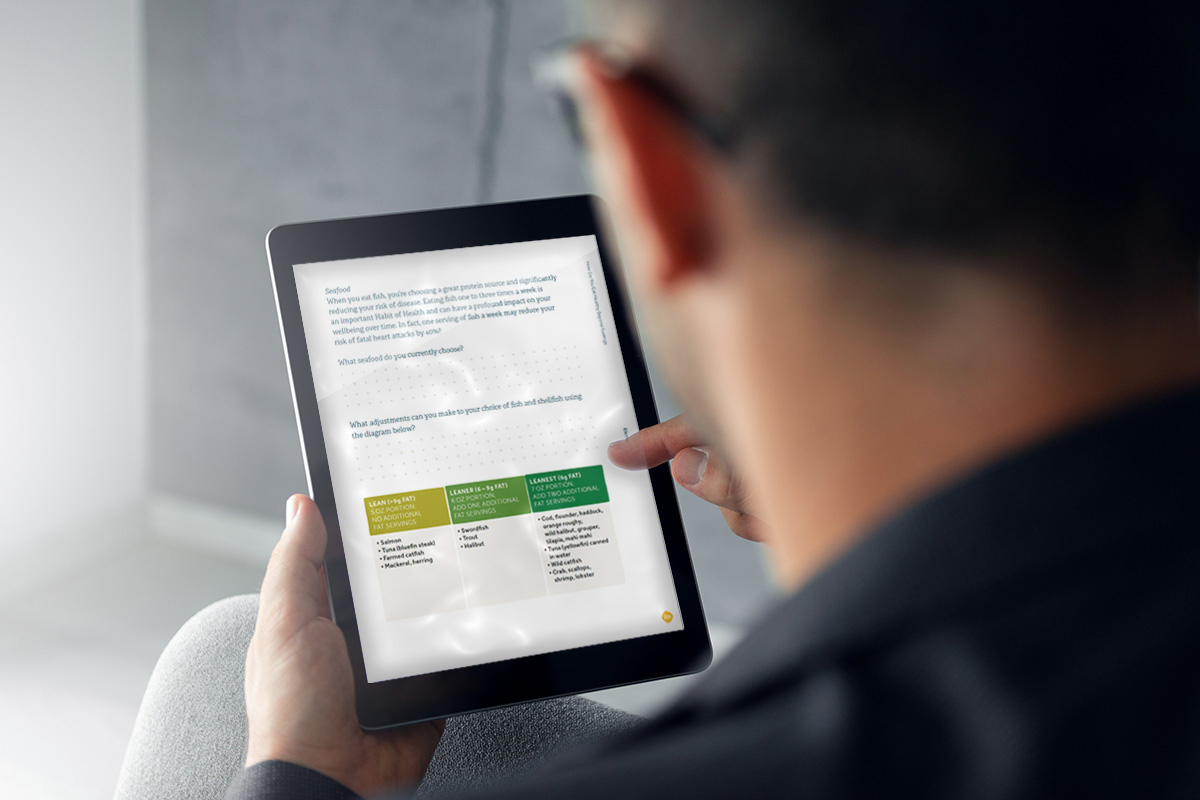 If you are currently on one of OPTAVIA's Plans, you are doing your best to eat foods every day that lead you to lifelong health. Think of your meals and Fuelings as the foundation to making healthier food choices once you meet your goal of optimal health.
When grocery shopping be sure to include options from these four food groups: lean protein, green vegetables and salad, healthy snacks and condiments, and healthy fats and oils. Ensure you refer to your OPTAVIA Guide for a list of acceptable foods, condiments, and serving sizes before heading to the store.
Here are some additional eating strategies to consider when making these important purchases at the market:
Lean protein. To keep fat content low, it's best to grill, bake, broil, or poach your lean protein selections. Due to saturated fat, it's important to moderate your consumption of red meat and eat more fish and white-meat poultry like chicken. If you'd like to eliminate or reduce the amount of meat you eat, try egg whites, liquid egg substitute, or tofu. Food for thought: Choosing fish as your protein one to three times per week can have a profound impact on your long-term wellbeing.
Healthy fats and oils. Replace unhealthy fats with healthy omegas as part of your lean & green meals. Some healthy examples include canola or olive oil, low-carbohydrate salad dressing, black or green olives, reduced-fat margarine, and avocado. Food for thought: Make marinades for meats, salad, or snacks at home so you are aware of every ingredient that is added.
Green vegetables and salad. During fat-burn, it's important to avoid fruit altogether, as it tends to be high in sugar and carbohydrates. Instead, focus on choosing nutrient-dense and low-glycemic green vegetables like iceberg lettuce, cucumber, and celery. Food for thought: Prepare raw veggies in advance and store in sealable bags for a green for your Lean and Green!
Healthy snacks and condiments. Use condiments to add some flavor to your meals, but keep in mind that they contribute to your carb intake. You can enjoy up to three condiments per day. Each condiment serving should contain no more than one gram of carbohydrates. Food for thought: You may have up to one optional snack per day. Optional snacks include OPTAVIA snacks, 3 celery stalks, 2 dill pickle spears, or up to 3 pieces of sugar-free gum.
Ask me, your OPTAVIA Coach, for other tips on eating strategies for lifelong health on your journey to Lifelong Transformation, One Healthy Habit at a Time.®
We also invite you to watch our transformative video series, featuring Your LifeBook – Elements 01-26, published recently on CLIENT ANSWERS. These videos, Your LifeBook, and me, your Coach, give you the tools to empower yourself and move forward in creating optimal health and wellbeing. Check them out!
Still need to order your NEW Habits of Health® Transformational System? Let's connect today!
Join this week's Habits of Health® Community Time, Your LifeBook—Element 11: Eating Strategies for Lifelong Health on Wednesday, May 27th at 8:30 p.m. ET/7:30 p.m. CT/5:30 p.m. PT, hosted by Independent OPTAVIA® Coaches Harold and Sam Prestenbach.

HOW TO CONNECT:
Please click the link below to join the webinar:
https://zoom.us/j/113312513

Or iPhone one-tap (US Toll):
+1(646)558.8656

Or Dial (US Toll):
+1(646)558.8656

And Enter the Pin: 113312513#

With the arrival of summer around the corner, the possibilities for outside exercise give us permission to get out of our house, safely get active with our families, and take in the nature that surrounds us.
Summer can also bring high temperatures that are, at times, difficult to wrestle with when exercising outdoors. Whether you are running or walking, please stay safe, cool, and in motion when it is the right time for you.
Consider these tips for optimizing healthy motion this summer:
Early bird gets the worm! Switch your normal routine to early morning before the sunrises. Stick to activities that combat the heat like running, biking, and swimming. Doing these activities, especially in the early morning, will keep your heart pumping while keeping you cool and out of the hottest hours of the day!
Exercise in increments. If you prefer working out during the day, try exercising in short 10-minute increments at a time.
Get creative. Keeping in motion doesn't have to only include formal forms of exercise. It can include all of the things that you normally do or things that you never expected. Just step it up a notch. Clean the whole house from top to bottom. Put on music and see how fast you can complete the task. Take up gardening, dance to your favorite music, or stretch each morning to get your blood flowing.
Stay inside. When all else fails, and you need a break from the heat, you can always make your own DIY gym inside with a bit of creativity. Gallon water jugs can be transformed into weights and your stairs can serve as your own personal stair climber machine.
Stay hydrated*.  Proper water intake is critical when exercising, especially in warmer weather. It is important to drink water before and during your workout. If you experience symptoms of dehydration such as thirst, headache, muscle cramps, or fatigue, take a break and replenish your fluids as soon as possible.
Ask me, your OPTAVIA Coach, about ways you can stay healthy this summer on your journey to Lifelong Transformation, One Healthy Habit at a Time®.
*We recommend drinking 64 ounces of plain water each day. Talk with your healthcare provider prior to changing the amount of water you drink as it can affect certain health conditions and medications.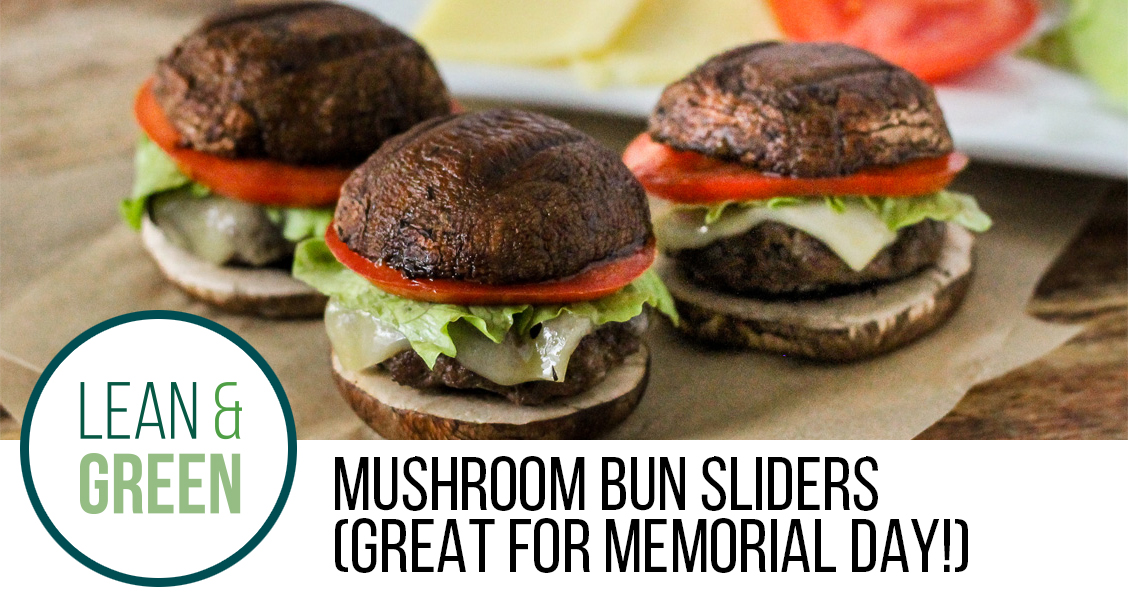 1 Lean | 3 Green | 3 Condiments
Total Time: 30 minutes
Yield: 4 servings (3 sliders per serving)
Ingredients

1 lb. 90-94% lean ground beef

¼ cup finely diced scallions

1 Tbsp Worcestershire sauce

1 Tbsp soy sauce

½ tsp garlic powder

½ tsp salt

Cooking spray

12 mushroom caps, sliced in half horizontally (2 ½ - 3 inches diameter)

6 slices reduced-fat Swiss cheese

3 roma or plum tomatoes, sliced

2 cups lettuce

Directions

Combine the beef, scallions, Worcestershire sauce, soy sauce, garlic powder, and salt in a medium-sized bowl, and mix well. For mixture in 12 small, flat patties.
Coat grill rack lightly with cooking spray. Add beef patties, and grill covered, over medium heat until desired doneness.
Add sliced mushroom caps to grill rack, and cook for 1 to 2 minutes per side (mushroom should still be somewhat firm).
Cut cheese slices into four pieces each. Assemble sliders using sliced mushroom caps as buns, and add two pieces of cheese per slider. Serve with tomato slices and lettuce.
Per Serving: 320 calories | 36g protein | 8g carbohydrate | 18g fat
Visit our OPTAVIA Pinterest page for an extensive assortment library of Lean & Green meals.

Full Transformation
"I was always on the chubby side. I had a sweet tooth that wouldn't quit and when I moved into my own apartment my senior year of college, I knew how to bake, but not how to cook and that started a decade of slow weight gain."
By 2013, Katie was 200 pounds and feeling miserable. She had to go to physical therapy for her knees and back, and she developed plantar fasciitis because of horrible digestion problems. Worse yet, she was not happy.
"I turned sour and angry. This isn't a great combo for someone in middle school youth ministry."
But, a friend started posting some amazing transformation stories on Facebook and Katie was intrigued. The Program her friend described was all-encompassing and that was what Katie needed - someone to cut through the myriad of "ways to get healthy" and just walk her down the path.
"I ended up losing 78 pounds* total – just in time for my wedding. As I got lighter, my mood lightened and I started to connect relationally with others better than I had in years."
However, right after getting married she was laid off unexpectedly, the day after she gave her husband permission to resign from his nightmare job.
"Fortunately, I had started Coaching and I was making the same (or more) than I was as a Youth Director."**
Over the next year, Katie's income grew.** She was able to volunteer her time, her spiritual life flourished, and she made great friendships through becoming an OPTAVIA Coach.
"Now I'm (more or less) maintaining my weight, working on optimally healthy finances, and my emotional/mental health is greatly improved. I LIKE people again!"
As an OPTAVIA Coach, she has assisted people in amazing weight loss results. She's posted cooking videos on Facebook, and now she's excited to help other people find joy in Coaching.
"The next step for me is to rediscover my athletic side from high school!"
*Average weight loss on the Optimal Weight 5 & 1 Plan® is 12 pounds. Clients are in weight loss, on average, for 12 weeks.
**OPTAVIA makes no guarantee of financial success. Success with OPTAVIA results only from successful sales efforts, which require hard work, diligence, skill, persistence, competence and leadership. Please see the OPTAVIA Income Disclosure statement for statistics on actual earnings of Coaches.
Kathy Glazer
OPTAVIA Coach
Kathy@EatSmartCoach.com
http://EatSmartCoach.optavia.com/eatsmartcoach
571-213-1988
3 Washington Circle N. W. #303, Washington,D.C. 20037, Also Falls Church,VA
© 2023 OPTAVIA, LLC. All Rights Reserved