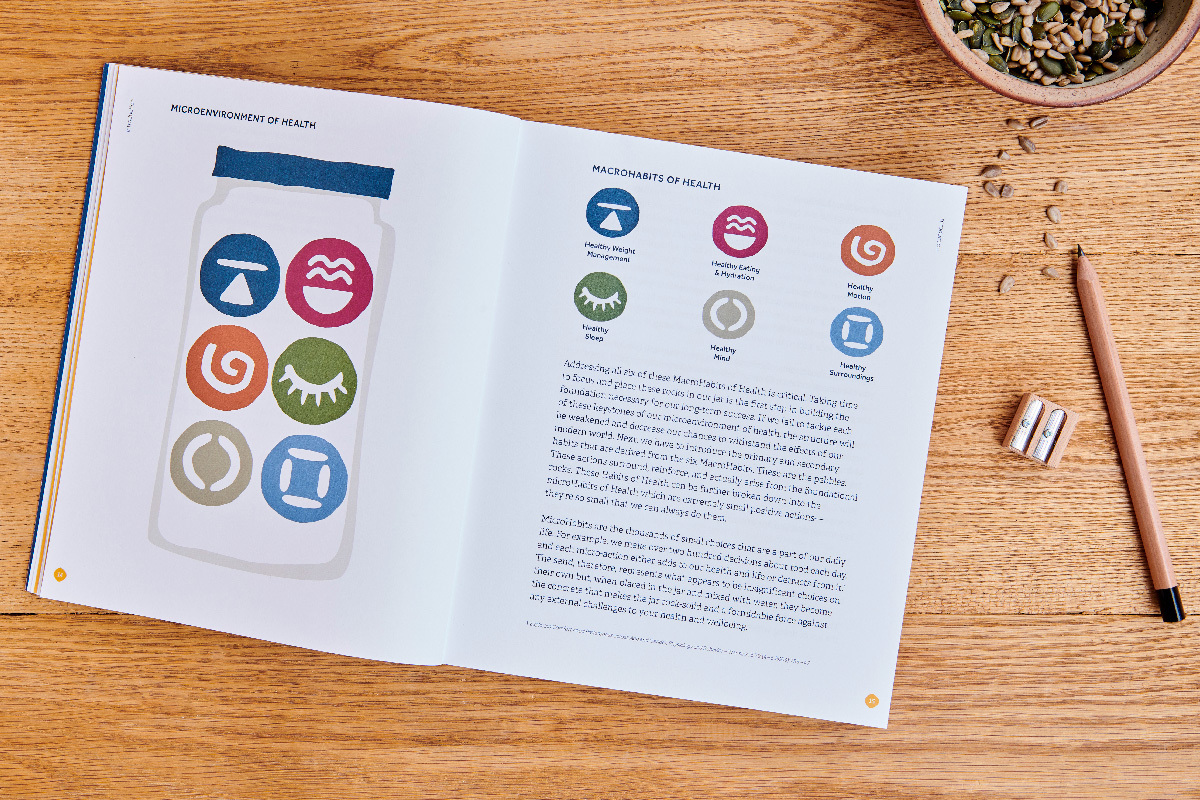 In Element 01, Being Clear Why You Are Here, we explored WHY you want to make a change. The next step is beginning the process to help make those changes and knowing exactly what you need to accomplish to create the life you choose to live.
First, you'll need to identify the area(s) you want to work on in the list of MacroHabits below. Then write down at least three things you would like to change in the MacroHabit(s) you choose:
Healthy Weight Management. Reaching a healthy weight can give you more energy, lower your risk for certain diseases, and improve the overall quality of your life. The Optimal Weight 5 & 1 Plan® is designed to move you through a fat-burning stage and optimize your metabolism. As you lose weight, your confidence will increase and will pave the way for other microHabits.
Eating Healthier and Better Hydration. Portion control, meal frequency, and a balanced diet are essential to fighting food cravings and coincide with healthy weight management. Proper hydration is also important to optimize your body's efficiency.
Moving More. Healthy motion keeps your body flexible and strong, and can also impact emotional wellbeing. With NEAT (Non Exercise Activities Thermogenesis), you can increase your physical activity outside of exercise. By focusing on constant movement, you will burn more calories.
Sleeping Better. Sleep is a critical, and often underestimated, factor of optimal health. The quality of your sleep also has an impact on losing and maintaining weight.
A Healthier Mind. Examining how you make choices and understanding your patterns contribute to your overall health. Being mindful and managing stress appropriately are just as important as physical fitness.
Better Surroundings. The people, places, and things that surround you can impact other areas of health. Build a support system that helps you build lasting relationships and a sense of connection. 
Once you identify the areas you want to change, you already have the building blocks for motivation and a grasp on what is actually important to you.
Ask me, your OPTAVIA Coach, for additional tips on how to identify what you want to accomplish along your journey to Lifelong Transformation, One Healthy Habit at a Time®.
Still need to order your Habits of Health Transformational System? Ask me how to order your System today!
Stay tuned for next week's newsletter featuring Element 03 of Your LifeBook in the new Habits of Health Transformational System—how do you create what you want?
Join this week's Habits of Health® Webinar, Your LifeBook—Element 02 on Wednesday, August 21st at 8:30 p.m. ET/7:30 p.m. CT/5:30 p.m. PT, hosted by Independent OPTAVIA® Coaches, Doug and Thea Wood.

HOW TO CONNECT:
Please click the link below to join the webinar:
https://zoom.us/j/113312513

Or iPhone one-tap (US Toll):
+1(646)558.8656

Or Dial (US Toll):
+1(646)558.8656

And Enter the Pin: 113312513#

Habits are the actions that we do so frequently that they become our routine, even when we know they may not be the healthiest choices. Most unhealthy habits are a reaction to stress. The key to success is to identify the cause of these unhealthy choices, and then replace these choices with healthier options. Here are some tips for changing these stuck, unhealthy habits to productive, healthy habits:
Identify the cause. It's important to identify the underlying cause for your habits. For example, unhealthy eating may be your comfort outlet when you're feeling stressed. Once you understand that your mood can affect your eating habits, try using a different outlet, like going on a walk or journaling about your feelings. When you acknowledge the power of small actions, it's easy to see how shifting these behaviors can lead to positive results.
Make a plan. Write down your promise and plan to yourself or create a vision board where you will regularly see your goal. Having a visible plan will make your objectives clear. When faced with a decision between a healthy or unhealthy choice, remember that making the healthier decision will give you a greater reward in the long run.
Have a support system. Reach out to a loved one or friend whenever you need some motivation or a word of encouragement. As your OPTAVIA Coach, I'm here to guide you and help keep you accountable. Also, our Community of like-minded people offer valuable insight and empowerment along your health journey.
Create realistic goals. Significant change does not occur overnight. Continue to implement small, healthy habits and create a realistic timeline to achieve your goal.
Forgive yourself. No one is perfect and if you make a mistake, don't give up! A mistake actually provides valuable information—it provides more insight to your stressors and the actions you need to change in order to stay on track. The longer you stay off course, the bigger setback you will experience, so get right back into the game!
Ask me, your OPTAVIA Coach, about other ways to create healthy habits on your journey to Lifelong Transformation, One Healthy Habit at a Time®.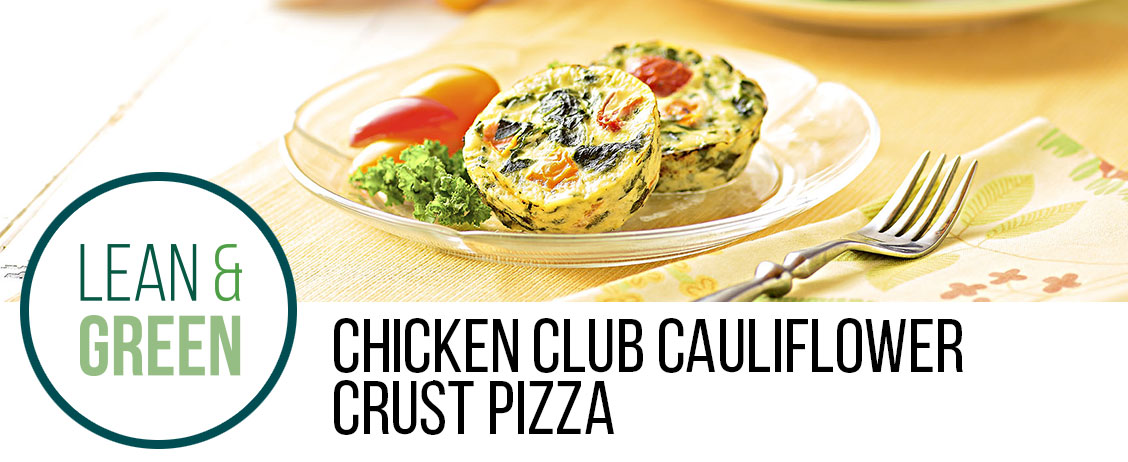 Per Serving: 1 Leaner | 3 Green | 1 Healthy Fat | 3 Condiments 
Yield: 4 servings
Total Time: 60 minutes
Ingredients

Crust:

1 medium head cauliflower, cut into florets

1 Egg

½ cup shredded, low-fat mozzarella cheese

1 tsp dried oregano

Toppings:

2 Tbsp ranch dressing mix

½ cup plain, low-fat Greek yogurt

¼ cup regular cream cheese, softened

¼ cup chopped scallions

6 slices turkey bacon

1 cup shredded, low-fat cheddar cheese

8 ounces cooked and chopped chicken breast

1 cup shredded iceberg lettuce

½ cup diced tomatoes

Directions

Preheat oven to 425°F.
Place cauliflower florets in a food processor and pulse until they become very fine rice-like pieces.
Place cauliflower "rice" in microwave-safe bowl, and cook for 7 to 8 minutes, stopping midway to stir.
Once cooled, transfer the "rice" to a cheesecloth or clean, thin dishtowel, and squeeze out as much liquid as possible. 
In a large bowl, combine "rice", beaten egg, mozzarella, and oregano, until thoroughly mixed. Press the mixture out into the shape of a pizza crust, about ⅓-inch to ½-inch thick (make sure crust isn't too thin), onto a baking sheet lined with parchment paper. Bake for 15 to 20 minutes, until crust is firm, and light brown.
Meanwhile, combine ranch dressing mix, Greek yogurt, cream cheese, and scallions. Cook turkey bacon according to package directions, and chop into small pieces.
Once crust is cooled, spread ranch mixture evenly onto crust. Top with half of the cheese, chicken, remaining cheese, and bacon. Cook an additional 5 to 7 minutes, until cheese is melted and crust is golden brown. Top with lettuce and tomatoes, and serve immediately.
Per Serving: 360 calories | 39g protein | 15g carbohydrate | 16g fat
Visit our OPTAVIA Pinterest page for an extensive assortment library of Lean & Green meals.
Health and Hope
 "I don't remember a time in my life when I wasn't struggling with my weight. From the time I was a kid, I was trying at least one diet or exercise plan. Sometimes I would lose weight, but it would always come back, sometimes with extra."
At a routine medical appointment, Susan weighed in at over 300 pounds. Her doctor wanted her to consider gastric bypass surgery, but she knew that option wasn't for her.
"I knew something needed to change because I was so tired all the time. During my lunch breaks, I would go out to my car and take a nap. When I got home from work, I would need to take another nap to make it through the evening. I was missing out on so many events."
A few months later, Susan's friend, Lisa, invited her to participate in an online health community.
"I was part of a healthy community where we were learning about the Habits of Health. I saw people losing weight, but their focus wasn't on the weight loss. It was on living a healthier lifestyle and I really liked that."
This inspired Susan to start her journey to optimal health and wellbeing with OPTAVIA. Over the next year and a half, she lost 137 pounds!* But more importantly, she gained a whole new life.
"I have so much more energy! I feel so much better, inside and out! The girl who wouldn't even get out of her car to go into a store is now walking 5Ks, and enjoying them!"
Susan even decided to become an OPTAVIA Coach to help others discover the same health and hope she had discovered on her journey.
"By helping others, I am also keeping myself accountable. I don't ever want to go back to where I was just a few years ago. I am so thankful to be living an OPTAVIA life!
Kathy Glazer
OPTAVIA Coach
Kathy@EatSmartCoach.com
http://EatSmartCoach.optavia.com/eatsmartcoach
571-213-1988
3 Washington Circle N. W. #303, Washington,D.C. 20037, Also Falls Church,VA
© 2023 OPTAVIA, LLC. All Rights Reserved