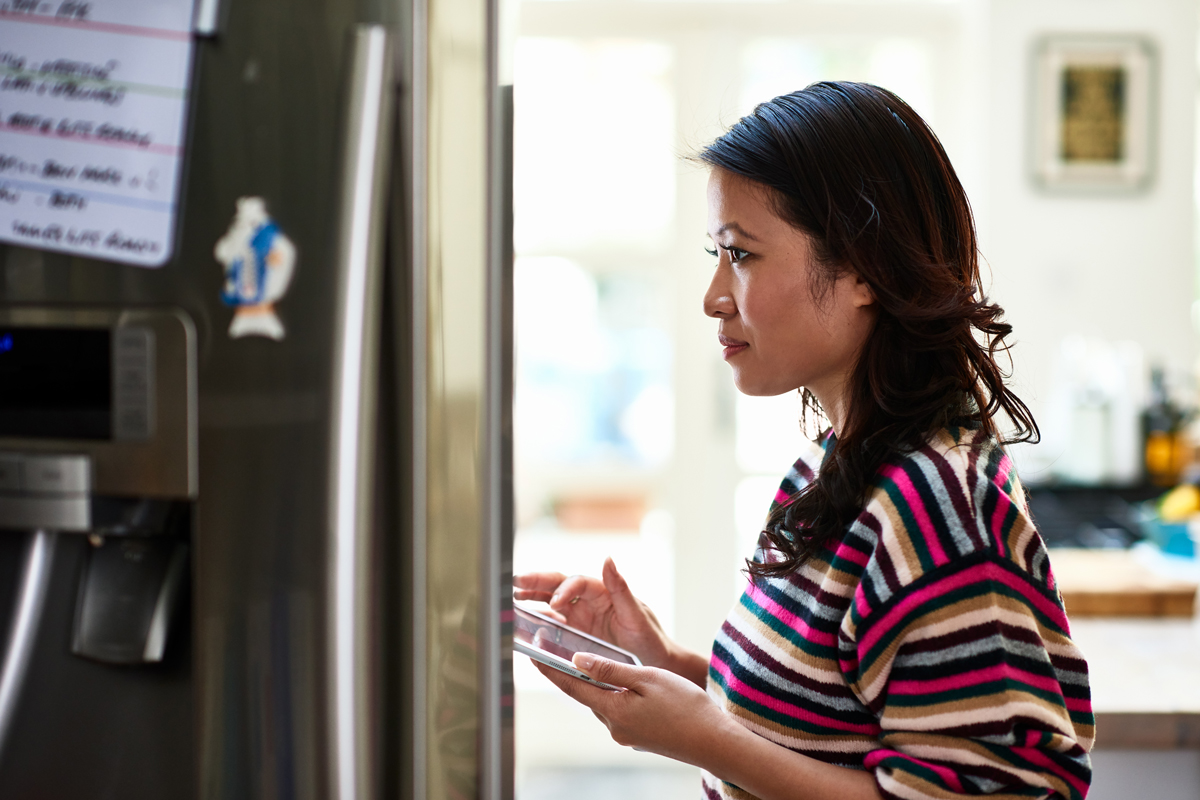 Food cravings impact so many people and can potentially result in making unhealthy choices by impulse. In Element 16 of Your LifeBook, Co-founder and independent OPTAVIA Coach, Dr. Wayne Scott Andersen explains why it's important to be prepared when confronted with unhealthy food choices.
Uncomfortable feelings can often leave us turning to food as a quick fix. However, it does not have to be like this! We may not be able to control when these impulses come, but we can control how we handle them.
Check out these tips on how to deal with addictive food:
Pause. Before reaching into the cabinet and making an unhealthy choice, take a moment to pause and ask yourself why. Are you eating because you are hungry? If so, reach for a healthier option. Are you eating because you are bored? Remind yourself that eating will only temporarily occupy you and opt for a different activity that will be more fulfilling.
Wait it out. Cravings for addictive foods may feel intense in the moment but are typically brief. Rather than immediately acting on your craving for an unhealthy choice, give it a moment to pass, while remembering your personal health goals and reminding yourself that unhealthy choices are obstacles between you and achieving these goals.
Remove the temptations. The simplest yet most challenging solution to giving up addictive foods is to remove them from your home so when the impulse to make an unhealthy decision comes, you will not be able to act on it. Rather than having a pantry full of unhealthy options, fill your pantry with Fuelings so that healthier choices will be available. Although it can be difficult not to pick up your favorite unhealthy snack at the store, remember that they are an obstacle between you and your personal health goals.
Use your support system. In a moment of weakness, a quick text or phone call to a family member or a member of the OPTAVIA Community could serve as a distraction while the moment passes as well as remind you of your personal health goals.
Remember, the more conscious you are about what you put into your body, the easier it will be to make healthy choices.
Connect with me, your independent OPTAVIA Coach, for more tips and suggestions on how to deal with addictive food.

Check out Dr. A's Element Stories here!

Optimal health is about increasing your potential and realizing your value. What are you doing to continue your health and wellness journey and achieve optimal health?
The seasons will soon change, so NOW is the time to prioritize healthy habits that involve the sunshine, warm weather and these activities to get you and your family moving:
Plant a garden. Gardening is a fun activity for you and your family. Show the kids where plants and vegetables come from and how to nurture them from seed to stalk. Plus, there's no greater satisfaction than eating a Lean & Green meal with food grown from your own backyard.
Enjoy a picnic in the park. Break out the baskets collecting dust in your basement and put them to good use. Grab a blanket, napkins, cups, and your healthy Fuelings or a Lean & Green meal! Go picnic your day away.
Summer cleaning. Dedicate a day for summer cleaning. Gather your family on a Saturday morning and turn cleaning into a family fun event. Instead of delegating tasks, have everyone take turns trying a little bit of each chore.
Enjoy a nature walk. Nature walks are perfect for getting exercise, learning about the great outdoors, and inspiring your kids to get outside and enjoy the spring weather. Encourage your children to look for new plants and wildlife. It's great for everyone to get out of the house and spend some time taking in the fresh summer air.
I'm here for you and, as your independent OPTAVIA Coach, I'm ready to work with you to enjoy the rest of summer so you can make the most of your efforts while on your journey to Lifelong Transformation, One Healthy Habit at a Time.®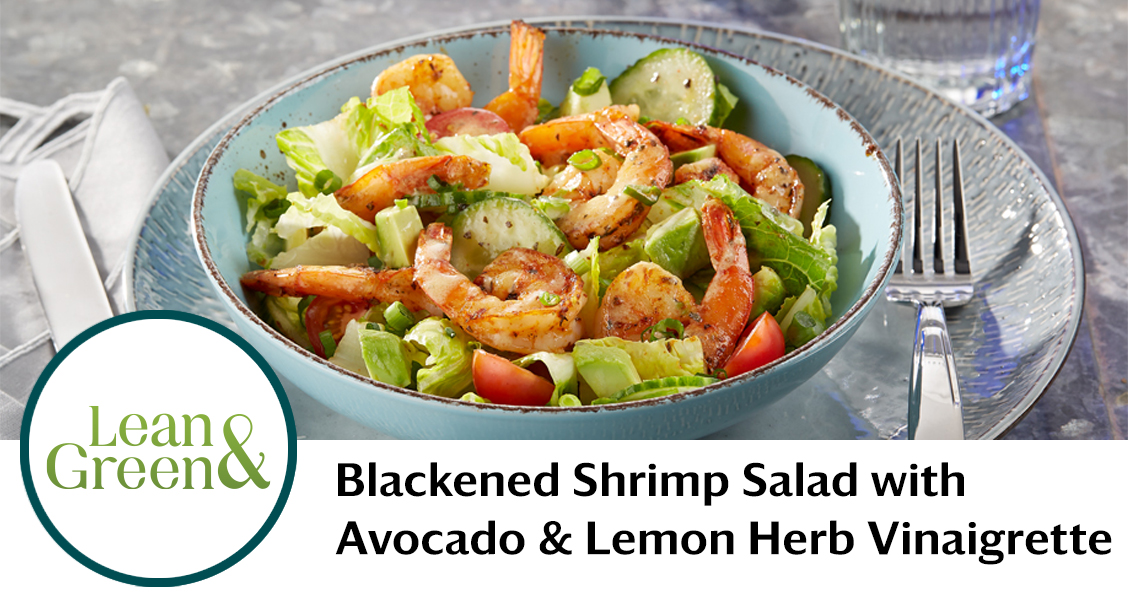 Yield: 2 servings
Per Serving: 1 Leanest, 2 Healthy Fats, 3 Green, 3 Condiments
Total Time: 30 minutes
Ingredients

Lemon Herb Vinaigrette

2 tsp extra virgin olive oil

2 tsp lemon juice

½ tsp Dijon mustard

1/8 tsp salt

1/8 tsp ground black pepper

¼ tsp dried basil

Blackened Shrimp

1 lb. raw, medium-sized, peeled, deveined shrimp

½ tsp paprika

¼ tsp salt

¼ tsp dried oregano

¼ tsp dried thyme

1/8 tsp garlic powder

1/8 tsp cayenne pepper

1/8 tsp ground black pepper

Salad

3 cups chopped romaine lettuce

½ cup thinly sliced cucumber

½ cup halved cherry tomatoes

3 oz. cubed avocado

2 scallions, sliced thin

Directions

For the vinaigrette, in a small bowl, whisk together the olive oil, lemon juice, Dijon mustard, salt, pepper and basil. Set aside until ready to use.
Heat a large nonstick skillet to high. In a medium bowl, toss the shrimp with the paprika through the black pepper. Add the shrimp to the heated skillet and cook for 1 to 2 minutes per each side, until bright pink and cooked through.
While the shrimp cooks, divide the lettuce, cucumber, tomatoes, avocado and scallions between two plates. Drizzle each salad with half of the vinaigrette (about 2 teaspoons each). Top each salad with ½ of the cooked shrimp
Nutrition Per Serving: 310 calories, 34g protein, 14 carbohydrate, 13g fat
Discover other plan-approved Lean & Green recipes in the OPTAVIA App. 
Download the OPTAVIA App today!




The Hidden Gem
Jeannine started her own OPTAVIA journey in 2018, like most others, to lose weight. She had just turned 48 years old and found herself in bad health. "I was terrified with the prospect of shortening my own life due to the daily choices I was making. I felt like every chance I could I was endlessly trying to find answers to help reverse the impact I was making on my family. I never imagined that OPTAVIA would change my entire life."
Within six and half months, she lost significant weight, and experienced a decrease in her clothes sizes*. More important than that, her health issues began to improve. "I found 'ME' again. The ME who I thought was long gone. The one who was buried beneath the responsibilities of raising, wrangling, and providing for a large, blended family."
Wearing many hats had become a challenge for Jeannine. She was juggling the roles of being a mom, a wife, a daughter, a friend, a caretaker, a business executive, and so many others. Her confidence in keeping it all together needed to be rebuilt as well. OPTAVIA helped her to regain that confidence and the impact of the Program made Jeannine eager to share this gift of health with others she knew and loved.
"It's a joy to see people gain control of parts of their lives that they thought were long gone." Jeannine feels empowered to share her story and encourages others to take control of their lives. "I am so incredibly thankful and grateful to OPTAVIA for the opportunity to help impact my community by helping so many people find themselves again."
*Average weight loss on the Optimal Weight 5 & 1 Plan® is 12 pounds. Clients are in weight loss, on average, for 12 weeks.
Rebecca Lange
Independent Certified OPTAVIA Coach
rebeccalange117@gmail.com
http://www.MyJourneyToAHealthyMe.com
336-202-3316
P.O. Box 38941
Greensboro, NC 27438
© 2023 OPTAVIA, LLC. All Rights Reserved