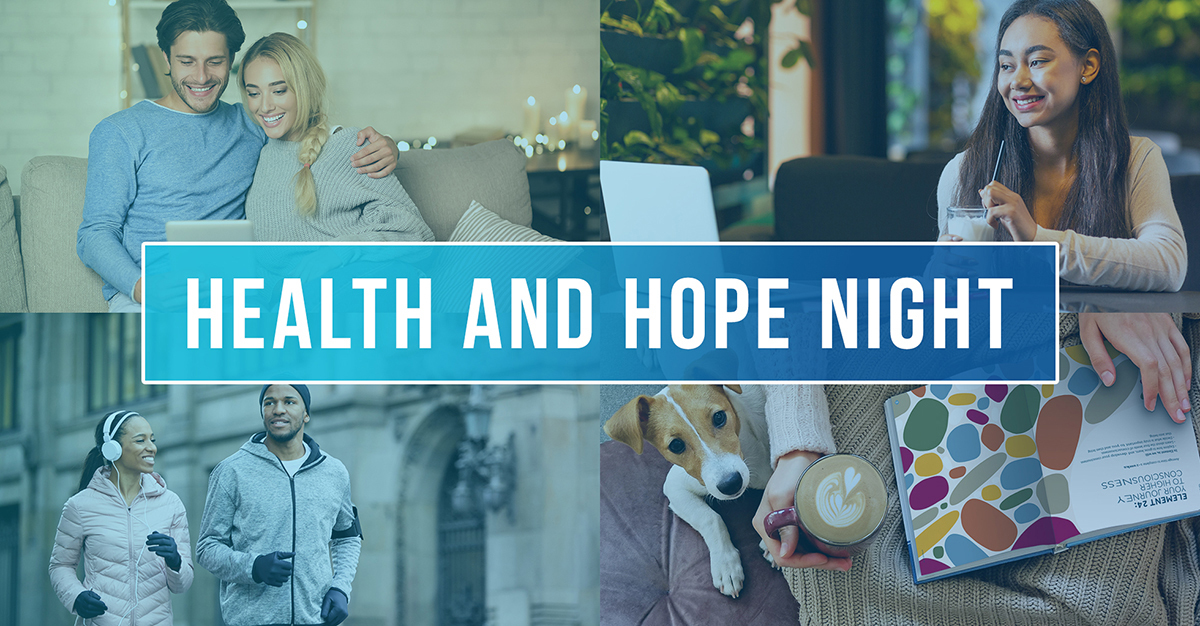 At OPTAVIA, we believe that transforming your life and creating optimal health is achievable. We provide the tools needed to live your healthiest life, and with proper strategy and support, OPTAVIA's four components contribute to a solid foundation for healthy habits.
As we approach the Thanksgiving holiday next week, we are reminded of who and what we are most thankful for, as we strive to meet our health goals. It's important to remember that it takes a Community of support to stay strong, positive, and enthusiastic while working to achieve optimal health. Here are just a few of the many reasons why I'm thankful for YOU, and my OPTAVIA Community:
You allow me to pay it forward. When we awaken potential, we transform masterfully. Being able to share this experience with you is a reward in itself.
Your success fuels me! I'm grateful for the successful transformational stories I've witnessed. Your motivation and commitment to lifelong transformation inspires me every day, and I'm committed to helping steer you to success.
You give me energy. You inspire me to shape my destiny and create a more purposeful life.
Lasting friendships. It's important to build friendships through meaningful connections and conversations, being present, and simply listening intently. I'm always here to connect authentically and support you. We are on the path to Optimal Health together!
Our Community. Being part of a Community of like-minded people who support each other wholeheartedly is the best gift I could ever receive. Not only am I a mentor to you, but you also mentor me through the Coaching process.
Please feel free to reach out to me, your Independent OPTAVIA Coach, for anything you may need during Thanksgiving, and throughout the upcoming holiday season!
Join this week's Habits of Health® Community Time, A Special One Hour - Health and Hope Night, on Wednesday, November 18th at 8:30 p.m. ET/7:30 p.m. CT/5:30 p.m. PT, hosted by Independent OPTAVIA® Coaches, Deborah and Daniel Giles.

"Be sure to RSVP, yes you are "going" on our Health and Hope Event Page where we will live stream this Webinar as well! To invite your network, simply click the invite button and select your friends to attend. You can also share this event on your personal Facebook page to get the word out!

HOW TO CONNECT:
Please click the link below to join the webinar:
https://zoom.us/j/113312513

Or iPhone one-tap (US Toll):
+1(646)558.8656

Or Dial (US Toll):
+1(646)558.8656

And Enter the Pin: 113312513#

Aside from nutrients, the glycemic index (GI) can also help you make healthy choices, especially if you are diabetic. The GI measures how quickly a food will raise the blood sugar level. In general, foods with a lower GI are better choices for people with diabetes, as they are both nutritious and help manage blood glucose levels. Dr. Wayne Scott Andersen offers some low-glycemic food suggestions in Habits of Health® that are perfect for this holiday season:
Asparagus. Rich in folate, asparagus is a great option to add to your lean and green meal.
Bell Peppers. Raw or cooked, bell peppers are packed with vitamins, including vitamin C, which plays a key role in our immune health.
Broccoli. Rich with antioxidants, broccoli is an excellent source of Vitamin A, and Vitamin C. Broccoli is also filling and a great source of fiber, making it an ideal superfood for people trying to lose weight and control diabetes.
Celery. Celery has a high water content, making it a refreshing option for those seeking optimal hydration.
Cucumbers. Cucumbers are another water-rich vegetable. Try making cucumber "noodles" as a refreshing side for your lean and green meal.
Celery. Eggs are rich in protein and low in saturated fat. They contain only about half a gram of carbohydrates. Try an egg omelet with dark leafy green vegetables for a healthy lean and green meal.
Leafy Greens. Spinach, kale, and collard greens are naturally low in carbohydrates, making them a great option for those with diabetes. They are also rich in fiber and protein, two nutrients that help keep blood sugar levels stable.
Lean Chicken. A diet with lean protein is key for keeping blood sugar levels down and our hearts healthy. Lean chicken is a great source of protein and versatile for a variety of recipes.
Salmon. Salmon is rich in omega-3 fatty acids, which promote heart health.
Making healthy food choices is essential when working towards optimal wellbeing! Ask me, your Independent OPTAVIA Coach, about other healthy foods to try this Thanksgiving.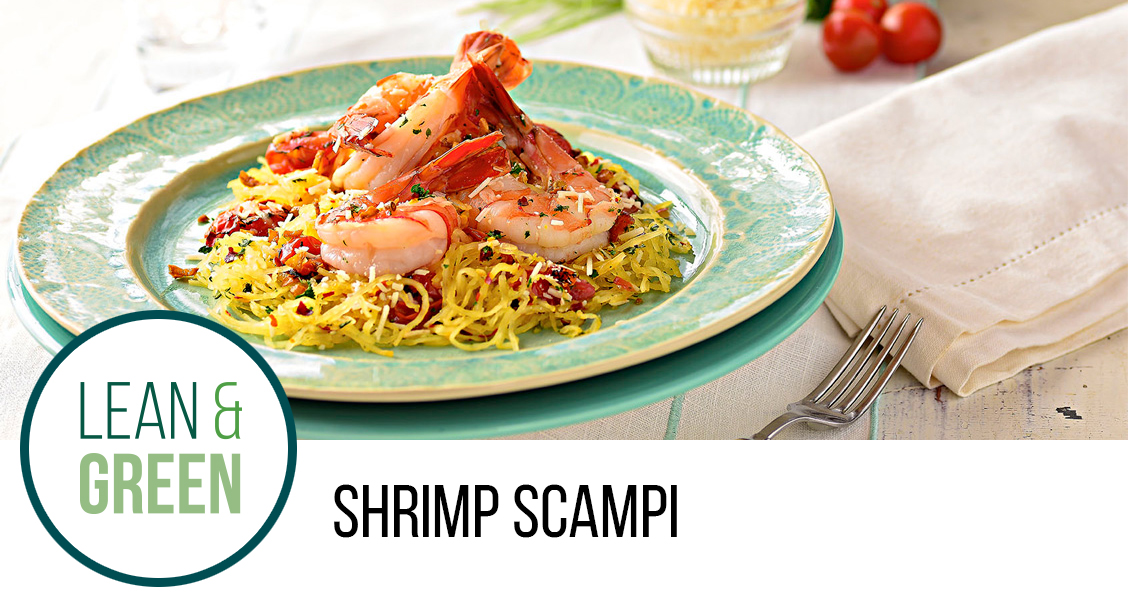 Complete Lean & Green Meal: 1 Leanest, 3 Green, 2 Healthy Fats, 3 Condiments
Total Time: 30-35 minutes
Ingredients

1 small to medium-sized spaghetti squash   

2½ Tbsp olive oil 

1 clove garlic, minced  

1¾ lbs cooked, peeled, and deveined shrimp  

1 cup cherry tomatoes, halved 

½ tsp crushed red pepper flakes 

1 tsp lemon juice 

1 Tbsp dried parsley

½ tsp onion powder 

¼ tsp salt 

¼ tsp ground pepper 

¼ cup shredded Parmesan cheese 

Directions

Cut squash in half, and remove seeds. Place in both halves in a microwave-safe bowl with an inch of water. Microwave for 10 to 12 minutes, or until tender (microwave times will vary based on exact size of squash and power of microwave). Allow squash to cool before handling. Use a fork to scrape out flesh into spaghetti-like strands. Measure out five cups; save extra for another meal.
Heat a large skillet over medium-high heat. Add olive oil and swirl to coat pan. Sauté the garlic until fragrant, about one minute.
Add the shrimp, tomatoes, crushed red pepper flakes, lemon juice, parsley, onion powder, salt, and pepper; cook for 3 to 4 minutes. Add the spaghetti squash, and continue to cook until heated through. Remove from heat, and sprinkle parmesan cheese on top.
Tip: Have a little extra time? Try baking your spaghetti squash. To do so, preheat your oven to 400°F. Cut squash in half and remove seeds. Lay squash flat on a lightly greased baking tray. Bake for 25 to 30 minutes or until tender.
Nutrition Facts: 400 calories, 14g fat, 18g carbohydrate, 49g protein
Visit our OPTAVIA Pinterest page for an extensive assortment library of Lean & Green meals.

A Family Affair
"I've been an avid runner and gym-goer for 10 years. I've run 40-plus half marathons and three full marathons, most recently the 2018 NYC Marathon. And yet, despite the hundreds of fitness classes and thousands of miles run on pavement, my weight has crept steadily higher year after year."
With some encouragement and tough love from her sister, Ali, Dana discovered OPTAVIA's Program and began her journey to lifelong transformation, one healthy habit at a time.
Dana began to notice results in just a few short months of being on the Program. "I remember reading the Habits of Health and came to the section about how Dr. Wayne Scott Andersen visited a gym and told the women that if they tried the Plan they'd soon see the muscles that they'd worked so hard for.
That was exactly what happened to me. It took 10 years of working out to make the muscles but only five months to take off 25 pounds* and enjoy them."
After reaching her optimal health and wellness goals, Dana decided to become an independent OPTAVIA Coach. She has already helped so many people, including a few who were especially close to her heart.
"I helped my dad lose 30 pounds*, my sister lose 15 pounds*, and my daughter lose 16 pounds* before she went to college this fall." Dana is excited to continue living out her new healthy lifestyle, not with just her Clients, but also with her family and others that will soon become part of OPTAVIA's Community.
*Average weight loss on the Optimal Weight 5 & 1 Plan® is 12 pounds. Clients are in weight loss, on average, for 12 weeks.
Kathy Glazer
OPTAVIA Coach
Kathy@EatSmartCoach.com
http://EatSmartCoach.optavia.com/eatsmartcoach
571-213-1988
3 Washington Circle N. W. #303, Washington,D.C. 20037, Also Falls Church,VA
© 2023 OPTAVIA, LLC. All Rights Reserved