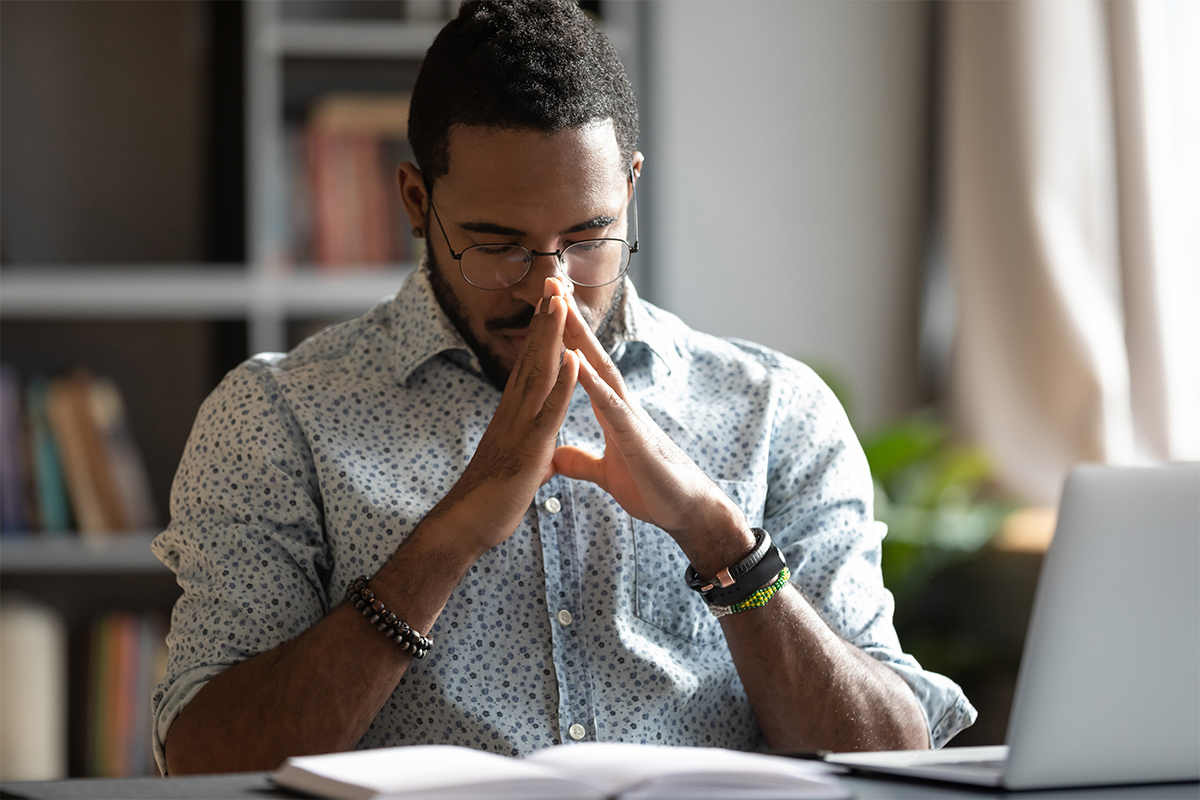 As you are working towards optimal health and wellbeing, Dr. Wayne Scott Andersen suggests following the "Trilogy Wheel" in Your LifeBook. The "Trilogy Wheel" encompasses the idea that having a healthy body, healthy mind, and healthy finances are some of the keys to achieving optimal health.
Obviously, some things are out of our control when it comes to our overall health, but working to improve these three areas can lead to achieving some of your goals. 
Follow these tips to get one step closer to transforming your mind, body, and financial wellness*:
Meditate. When done regularly and for a sustained basis, meditation is proven to benefit your wellbeing. Many studies show clear physiological benefits with meditation, including easing anxiety, stress, and pain.
Eat healthy. Food costs money, and it seems that healthier foods tend to be more expensive. But, that doesn't need to be true! Shop at your local farmers' market when you can, or try fresh, frozen veggies for your Lean & Green meals to save money.
Sleep well. Sufficient sleep is crucial for anyone working towards optimal health. Staying up late or sleeping minimal hours each night will cloud your ability to think clearly and logically. Dr. Wayne Scott Andersen recommends, at minimum, eight hours of sleep each night.
Establish a strong support system. Continue to expand your Community by sharing your journey and goals with loved ones, the OPTAVIA Community, and me, your Independent OPTAVIA Coach. When others are aware of the healthy lifestyle that you are leading, they may likely align themselves or be considerate of the healthy habits you're striving to achieve.
Ask me, your Independent OPTAVIA Coach, for other ways to achieve a healthy body, mind, and finances on your journey to Lifelong Transformation, One Healthy Habit at a Time. 
*OPTAVIA makes no guarantee of financial success. Success with OPTAVIA results only from successful sales efforts, which require hard work, diligence, skill, persistence, competence, and leadership. Please see the OPTAVIA Income Disclosure statement for statistics on actual earnings of Coaches.
Join this week's Habits of Health® Webinar, Health & Hope Night: Secrets to Achieve Healthy Body, Mind, and Finances*, on Wednesday, February 24th at 8:30 p.m. ET/7:30 p.m. CT/5:30 p.m. PT, hosted by Independent OPTAVIA® Coach, David Bush.

 

Be sure to RSVP, yes you are "going" on our Health and Hope Event Page where we will live stream this Webinar, in addition to on ZOOM! To invite your network, simply click the invite button and select the friends you want to attend. You can also share this event on your personal Facebook page to get the word out!

HOW TO CONNECT:
Please click the link below to join the webinar:
https://zoom.us/j/113312513

Or iPhone one-tap (US Toll):
+1(646)558.8656

Or Dial (US Toll):
+1(646)558.8656

And Enter the Pin: 113312513#

Proper nutrition is key to achieving optimal health and wellbeing. Being proactive and sticking to Plan and Lean & Green meals, in addition to developing other microHabits like drinking 64 ounces** of water daily, will keep you in the driver's seat of your journey to optimal health.
Consider these tips to stay proactive with your nutrition to ensure your body receives the proper nutrients while discovering different, delicious foods with OPTAVIA's recipes – customized for Clients, like you, through our ongoing partnership with the Culinary Institute of America:
Bake, grill, or broil. Remove skin from your meat before cooking on the grill, baking, or broiling. Doing so will ensure you consume only the healthiest and most nutritious parts of the meat.
Watch your condiments. While you may be tempted to add condiments and toppings to your meals, they make a difference in reaching your health goals. Reference the OPTAVIA Condiment Guide for your options while on Plan!
Go for the greens! During fat-burn, keep your focus on choosing nutrient-dense and low-glycemic green vegetables like lettuce, cucumber, and celery.
Drink water. Sipping water is essential to maintaining a healthy weight. I recommend keeping a water bottle with you at all times to satisfy your thirst throughout the day. Keep one in your car, bag, or even at your desk!**
Ask me, your Independent OPTAVIA Coach, about other ways to take charge of your nutrition today.
**We recommend drinking 64 ounces of plain water each day. Please talk with your healthcare provider prior to changing the amount of water you drink, as it can affect certain health conditions and medications.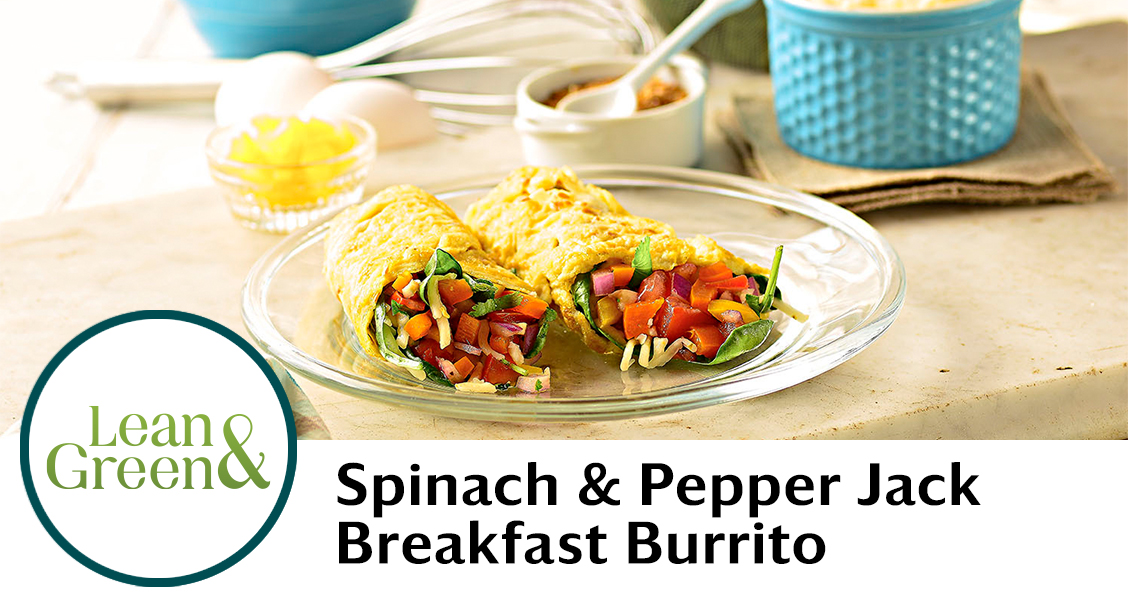 Yield: 2 servings
Complete Lean & Green Meal: 1 Leaner, 3 Green, 1 Healthy Fat, 3 Condiments
Total Time: 20 Minutes
Ingredients

For the Tortillas

2 eggs  

4 egg whites 

2 tbsp whole flax seeds

Cooking spray

 

For the Filling

4 oz shredded reduced-fat pepper jack cheese

2 cups baby spinach, loosely chopped

 

For the Salsa

1 cup diced tomatoes

½ cup diced bell pepper

1 jalapeno pepper, diced

1 tbsp chopped red onion

1 clove garlic, minced

2 tsp balsamic vinegar  

1/8 tsp salt 

1/8 tsp pepper 

¼ cup fresh chopped cilantro

Directions

In a small bowl, whisk together the ingredients for the tortilla.
Heat a small skillet over medium-high heat, and lightly grease with cooking spray. Pour half of the egg mixture into the skillet, and swirl to evenly distribute the eggs on the surface, forming a thin, tortilla- or crepe-like shape. Cook for a couple of minutes until the edges and bottom of the tortilla are firm. Tilt the skillet from side to side to make sure eggs are no longer runny. Gently loosen the tortilla from the surface with a spatula, and carefully flip. Continue to cook until eggs are fully set. Repeat with the other half of the tortilla mixture. Set tortillas aside when finished.
Lightly grease the same skillet, and sauté the spinach 2 to 3 minutes, or until wilted, over low to medium-high heat. When done, remove from heat and set aside.
Combine all of the salsa ingredients in a medium-sized mixing bowl.
Place tortilla on a large plate. Add half of the spinach, cheese, and salsa to the middle, and then roll into a burrito. Serve immediately.
Tip: To secure the shape of your burrito, wrap aluminum foil around the bottom half of the tortilla after stuffing.
Nutrition Facts:  350 calories, 17g fat, 19g carbohydrate, 29g protein
Visit our OPTAVIA Pinterest page for an extensive assortment library of Lean & Green meals.

Transformation for myself, my family, and now my friends.
"After I recovered from breaking my leg in 2017, I laid in bed for three months, unable to walk or sustain any movement. At this point, I realized I was headed towards diabetes, high blood pressure, and heart disease. I knew if I didn't change, I wouldn't be there when my girls got married. And I was not okay with that."
Elizabeth started Plan on June 20, 2018, at around 300 pounds, with her goal to get below 200 pounds.
"I found an Independent OPTAVIA Coach and started to feel amazing! I started walking around my neighborhood because I had newfound energy I hadn't had in years! I no longer needed to nap every afternoon."
After Elizabeth lost nearly 100 pounds*, her Coaching journey began. Becoming an OPTAVIA Coach quickly became a joy for Elizabeth, and she helped her husband lose weight on the Program. In fact, he also has lost 100 pounds on Plan!
 "Together, my husband and I lost more than 250 pounds together. Not only have we completely changed our lives, but we are hopeful for our children to live healthy lives with us, in addition to my Clients that I now mentor and guide in their transformation."
*Average weight loss on the Optimal Weight 5 & 1 Plan® is 12 pounds. Clients are in weight loss, on average, for 12 weeks.
Rebecca Lange
Independent Certified OPTAVIA Coach
rebeccalange117@gmail.com
http://www.MyJourneyToAHealthyMe.com
336-202-3316
P.O. Box 38941
Greensboro, NC 27438
© 2023 OPTAVIA, LLC. All Rights Reserved