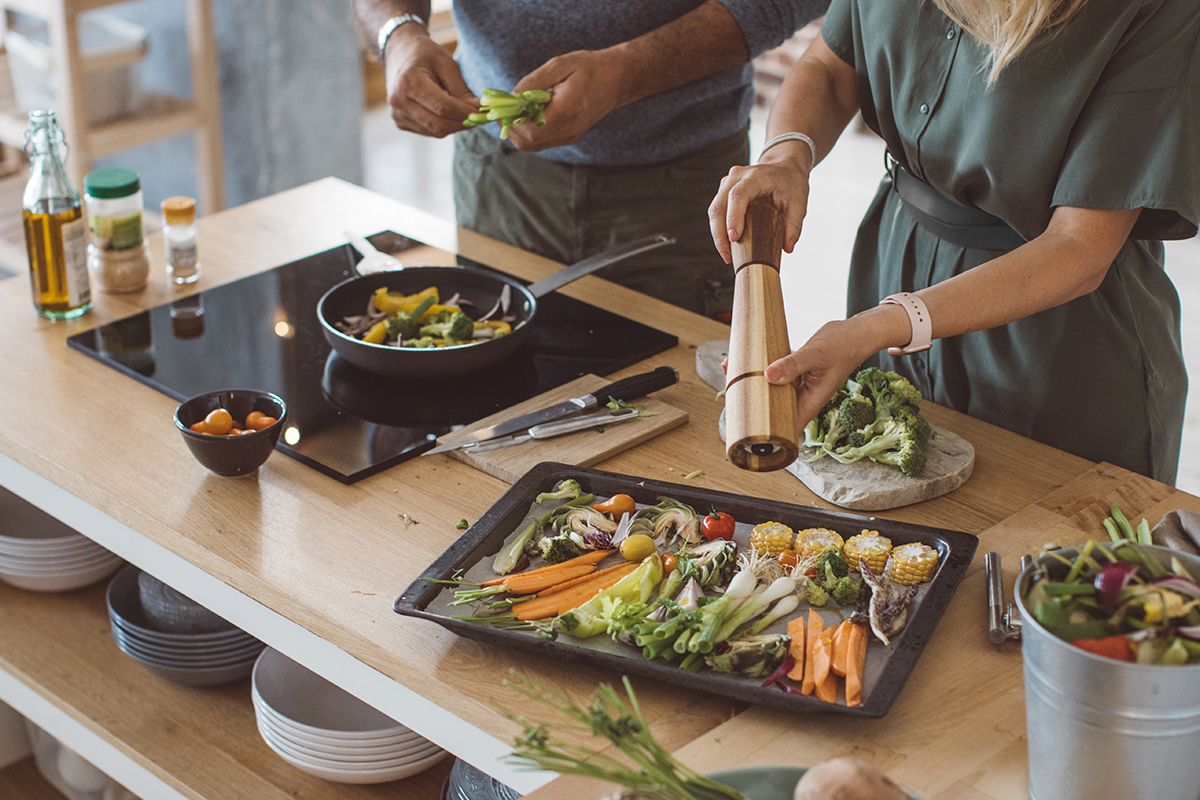 If you are currently on one of OPTAVIA's Plans, you are doing your best to eat foods every day that lead you to lifelong health. Think of your meals and Fuelings as the foundation to making healthier food choices once you meet your goal of optimal health.
When grocery shopping, be sure to include options from these four food groups: lean protein, green vegetables and salad, healthy snacks and condiments, and healthy fats and oils. Ensure you refer to your OPTAVIA Guide for a list of acceptable foods, condiments, and serving sizes before heading to the store.
Here are some additional eating strategies to consider when making these important purchases at the market:
Lean protein. To keep the fat content low, it's best to grill, bake, broil, or poach your lean protein selections. Due to saturated fat, it's important to moderate your consumption of red meat and eat more fish and white-meat poultry like chicken. If you'd like to eliminate or reduce the amount of meat you eat, try egg whites, liquid egg substitute, or tofu. Food for thought: Choosing fish as your protein one to three times per week can have a profound impact on your long-term wellbeing.
Healthy fats and oils. Replace unhealthy fats with healthy omegas as part of your Lean & Green meals. Some healthy examples include canola or olive oil, low-carbohydrate salad dressing, black or green olives, reduced-fat margarine, and avocado. Food for thought: Make marinades for meats, dressings for salad, or snacks at home, so you are aware of every ingredient that is added.
Green vegetables and salad. During fat-burn, it's important to avoid fruit altogether, as it tends to be high in sugar and carbohydrates. Instead, focus on choosing nutrient-dense and low-glycemic green vegetables like iceberg lettuce, cucumber, and celery. Food for thought: Prepare raw veggies in advance and store them in sealable bags for an easy green for your Lean & Green Meal!
Healthy snacks and condiments. Use condiments to add some flavor to your meals, but keep in mind that they contribute to your carb intake. You can enjoy up to three condiments per day. Each condiment serving should contain no more than one gram of carbohydrates. Food for thought: You may have up to one optional snack per day. Optional snacks include OPTAVIA snacks, 3 celery stalks, 2 dill pickle spears, or up to 3 pieces of sugar-free gum.
Don't forget to check out the delicious Lean & Green meal below that is a perfect summer meal to share with your friends and family!
Ask me, your independent OPTAVIA Coach, for other tips on eating strategies on your journey to Lifelong Transformation, One Healthy Habit at a Time.®
Join this week's Habits of Health® Webinar, Your LifeBook Element 11: Eating Strategies for Lifelong Health, on Wednesday, June 2nd at 8:30 p.m. ET/7:30 p.m. CT/5:30 p.m. PT, hosted by Independent OPTAVIA® Coach Susan Burgio.

HOW TO CONNECT:
Please click the link below to join the webinar:
https://zoom.us/j/113312513

Or iPhone one-tap (US Toll):
+1(646)558.8656

Or Dial (US Toll):
+1(646)558.8656

And Enter the Pin: 113312513#

Where's your "happy place" this summer? When you close your eyes and imagine a stress-free place, do you see yourself in a tropical paradise with sand between our toes and sunshine on face?
While summertime is filled with vacations, parties, and fun, it's also important to protect yourself and your family to stay happy and healthy.
Here are some tips:
Lay on the sunscreen. Use a broad-spectrum sunscreen with a sun protection factor (SPF) of at least 30. Apply at least every two hours and after swimming or sweating.
Wear proper clothes and sunglasses for the occasion. When you know you'll be exposed to the sun, wear light clothing and a wide-brimmed hat to protect your skin. Protect your eyes with sunglasses, considering those that block at least 99% of UV light.
Avoid the sun at peak hours. Limit your direct exposure to the sun between 10 a.m. and 2 p.m., when UV rays are strongest. Use this time to catch up on summer reading or play an indoor game with your family or friends.
Protect yourself from bugs. Sadly, summer is the favorite season for bugs. Mosquitos, a notorious nuisance to outdoor summer events, carry several pesky illnesses and diseases. To protect yourself, use bug repellent to keep mosquitos and other critters away.
Plan an active vacation. Camping, hiking, canoeing, kayaking, scuba diving, and snorkeling are great ways to spend time in nature and get a lot of exercise. If you're visiting a city, consider renting bicycles or taking a walking tour.
Now you're ready to go to your real-life happy place!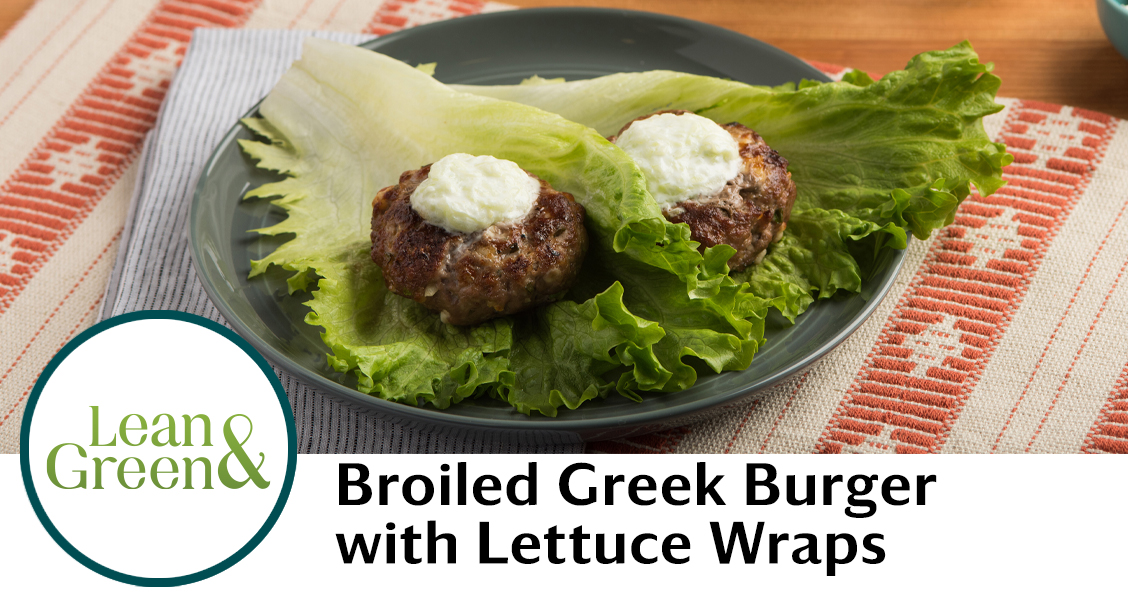 Complete Lean & Green Meal: 1 lean, 3 green, 3 condiments
Yield: 4 servings
Total Time: 30 minutes
Ingredients

1¼ lbs. of 90% lean ground beef

1 tsp salt, divided

½ tsp black pepper, divided

2 tsp crushed garlic, divided

1 scallion, trimmed and minced

1 tbsp capers, minced

3 oz. low-fat crumbled feta

1½ English cucumbers

½ cup low-fat plain Greek yogurt

8 large lettuce leaves

Directions

Combine the beef with half of the salt, pepper, and crushed garlic. Add the scallions and capers and mix well.
Carefully fold in the crumbled feta, and shape the beef mixture into 8 even-sized patties; set aside.
To make the tzatziki, grate the cucumber into a colander and combine with the remaining salt. Allow cucumber to drain in the colander for about 10 minutes. With a kitchen towel, squeeze excess moisture from the cucumbers and place in a bowl. Add the yogurt and remaining pepper and garlic to the cucumbers, and stir to combine.
Broil the beef patties on high for about 5 minutes to an internal temperature of about 165°F, flipping once to achieve even cooking and browning.
Serve burgers on a large lettuce leaf with tzatziki.
Nutrition Facts:  Per serving: Per Serving: 330 calories, 35g protein, 7g carbohydrate, 17g fat
Visit our OPTAVIA Pinterest page for an extensive assortment library of Lean & Green meals.

New Attitude, New Gratitude
Sheri has been overweight her whole life and always knew she needed to make a change. It wasn't until her sister and father passed away from weight-related issues that she realized she needed to do something.
"It took a few years before I woke up and started taking some action, but the moment I couldn't walk out the door to go grocery shopping, I knew something was really wrong." Sheri's partner was Facebook friends with an independent OPTAVIA Coach, and after some time, she finally decided to give it a go.
"I reluctantly, heels digging in, agreed to try it." Sheri then realized she really did begin to feel differently, "I was able to drink more water, I made great Lean & Green meals, and at the end of the first week, I saw the scale go down*!"
Sheri kept at it, the positive changes kept happening, and she had more energy. "I could feel and see the changes. My attitude changed, my outlook changed, my everything changed."
Sheri was so amazed at her transformation that her friends encouraged her to become a Coach!
"I signed up two friends as my first two Clients. Then people began to notice something was different about me, my actions, my words, my presence on Facebook, and they wanted to know what I was doing, so I shared my story, and it began to grow."
Sherri is currently very close to reaching her goal weight and is now living a life of health, happiness, and freedom. "I'm forever thankful that the opportunity arose, that I took action, and that such positive changes have taken root in my life. Gratitude is my attitude!"
*Average weight loss on the Optimal Weight 5 & 1 Plan® is 12 pounds. Clients are in weight loss, on average, for 12 weeks.
Rebecca Lange
Independent Certified OPTAVIA Coach
rebeccalange117@gmail.com
http://www.MyJourneyToAHealthyMe.com
336-202-3316
P.O. Box 38941
Greensboro, NC 27438
© 2023 OPTAVIA, LLC. All Rights Reserved