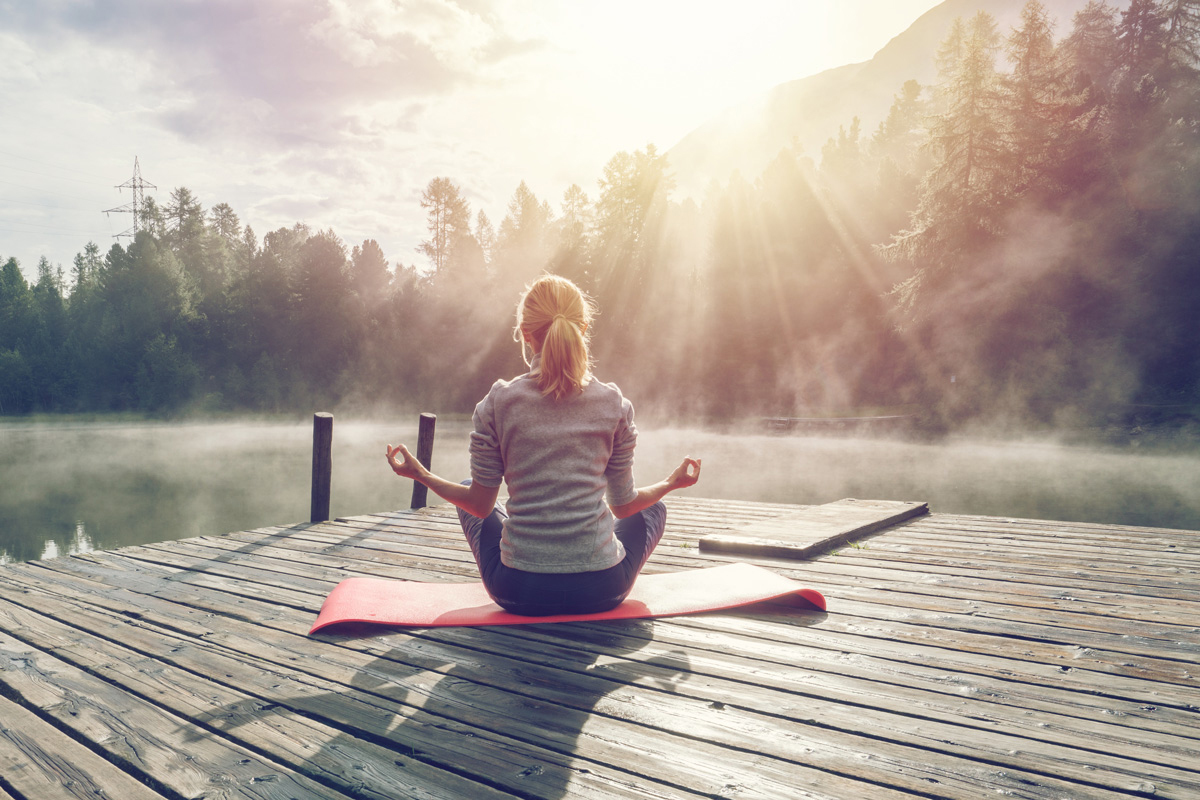 By being a positive dominant force and thinking optimistically in these times of change, we will guarantee ourselves the best chance of staying healthy, staying calm, and maintaining our focus – with family, children and loved ones.
Co-founder and Independent OPTAVIA Coach, Dr. Wayne Scott Andersen, recommends these tips to stay healthy and/or help others during these unprecedented times.
Staying healthy within ourselves:
Prioritizing your health will allow for a positive increase in other life aspects.
Take the time to listen to your body and notice changes.
Get proper sleep as lack of sleep leads to additional stress and fear.
Prioritize healthy eating to maintain a healthy mind during this time.
Focus on areas of your life where you do have control over.
Helping others:
Call or video chat with family and friends - be a positive resource for your loved ones.
Take responsibility - life happens by us NOT to us, we can change our own outcomes.
Remember that hope and remaining calm is contagious - we are like the five people, with which we spend the most time.
Show up at your best and recognize we are all fearful- explore our minds and choose a positive outcome.
Prioritize needs in order to help others.
Ask me, your OPTAVIA Coach, about other ways to cope and stay positive on your journey to Lifelong Transformation, One Healthy Habit at a Time®.
Join this week's Habits of Health® Community Time, Health & Hope – Stories of Success, on Wednesday, April 8th at 8:30 p.m. ET/7:30 p.m. CT/5:30 p.m. PT, hosted by Independent OPTAVIA® Coach, Corey Baker.

HOW TO CONNECT:
Please click the link below to join the webinar:
https://zoom.us/j/113312513

Or iPhone one-tap (US Toll):
+1(646)558.8656

Or Dial (US Toll):
+1(646)558.8656

And Enter the Pin: 113312513#

Staying true to the habit of healthy sleep is critical, especially in a time when many of our daily routines have changed as we adjust to life at home.
Not only does healthy sleep provide more energy to complete our daily tasks, but by achieving seven to eight hours of restful sleep, you can reduce stress, food cravings, overeating, and improve your memory.
The following tips will help you achieve quality sleep, while playing an essential role in healthy weight loss, and personal wellbeing.
Keep to a consistent sleep routine:
Develop a consistent bedtime and wake-time to adhere to every day (even weekends!)
Avoid long naps during the day, especially 3 hours before bedtime
Try a power nap instead! Just 6-20 minutes in length is a great way to rejuvenate quickly
Avoid physical and emotional stimulation near bedtime: 
Physical: caffeine, strenuous exercise, heavy meals
Emotional: the news, serious conversations, work
Find ways to unwind and reduce stress such as deep breathing, reading a book, journaling, snuggling with a pet, meditating, and aromatherapy
Create the ultimate sleep environment:
Keep your bedroom dark, quiet, cool, and comfortable
Remove televisions and other electronic devices
Try aromatherapy scents: chamomile, jasmine, lavender, sandalwood, etc.
Ask me, your OPTAVIA Coach, about other ways to practice healthy sleep habits while on your journey to Lifelong Transformation, One Healthy Habit at a Time®.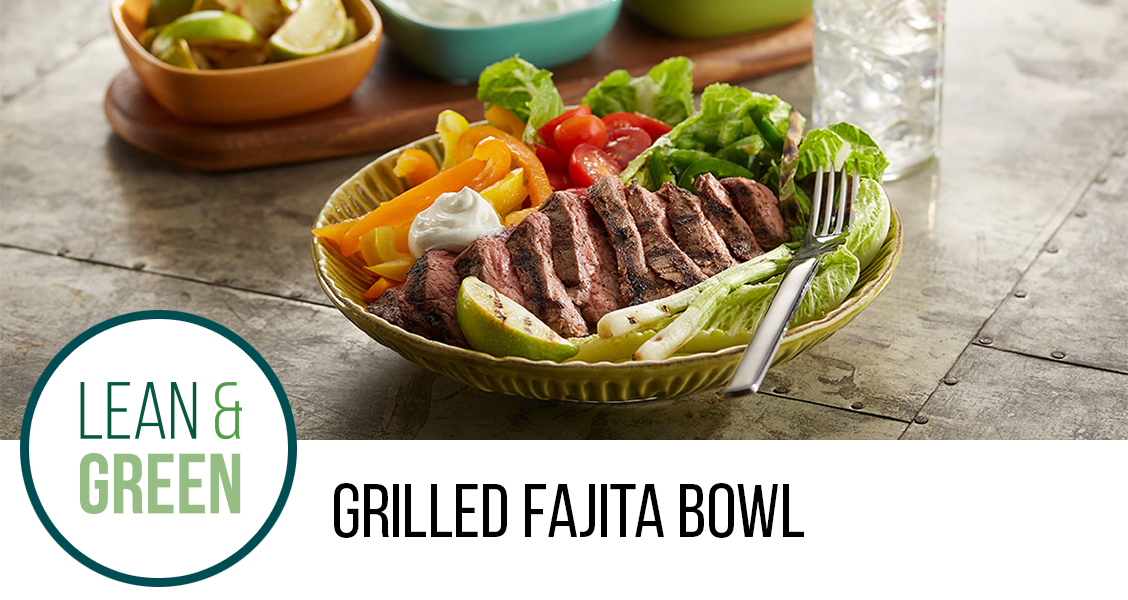 Yield: 4 servings
Complete Lean & Green Meal: 1 lean, 3 green, 3 condiments
Total Time: 30 minutes
Ingredients

1¼ lb. flank steak

1 tsp ground cumin

1 tsp chili powder

¼ tsp or less of each: salt & pepper

2 scallions

1 small lime, cut in half

8 cups lettuce

1 bell pepper, orange or yellow, sliced

1 cup diced tomatoes

1 jalapeno, sliced

1 cup cilantro, chopped

¼ cup light sour cream

Directions

Pre-heat grill.
Combine cumin, chili powder, salt, and pepper in a small bowl. Season beef with spice mixture.
Grill beef on both sides until internal temperature reaches 145⁰F. Remove from heat and allow to rest.
Grill whole scallions, about 1 minute per side, and lime halves (cut-side down) for 1 to 2 minutes.
Slice beef into thin pieces, and roughly chop the scallions. Squeeze lime halves over beef and scallions, and toss to coat.
To assemble bowls: add two cups of lettuce to each bowl and top with an equal amount of sliced bell pepper, tomatoes, jalapeno, and cilantro. Add 5 ounces of cooked beef, a sprinkle of scallions, and one tablespoon of sour cream to each bowl.
Per serving: 290 calories, 13g fat, 12g carbohydrate, 32g protein
Visit our OPTAVIA Pinterest page for an extensive assortment library of Lean & Green meals.

Changing the World for the Better
"There came a point when I had to ask myself what was holding me back from being successful at achieving a healthy weight. At 51, I felt like my body was never mine, so why would I care about getting healthy? The next day in meditation, I realized that I must treat my mind, body, and soul as equal partners."
That same night, Judy met someone who told her about OPTAVIA and gave her some information about the Program.
"That night changed my ENTIRE life and I placed my first order right away. Not only did I lose weight, but my clothing size shrunk in half. My doctor was amazed!
Now Judy is walking two miles each day and does circuit training five days a week.
"Better still, I am not hungry. I set a timer to remind myself to eat every three hours and I am satisfied. I am in better shape now than I have been in over two decades."
Judy realized that OPTAVIA was different and that the "secret" was not just losing the weight, but maintaining a healthy weight using Dr. A's Habits of Health®.
"In just more than 6 months, I've lost 90 pounds.* I still have about 60 pounds left to lose, but with time and effort, those pounds have no choice but to come off. Best of all? Since starting the Program, I saved money each month. I used to waste hundreds of dollars on fast food, snacks, and eating out."
Now an OPTAVIA Coach, Judy loves to share the Program and healthy habits with everyone she knows and meets along her journey to optimal wellbeing.
"I am grateful to OPTAVIA, my Coach, and my sister who dared me to share a bit of insight on how my life could be forever changed. I am excited to be part of the OPTAVIA family as together; we can and will, change our world for the better!"
*Average weight loss on the Optimal Weight 5 & 1 Plan® is 12 pounds. Clients are in weight loss, on average, for 12 weeks.
Kathy Glazer
OPTAVIA Coach
Kathy@EatSmartCoach.com
http://EatSmartCoach.optavia.com/eatsmartcoach
571-213-1988
3 Washington Circle N. W. #303, Washington,D.C. 20037, Also Falls Church,VA
© 2023 OPTAVIA, LLC. All Rights Reserved