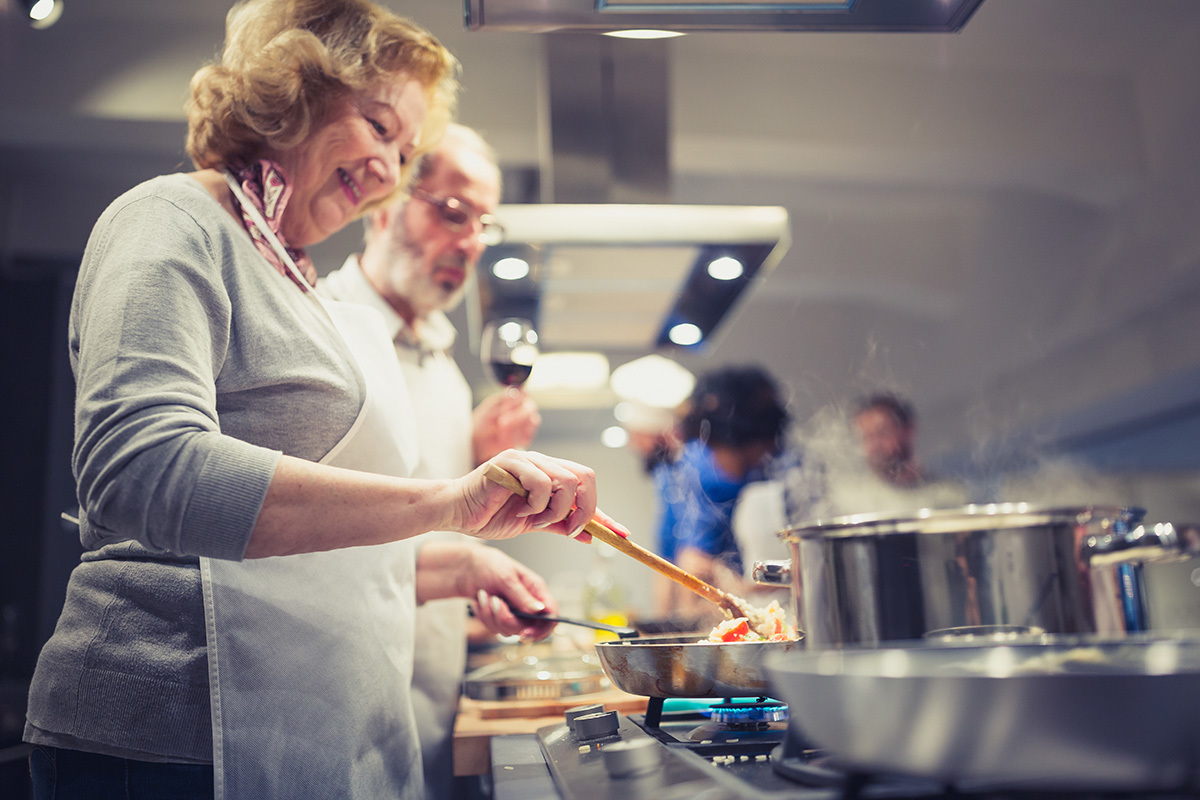 If you are currently on one of OPTAVIA's Plans, you are eating a Lean & Green meal every day. Think of your Lean & Green meal as the foundation to making healthier food choices once you meet your goals and move to eating five small meals per day.
When shopping for Lean & Green ingredients, be sure to include options from these four food groups: lean protein, green vegetables and salad, healthy snacks and condiments, and healthy fats and oils. You should also refer to your Your LifeBook for a list of acceptable foods, condiments, and serving sizes before heading to the store.
Here are some other guidelines to consider:
Lean protein. To keep fat content low, it's best to grill, bake, broil, or poach your lean protein selections. Due to saturated fat, it's important to moderate your consumption of red meat and eat more fish and white-meat poultry like chicken. If you'd like to eliminate or reduce the amount of meat you eat, try egg whites, liquid egg substitute, or tofu. Food for thought: Choosing fish as your protein one to three times per week can have a profound impact on your long-term wellbeing.
Healthy fats and oils. Replace unhealthy fats with healthy omegas as part of your Lean & Green meals. Some healthy examples include canola or olive oil, low-carbohydrate salad dressing, black or green olives, reduced-fat margarine, and avocado. Food for thought: Make marinades for meats, salad, or snacks at home so you're aware of every ingredient that's added.
Green vegetables and salad. During fat-burn, it's important to avoid fruit altogether, as it tends to be high in sugar and carbohydrates. Instead, focus on choosing nutrient-dense and low-glycemic green vegetables like iceberg lettuce, cucumber, and celery. Food for thought: Prepare raw veggies in advance and store in sealable bags for a quick snack or a salad!
Healthy snacks and condiments. Use condiments to add some flavor to your meals, but keep in mind that they contribute to your carb intake. You can enjoy up to three condiments per day. Each condiment serving should contain no more than one gram of carbohydrates. Food for thought: You may have up to one optional snack per day. Optional snacks include OPTAVIA snacks, 3 celery stalks, 2 dill pickle spears, or up to 3 pieces of sugar-free gum.
Now that we've covered the importance of the Lean & Green meal, we'll learn how to practice lifelong healthy eating habits in the following Elements. Stay tuned for next week's newsletter featuring Element 12—how to optimize your success to reach your healthy weight. 
Ask me, your OPTAVIA Coach, for other tips on making healthy Lean & Green choices on your journey to Lifelong Transformation, One Healthy Habit at a Time.® 
Still need to order your NEW Habits of Health® Transformational System? Let's connect today!
Join this week's Habits of Health® Webinar, Your LifeBook—Element 11: Simple lifelong eating tips to guide you beyond weight loss on Wednesday, October 23rd at 8:30 p.m. ET/7:30 p.m. CT/5:30 p.m. PT, hosted by Independent OPTAVIA® Coach Shantelle Flake.

HOW TO CONNECT:
Please click the link below to join the webinar:
https://zoom.us/j/113312513

Or iPhone one-tap (US Toll):
+1(646)558.8656

Or Dial (US Toll):
+1(646)558.8656

And Enter the Pin: 113312513#
In the Habits of Health® Transformational System, clearing your pantry is one of the first suggestions Dr. A makes when creating your leptogenic world (Element 07). Cooking healthy Lean & Green meals and choosing Fuelings at home is much easier if your kitchen is stocked with healthy options.
We know that reaching your health goals starts with making smart choices at the grocery store so we wanted to share tips for optimizing your surroundings and making healthy decisions at the market and at home:
Start fresh. To eliminate unhealthy options and make room for all your healthy foods, begin by clearing your pantry, freezer, and refrigerator. Get rid of white bread, refined cereals, processed foods, and junk food.
Plan ahead. Think about all of the meals you need to prepare during the next week and the ingredients you'll need to purchase prior to going to the store. You can even save time while you're in the store by grouping your ingredients that are in the same aisle or department. Preparing in advance will keep you on track and will prevent you from buying items that are unhealthy or unnecessary.
Fuel first. It's important to avoid going to the grocery store while hungry. Eat a Fueling to avoid making unhealthy decisions and keep a bottle of water nearby in case you have a craving.
Shop the perimeter. The outer aisles of the grocery store are where you'll find the freshest and least processed foods, like leafy green vegetables and lean proteins. Avoid the center aisles which contain processed and high-calorie items.
Shop seasonal. When vegetables are in season, they are often more abundant and budget friendly.  Broccoli, kale, and cucumbers are a few options that are especially in season during the fall. 
Remember, when in doubt, use Stop. Challenge. Choose. If we take a step back and become more mindful of the situation, we are more likely to make decisions that align with our health goals.
Ask me, your OPTAVIA Coach, for other tips to optimize your surroundings on your journey to Lifelong Transformation, One Healthy Habit at a Time®.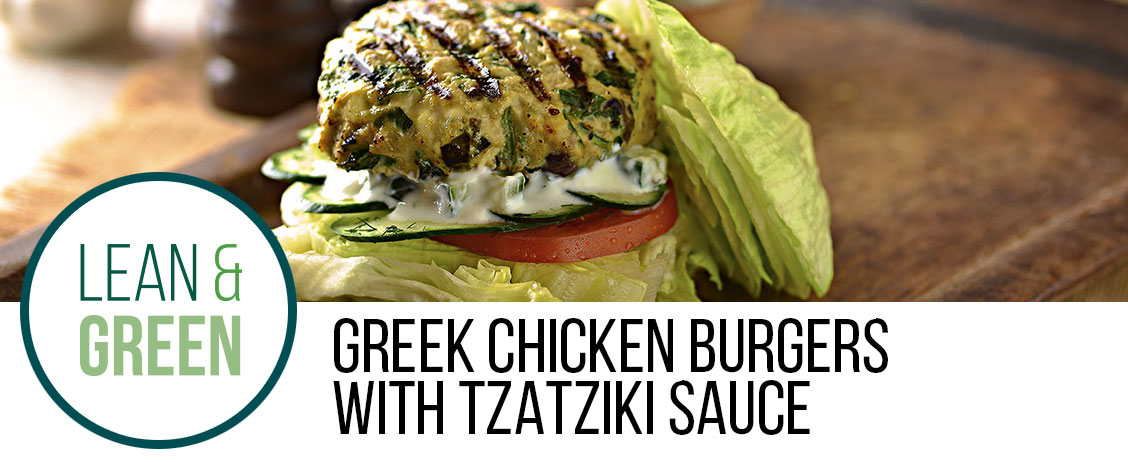 Per Serving: 1 Leaner | 3 Green | 3 Condiments| 1 Healthy Fat   
Yield: 4 servings
Total Time: 35 minutes
Ingredients

For Tzatziki Sauce:

1 small cucumber

½ Tbsp chopped fresh mint

1Tbsp chopped fresh dill

½ Tbsp lemon juice

1 clove minced garlic

1 cup plain, low-fat Greek yogurt

For Chicken Burgers:

2 oz reduced-fat feta

1 egg

1 cup chopped fresh spinach

10 chopped and pitted kalamata olives

1 Tbsp cornstarch

1 tsp dried oregano

2 cloves garlic, chopped

½ tsp salt

¼ tsp pepper

1 lb 95-97% lean ground chicken

2 tsp olive oil

2 sliced tomatoes

1 small head iceberg lettuce, cut into eight bun-sized pieces

Directions

Chop half of the cucumber into small pieces, and place in a small bowl. Slice remaining cucumber into thin slices for sandwiches, and set aside. Add remaining sauce ingredients to small bowl, and refrigerate until ready to use. 
In a large bowl, combine the first nine burger ingredients. Add chicken, and mix lightly but thoroughly. Shape into four burger patties.
Moisten a paper towel with oil, and, using cooking tongs, rub on grill rack to coat lightly. Add burgers, and grill covered, over medium heat, until a meat thermometer reads 165° F (about 5-7 minutes on each side).
Serve on iceberg lettuce "buns" with tomato slices, remaining cucumber, and sauce.
Per Serving: 350 calories | 30g protein | 17g carbohydrate | 18g fat
Visit our OPTAVIA Pinterest page for an extensive assortment library of Lean & Green meals.

Agent of Hope
"I battled my weight for a long time. I remember being made fun of as a kid and, as a result, suffering from low self-esteem. Food became my comfort, and as a result, became an addiction."
The more Dean ate, the larger he became. He no longer liked what he saw when he looked in the mirror.
"I was so embarrassed with how I had allowed myself to get this size. I didn't feel good!"
This carried over into Dean's adult years. He unsuccessfully tried diets and exercise to lose the weight.
"Whatever was lost quickly returned because I didn't have the education of how to keep it off. I finally reached a place of hopelessness and didn't want to keep living like this anymore."
Dean desired more than anything to lose the weight and to feel good about himself. He went on Facebook and saw his friend Pat's post of how the OPTAVIA Program helped him lose weight and he invited anyone to reach out to him for information. Dean had finally found his path to hope!
"I started the Program at 300 pounds and seven months later, I lost 115 pounds*, weighing in at 185 pounds.
OPTAVIA has changed my life. Having a Coach, being surrounded by the incredible OPTAVIA Community, learning the Habits of Health®, and having the delicious and convenient Fuelings have made a lifelong dream come true! My energy level is up and I'm doing activities that I never thought I could do! I am now an OPTAVIA Coach and have the honor of not only being an agent of transformation, but also an agent of hope!
Kathy Glazer
Independent OPTAVIA Coach
Kathy@EatSmartCoach.com
http://EatSmartCoach.optavia.com/eatsmartcoach
571-213-1988
3 Washington Circle N. W. #303, Washington,D.C. 20037, Also Falls Church,VA
© 2022 OPTAVIA, LLC. All Rights Reserved