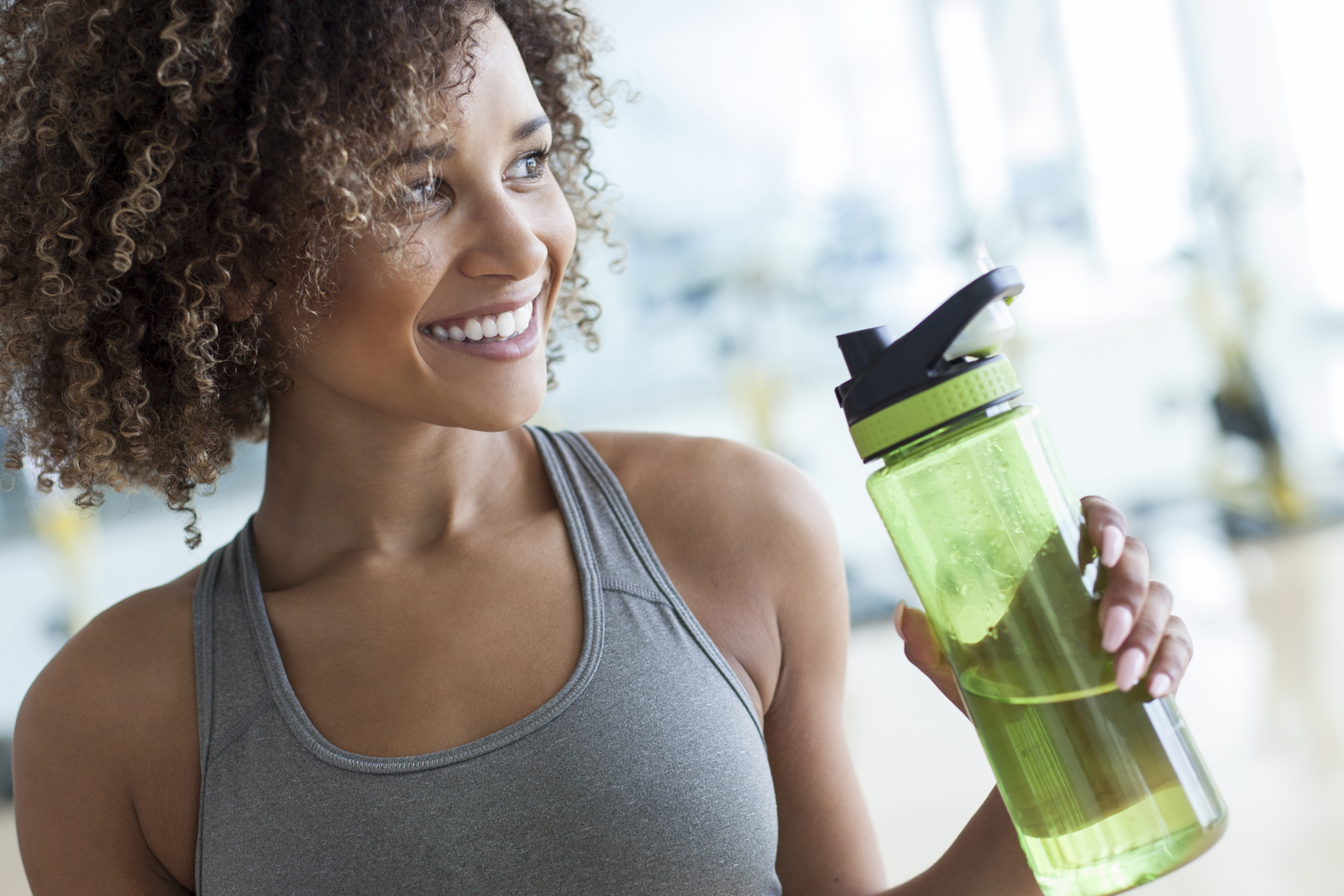 Water plays a vital role in supporting healthy weight loss. Unlike fat, our bodies can't store water, so it's necessary to replenish continuously throughout the day. In addition to staying hydrated, water helps speed up metabolism and prevents overeating. As we spend more time at home, ensure you make a point to practice healthy hydration by taking in your necessary daily intake.
You can also consider some of these tips when trying to stay hydrated to reach a healthy weight:
Purchase a reusable water bottle. The easiest way to remember to drink more water is to keep a water bottle handy at all times. Your water bottle becomes your visual cue to drink more, and you are more likely to refill it when it is empty (There are a many water bottle options online).
Drink the right amount of water. Certain health conditions and lifestyles can determine how much water you need. For example, expecting mothers or athletes may need extra fluids to stay hydrated. As a baseline, you should be drinking 64 ounces* per day.
Drink water with every meal. Drinking water with your meals not only helps you stay hydrated, but can also help improve your body's digestion. If you are hydrated, your body will produce sufficient saliva, which helps break down food into nutrients that your body can easily absorb.
Eat vegetables. Your food choices are a major contributor to hydration and account for roughly 20 percent of your daily fluid intake. Remember these vegetables, which are high in water: iceberg lettuce, celery, and cucumbers. To put it into perspective, the water composition of a cucumber is 96%, making it a smart choice to include in your lean and green meals or on salads.
Track your water intake. So you don't fall behind, and are sure to consume 64 ounces* of water daily, log water intake in your journal to remind yourself when it's time to fill up.
To switch things up, try an infused, flavored water, like OPTAVIA's Purposeful Hydration® line. It cues you when to hydrate so you stay hydrated throughout the day.
Proper hydration is as critical as healthy nutrition when working towards Lifelong Transformation, One Healthy Habit at a Time®. Connect with me, your OPTAVIA Coach to discuss other tips on staying hydrated on a daily basis!
We also invite you to watch our transformative video series, featuring Your LifeBook – Elements 01-26, published today on CLIENT ANSWERS. These videos, Your LifeBook, and me, your Coach, give you the tools to empower yourself and move forward in creating optimal health and wellbeing. Check out the Element video series today!
*We recommend drinking 64 ounces of plain water each day. Talk with your healthcare provider prior to changing the amount of water you drink as it can affect certain health conditions and medications.
Join this week's Habits of Health® Community Time, Your LifeBook—Element 10 on Wednesday, May 13th at 8:30 p.m. ET/7:30 p.m. CT/5:30 p.m. PT, hosted by Independent OPTAVIA® Coach Carol Hipps.

HOW TO CONNECT:
Please click the link below to join the webinar:
https://zoom.us/j/113312513

Or iPhone one-tap (US Toll):
+1(646)558.8656

Or Dial (US Toll):
+1(646)558.8656

And Enter the Pin: 113312513#

As mentioned, water is essential to our overall health and wellbeing. Based on Dr. A's Habits of Health book, Dr. Wayne Andersen calls for about 64-ounces* of water consumption per day.
While this may seem like a lot, there are specific benefits of water to ensure you that it is essential to stay hydrated when seeking optimal health and wellbeing.
Be sure to keep these additional benefits of proper hydration top of mind:
Water can help control calories. This all-natural, calorie-free beverage is an essential component of a healthy metabolism. In addition, water may reduce hunger by filling you up if consumed prior to meals.
Water keeps skin looking fresh and vibrant. Water moisturizes your skin, keeps it fresh, soft, glowing and smooth. It is a great anti-aging treatment.
Water increases energy and reduces fatigue. Staying properly hydrated can help you focus, concentrate better and be more alert. As an added bonus, water will also boost your energy levels!
It speeds up metabolism. A recent study showed that drinking two 8-ounce glasses of cold water increased metabolic rate by 30% for 90 minutes.
It helps your liver. Water aids in converting fat to energy.
It facilitates the removal of toxins. Water helps remove pesticides and preservations from your cells.
Your OPTAVIA Community is here to support you, so ask me, your OPTAVIA Coach, about ways staying hydrated can help you continue to achieve Lifelong Transformation, One Healthy Habit at a Time®.
*We recommend drinking 64 ounces of plain water each day. Talk with your healthcare provider prior to changing the amount of water you drink as it can affect certain health conditions and medication.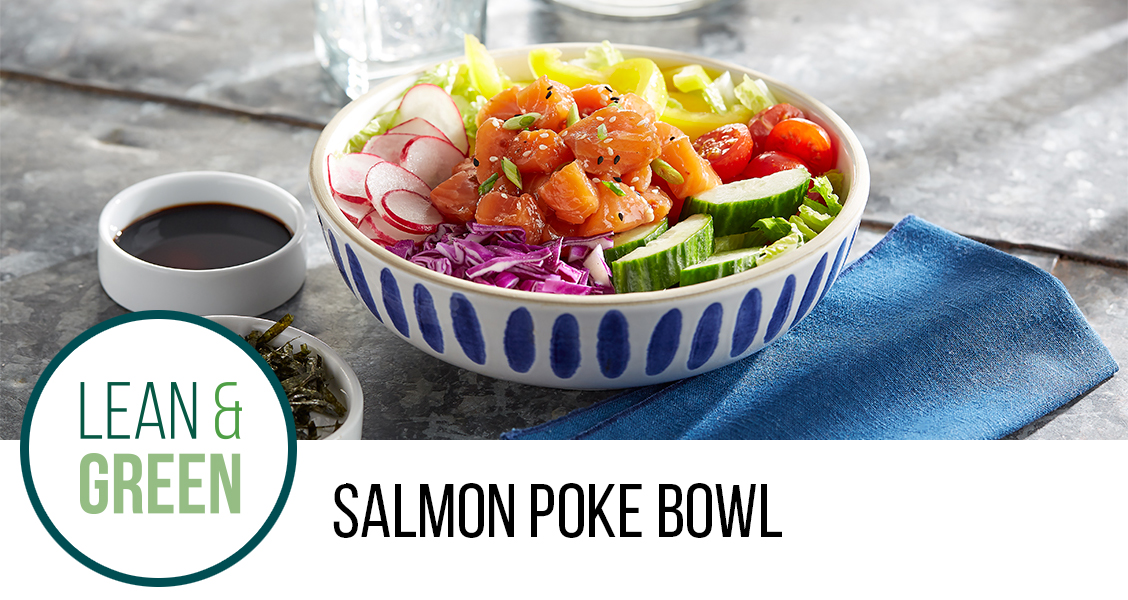 Yield: 4 servings
Complete Lean & Green Meal: 1 lean, 3 green, 3 condiments
Total Time: 30 minutes
Ingredients

1¼ lb. raw boneless, skinless salmon, cut into bite-sized cubes

2 scallions, trimmed and minced

3 tbsp. soy sauce

1 tsp sesame oil

1 tsp sambal

1 tsp sesame seeds, toasted

2 cups lettuce

1 cup shredded red cabbage

1 cup sliced cucumber

1 cup halved cherry tomatoes

½ cup thinly sliced radishes

1 large bell pepper (yellow or orange), sliced

1, 0.35-oz. seaweed sheet (optional)

Directions

In a medium bowl, whisk together the scallions, soy sauce, sesame oil, sambal, and sesame seeds. Add salmon and toss to coat.
Arrange an equal amount of each vegetable into individual bowls and top with 5 ounces of salmon per bowl. Cut the seaweed sheet into small ribbons or 4, equal-sized pieces, and serve on the side.
Per serving: 350 calories, 20g fat, 10g carbohydrate, 33g protein
Visit our OPTAVIA Pinterest page for an extensive assortment library of Lean & Green meals.

The Power of the OPTAVIA Program
More than 12 years ago, Dr. Larry was an overworked OB/GYN physician in poor health. He felt he was a terrible example for his patients, family and friends.
"Back then I was on two blood pressure medications, two cholesterol medications, a pre-diabetic, and I suffered from severe sleep apnea. I was short of breath just tying my shoes."
Dr. Larry struggled to walk the 150 yards up the hill from his hospital to his home without a rest.
"Family constantly pestered me to lose weight and work on my health."
Dr. Larry was a chronic dieter. He lost 30 pounds at least 15 times in his life but always gained it back.
"Then I met my OPTAVIA Coach and my life changed."
Dr. Larry lost 85 - 90 pounds*, "Shortly after, I started coaching with OPTAVIA, and my income helped me to put three daughters through college with no debt."
Unfortunately, soon after, Dr. Larry developed a variant of Guillain-Barre syndrome and was forced into retirement due to double vision issues.
"As a result, severe depression wiped me out for 9 plus months."
But, staying committed to the OPTAVIA Program saved his life physically, mentally and provided much needed finances**in the end.
"Now my life has turned around and I continue to share the OPTAVIA Program with everyone. Anyone can transform like I did by taking the simply steps on this Program, while also being willing to be guided and connected."
*Average weight loss on the Optimal Weight 5 & 1 Plan® is 12 pounds. Clients are in weight loss, on average, for 12 weeks.
**OPTAVIA makes no guarantee of financial success. Success with OPTAVIA results only from successful sales efforts, which require hard work, diligence, skill, persistence, competence and leadership. Please see the OPTAVIA Income Disclosure statement for statistics on actual earnings of Coaches.
Kathy Glazer
OPTAVIA Coach
Kathy@EatSmartCoach.com
http://EatSmartCoach.optavia.com/eatsmartcoach
571-213-1988
3 Washington Circle N. W. #303, Washington,D.C. 20037, Also Falls Church,VA
© 2023 OPTAVIA, LLC. All Rights Reserved