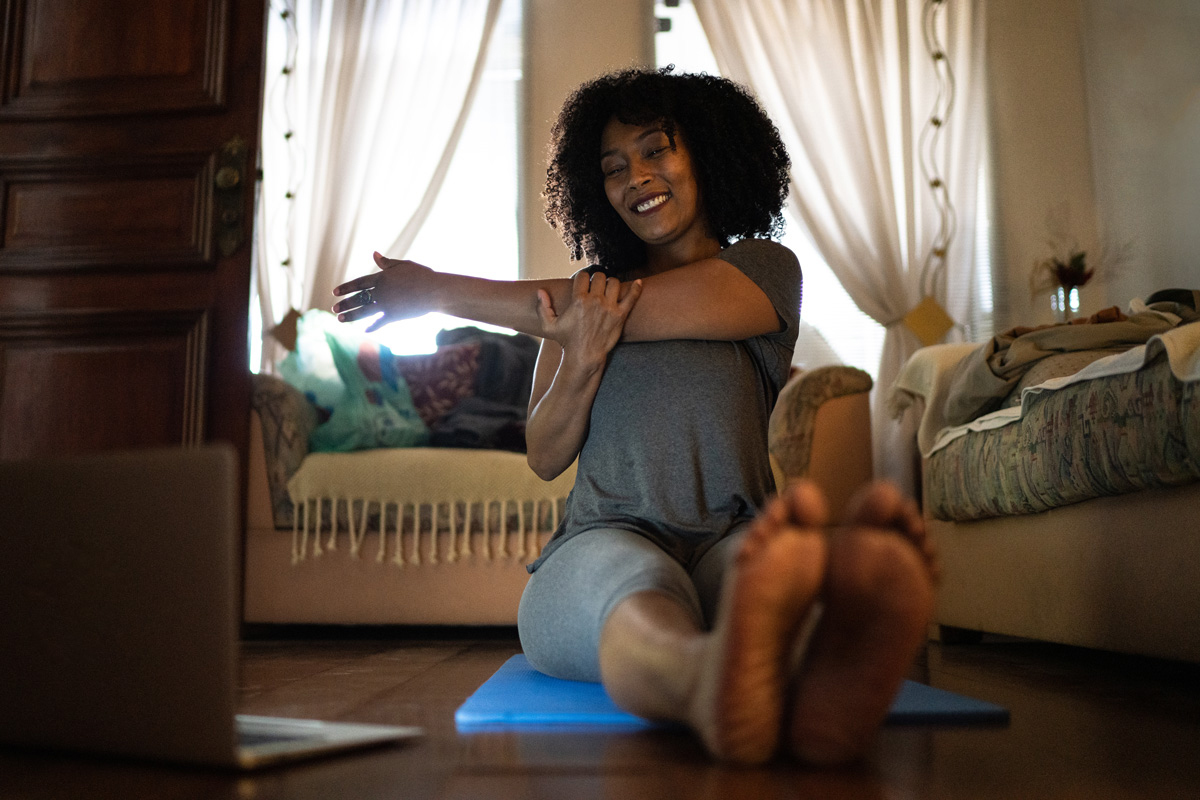 Adopting a lifestyle that supports optimal health is a big factor that supports longevity*. This means that the Habits of Health®, which are all about moving forward on the health continuum, are a great way to position yourself for a long and healthy life.
Once you reach optimal health, Co-founder and Independent OPTAVIA Coach, Dr. Wayne Scott Andersen, recommends striving for UltraHealth, a state of health that pushes your body to be the very best in a state where it operates at optimal efficiency.
UltraHealth is seen as an augmentation of the Habits of Health lifestyle through:
Dietary optimization: Once you achieve optimal health, consult with your healthcare provider, and follow Dr. Wayne Scott Andersen's recommendations in the Habits of Health on the optimal diet and calorie intake for you during this stage.
Movement enhancement: Increased activity and robust movement several times a week can help build optimal cardiovascular musculoskeletal and brain health! Come up with a safe and efficient exercise plan to share with your Coach and healthcare provider.
Brain-health optimization: Our brains need exercise just as much as our bodies! Try completing puzzles, playing games, reading books, writing, painting, and even having conversations with friends to get your brain moving.
Ask me, your Independent OPTAVIA Coach, about additional tips on achieving UltraHealth.
*No one can predict how long we are going to live, but research suggests that making an overall lifestyle change by taking an active role in your choices and behavior, including losing weight, eating healthier, moving more, and reducing stress, has the potential to help you live a longer, healthier life.
Watch this week's special recorded Habits of Health® Webinar, Your LifeBook Element 26: UltraHealth- Living Longer Full Out, on Wednesday, December 23, 2020, hosted by Independent OPTAVIA Coach, Shantelle Flake. To access the Webinar recording, please visit OPTAVIA BUZZ later this week!

HOW TO CONNECT:
Please click the link below to join the webinar:
https://zoom.us/j/113312513

Or iPhone one-tap (US Toll):
+1(646)558.8656

Or Dial (US Toll):
+1(646)558.8656

And Enter the Pin: 113312513#

A holiday meal is a no-brainer, especially when it comes to Thanksgiving, but the December holidays are an opportunity to get creative when it comes to your healthy feast. You can still enjoy a satisfying dinner without repeating your Thanksgiving menu. It doesn't have to be eight different side dishes or an expensive cut of meat.
Get out of your comfort zone too by trying something new, like yummy cauliflower latkes with salmon. Whether you're planning a casual gathering or a five-star meal, here are some healthy and flavorful Plan-friendly ideas:
Broth-based soup. Begin your meal with a healthy appetizer, like a broth-based soup full of vegetables and lean protein. Skip the noodles, and opt for extra green veggies, like kale or zucchini, instead.
Lean chicken breast. Switch up the turkey, and opt for a lean white meat chicken breast instead. Make sure it's skinless, and bake it with your favorite herbs, like rosemary or thyme, to help keep the calories at a minimum. 
Mix up your salad. Think outside of the box, and try a new salad recipe this holiday season. Instead of lettuce, try a spinach or kale base, and add some asparagus or cauliflower. Keep some pumpkin seeds or roasted sliced almonds on the side for a healthy fat option.
Roasted vegetables. Can't decide on just one or two vegetable side dishes? Roast your broccoli, green beans, and asparagus all together with a touch of your favorite seasonings for a healthy green vegetable medley.
By changing your menu, you could start a new tradition for you and your loved ones to enjoy!
Ask me, your Independent OPTAVIA Coach, about other tips for creating a healthy menu during the holiday season!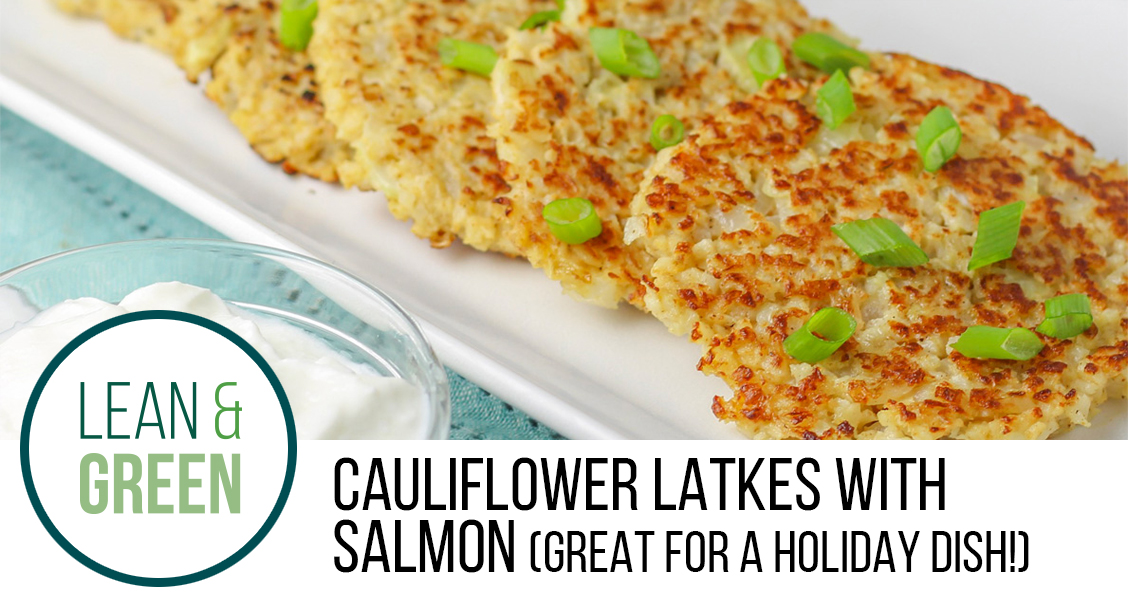 Yield: 2 servings
Complete Lean & Green meal: 1 lean, 3 green, 3 condiments, 1 optional snack
Total Time: 25-30 minutes
Ingredients

2 sachets Rosemary Sea Salt Crackers, ground to a flour-like consistency

2½ cups riced cauliflower

1 egg

¼ cup diced yellow onion

¼ tsp salt

¼ tsp pepper

Cooking spray

½ cup sliced green onion

1 cup low-fat, plain Greek yogurt

5 oz. pre-cooked salmon

Directions

Combine the first six ingredients in a medium-sized bowl.
Heat a large, lightly greased skillet over medium heat. Take one-third of the cauliflower mixture, and divide into two mounds on the skillet. Flatten each mound into a circular patty, approximately ¼-inch thick. Cook until golden brown, about 3 to 5 minutes per side. Repeat with the remaining mixture.
To serve: each serving gets 3 latkes and 2.5 ounces cooked salmon with a ¼ cup of sliced green onion and a ½ cup Greek yogurt on top.
Per Serving: 340 calories, 11g fat, 22g carbohydrate, 37g protein
Visit our OPTAVIA Pinterest page for an extensive assortment library of Lean & Green meals.

No Longer Average
Tammy had always viewed herself as "just average." However, after seeing herself in a group photo, she realized her positioning in the picture was an attempt to look skinnier.
Now feeling "below average," Tammy's self-confidence plummeted, "I was absolutely appalled at what I saw." She knew she wanted to change.
"My husband and I united and took a leap of faith and committed to helping each other improve ourselves by giving OPTAVIA a whirl. Our Coach and her husband were our inspiration! If they could get amazing results, so could we!"
Shortly after beginning her journey, Tammy was getting better sleep and making tons of Lean & Green meals.
"By following the Lean & Green recipes on the awesome Facebook Community, this plan was so simple and delicious. We had something new for dinner almost every night! My husband commented about the wonderful gourmet cooking now served nightly on our dining room table!"
Now that Tammy and her husband are continuing into the transition phase of their journey, she has more energy to lift weights and run nearly every day.
After being on the plan for 12 weeks, Tammy and her husband reached their goal weights. After losing 27 lbs*, Tammy decided to share the gift of optimal health with others by becoming an Independent OPTAVIA Coach.
*Average weight loss on the Optimal Weight 5 & 1 Plan® is 12 pounds. Clients are in weight loss, on average, for 12 weeks.
Kathy Glazer
OPTAVIA Coach
Kathy@EatSmartCoach.com
http://EatSmartCoach.optavia.com/eatsmartcoach
571-213-1988
3 Washington Circle N. W. #303, Washington,D.C. 20037, Also Falls Church,VA
© 2023 OPTAVIA, LLC. All Rights Reserved